Bipartisan Senate group releases bill text for gun safety deal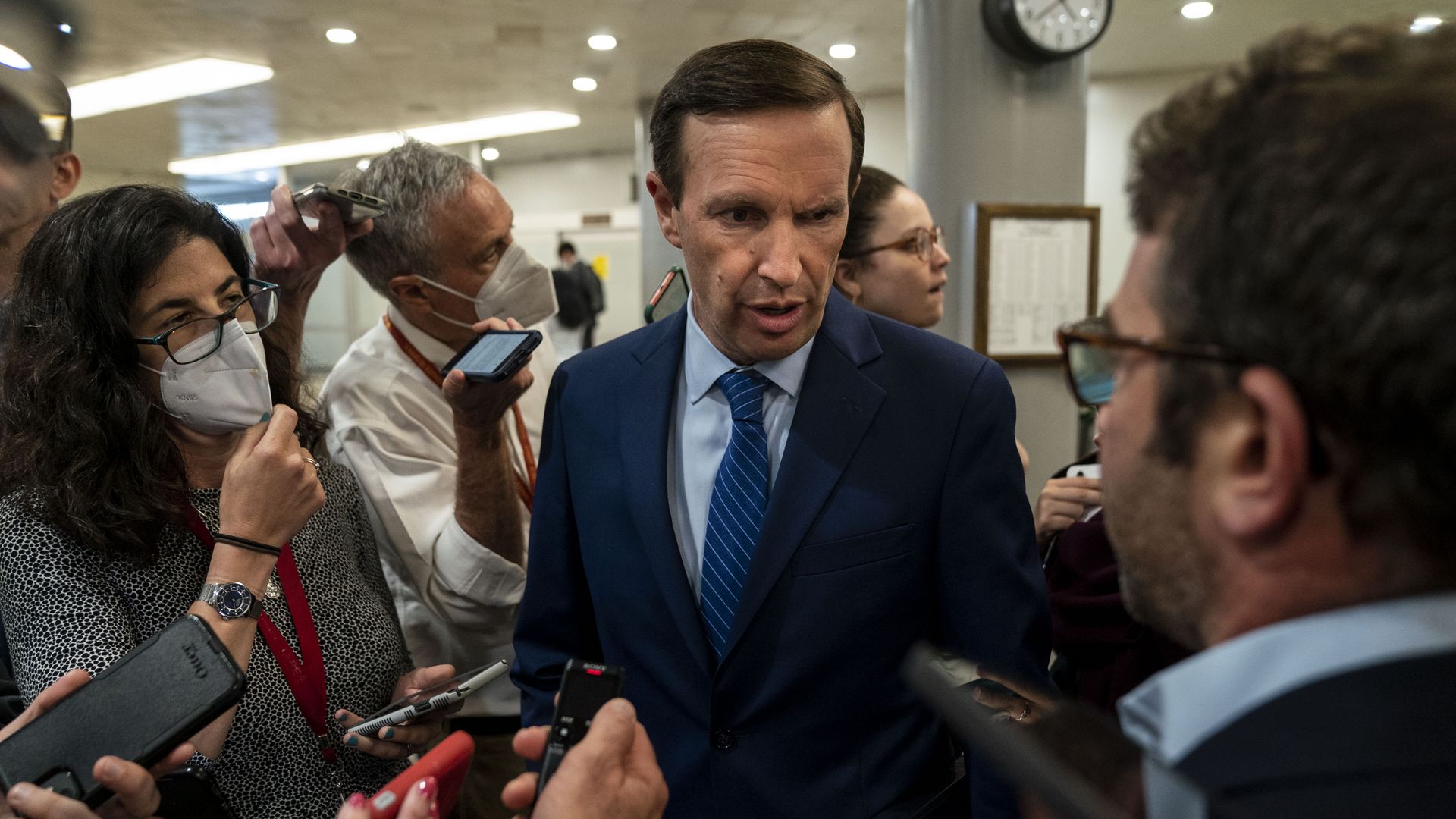 A bipartisan group of senators released legislative text Tuesday for their gun bill, which includes enhanced background checks for those under 21, funding for mental health and school safety, incentives for states to implement "red flag" laws and limits on the "boyfriend loophole."
The latest: The Senate voted 64-34 in favor of advancing the bill on Tuesday night. Fourteen Republicans joined all 50 members of the Democratic caucus to support the procedural motion.
The Republicans to vote for the motion were: Sens. Roy Blunt (Mo.), Richard Burr (N.C.), Shelley Moore Capito (W.Va.), Bill Cassidy (La.), Susan M. Collins (Maine), John Cornyn (R-Texas.), Joni Ernst (Iowa), Lindsey Graham (S.C.), Lisa Murkowski (Alaska), Rob Portman (Ohio), Mitt Romney (Utah), Mitch McConnell (R-Ky.), Thom Tillis (R-N.C.) and Todd Young (Ind.).
Why it matters: This bill, titled "Bipartisan Safer Communities Act," falls well short of what Democrats and President Biden want. But, if passed, it will be the most significant gun safety legislation in decades.
Timing: Senators are racing to get the bill passed before they break for their two-week, July 4 recess. That vote could slide into this weekend.
Once passed, the House is expected to take it up swiftly and send it to President Biden's desk.
What to watch: Both Senate Majority Leader Chuck Schumer (D-N.Y.) and Minority Leader McConnell issued statements of support shortly after the text was released.
McConnell will be crucial to ensuring the bill receives not only the 10 Senate GOP votes needed to break the 60-vote filibuster but also to shoring up support from even more Republicans.
"I support the bill text that Sen. Cornyn and our colleagues have produced," McConnell said. "Our colleagues have put together a common-sense package of popular steps that will help make these horrifying incidents less likely while fully upholding the Second Amendment rights of law-abiding citizens."
Details: Along with the 80-page bill, the group also sent senators a five-page, section-by-section breakdown, obtained by Axios, of the measure's key elements.
Key provisions:
Enhanced background checks: Requires the National Instant Criminal Background Check System (NICS) to conduct an enhanced review of purchasers under the age of 21 to determine whether juvenile records disqualify that individual from purchasing a firearm. NICS is given 10 days to complete the investigation, and it unsets after 10 years.
State incentives for "red flag" laws: Provides $750 million over five years that will go to states for "crisis intervention programs" including red flag laws, mental health courts, drug courts, veterans' courts and extreme risk protection orders.
Appropriates hundreds of millions for mental health and school safety programs, including $120 million over four years for a community mental health block grant program to prepare and train communities and first responders on how to appropriately and safely respond to individuals with mental disorders.
Illegal firearm trafficking: Prohibits the straw purchasing and trafficking of firearms by criminals and enhances penalties for possession of firearms by prohibited persons.
Behind the scenes: The talks between the "core four" senators involved — Sens. Chris Murphy (D-Conn.), Cornyn, Kyrsten Sinema (D-Ariz.) and Thom Tillis (R-N.C.) — stalled late last week over a series of sticking points.
The group struggled to reach a compromise on details over the red flag provision, which is especially unpopular among conservatives who fear it will too easy to strip Americans of their Second Amendment rights, and the "boyfriend loophole," which would keep guns out of the hands of domestic abusers, unmarried or not.
What they're saying: "Today, we finalized bipartisan, common-sense legislation to protect America's children, keep our schools safe, and reduce the threat of violence across our country," Murphy, Cornyn, Sinema and Tillis said in a joint statement.
"Our legislation will save lives and will not infringe on any law-abiding American's Second Amendment rights."
Schumer said in a statement: "I will now put this life-saving legislation on the Senate floor for a vote, with an initial procedural vote as soon as tonight and, following that, we will move to final passage as quickly as possible."
Of note: The NRA immediately released a statement in opposition to the bill.
Background: The gun safety package comes amid increased pressure on Congress to act in the wake of several mass shootings last month, including one at an elementary school in Uvalde, Texas, that killed 19 children and two teachers and another that killed 10 at a supermarket in Buffalo, New York.
The House passed its own package of gun control bills this month that goes beyond the one introduced in the Senate on Tuesday by raising the legal purchasing age for semi-automatic rifles from 18 to 21 and banning the import, sale, manufacture, transfer or possession of large-capacity magazines.
Go deeper:
Editor's note: This article has been updated with new details throughout.
Go deeper