Police change their story on how Uvalde shooter entered school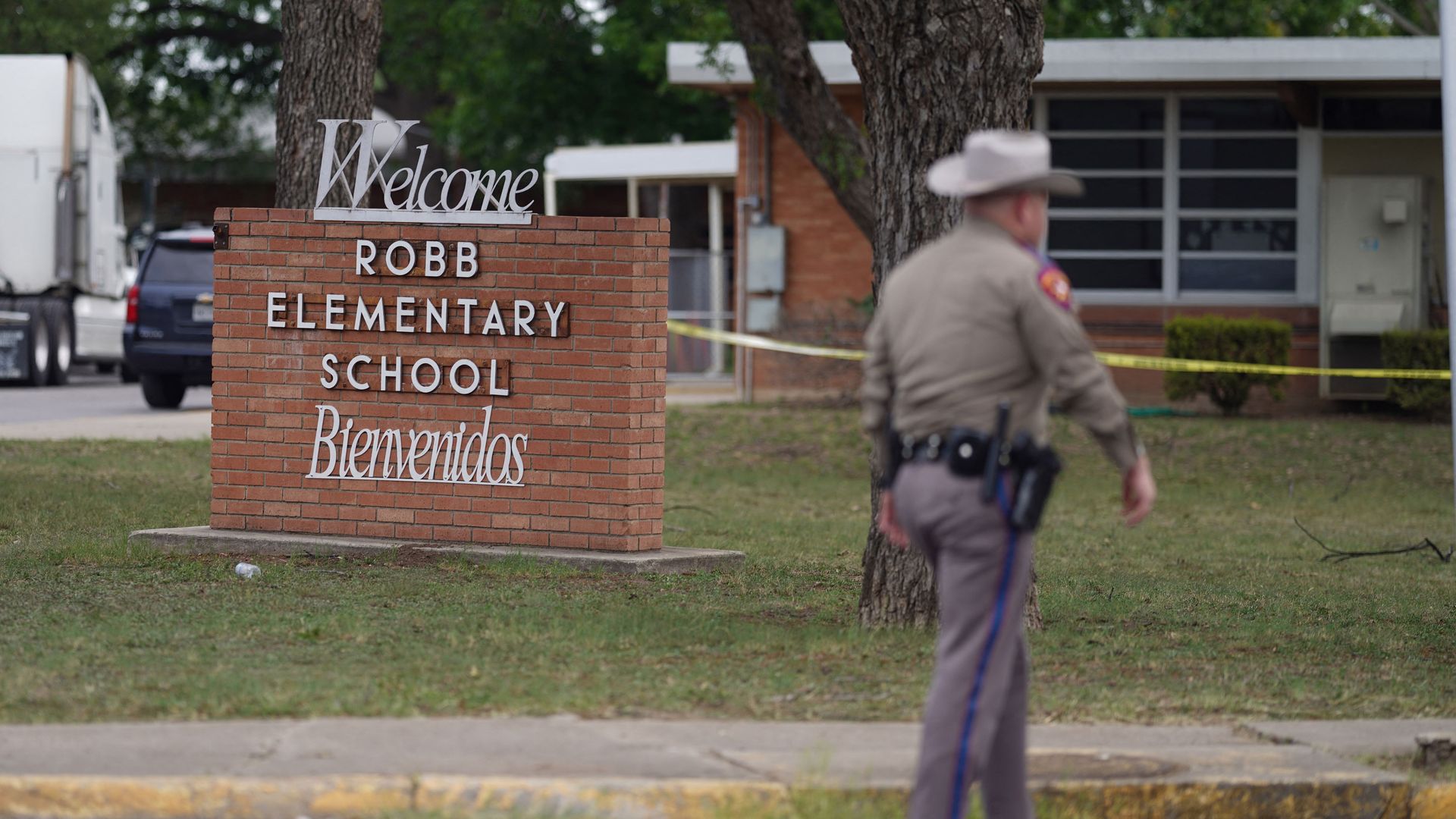 The gunman who killed 19 students and two adults in Uvalde, Texas, walked through an apparently unlocked door, contradicting earlier police statements that the shooter engaged with a school officer before the massacre.
The latest: "There was not an officer readily available and armed," and the gunman entered the building "unobstructed," Victor Escalon, a regional director at the Texas Department of Public Safety, said.
Escalon added that the alleged gunman was outside the school for 12 minutes before he entered Robb Elementary School. The shooter then barricaded himself inside for at least three-quarters of an hour before he was killed by Border Patrol agents.
Most of the shots fired came within the first several minutes the gunman entered the school, Escalon said. All 21 victims were in the same fourth-grade classroom, law officials said.
Yes, but: Sgt. Erick Estrada of the Texas Department of Public Safety had said earlier that the shooter encountered a school resource officer when he got to the school and dropped a bag with ammunition inside before entering campus, per CNN.
What they're saying: "The bottom line is law enforcement was there," Texas Department of Public Safety Director Steve McCraw said Wednesday. "They did engage immediately. They did contain [the gunman] in the classroom."
"There could have been further loss of life if those initial officers weren't on scene to break those windows and rescue any other children and teachers inside that classroom," Lt. Chris Olivarez, a spokesperson for the Texas Department of Public Safety, said on CNN.
But officers have also faced criticism over the amount of time it took them to stop the attack, with witnesses telling AP they were urging officers to enter the school.
When asked whether the police should have gone into the classroom sooner, Escalon said, "I don't have enough information to answer that question just yet."
Olivarez said officers were at a tactical disadvantage once the shooter had barricaded himself and lacked sufficient manpower.
"Let's just rush in because the cops aren't doing anything like they are supposed to," Javier Cazares, whose daughter Jacklyn Cazares died in the shooting, told AP. "More could have been done. ... There were more of them. There was just one of him."
"They said they rushed in and all that, we didn't see that," Cazares, who was outside the school during the attack and heard gunshots, told the New York Times.
"They were unprepared," he added.
What to watch: Officials are still trying to establish an exact timeline of events.
Rep. Joaquin Castro (D-Texas) called on FBI director Christopher Wray to investigate and provide a timeline of the events in Uvalde after state authorities "provided the public with conflicting accounts that are at odds with those provided by witnesses."
Go deeper: Remembering the victims of the Texas school shooting
Editor's note: This is a developing story. Please check back for updates.
Go deeper