Republicans shouting from the rooftops about inflation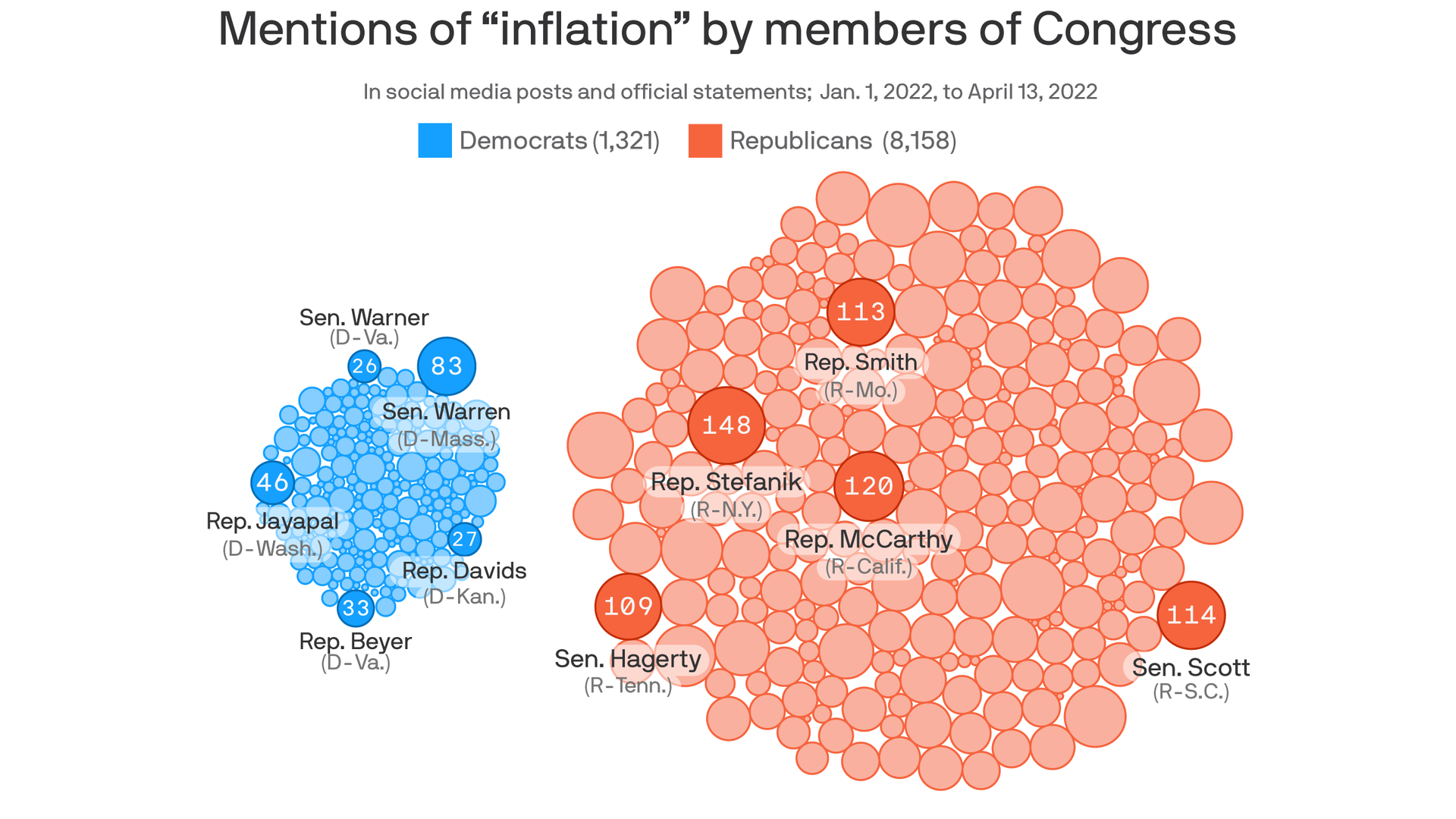 Rep. Elise Stefanik (R-N.Y.), chair of the House GOP conference, talks about inflation more than any other member of Congress — more than once a day, according to new data compiled by Quorum.
Why it matters: Since Jan. 1, 2022, Republican lawmakers have mentioned inflation six times more than their Democratic counterparts. They're focusing on it as President Biden gets hammered in the polls — and vulnerable Democrats fear getting sunk in the November midterms.
Driving the news: While digging through the data, Axios learned Republican lawmakers are using the historically high price hikes to attack Biden specifically, rather than Democrats as a whole.
The top hashtag used by Republicans is #bidenflation.
Meanwhile, much of the Democratic dialogue is geared toward calling out corporations who are blaming inflation for price increases but are seeing higher profits.
Progressives like Sen. Elizabeth Warren (D-Mass.) and Rep. Pramila Jayapal (D-Wash.) are leading that charge.
What they're saying: "Joe Biden and House Democrats are woefully out of touch and have shredded any and all credibility on this issue when they embarrassingly claimed that inflation is 'transitory,' and now condescendingly attempt to convince the American people to blame Putin for Bidenflation," Stefanik told Axios in a statement.
Warren drove home her take on the issue in a New York Times op-ed published Monday morning: "By a margin of two to one, American voters don't buy the explanation that companies are just passing along costs. ... Even Fed Chair Jerome Powell, a conservative Republican, acknowledged that giant corporations raise prices simply 'because they can.'"
Top 10 Republicans who discuss inflation the most:
Stefanik discussed inflation more than 148 times since Jan. 1, 2022.
House Minority Leader Kevin McCarthy was second, with 120 mentions.
Sen. Tim Scott (R-S.C.): 114
Rep. Jason Smith (R-Mo.): 113
Sen. Bill Hagerty (R-Tenn.): 109
Sen. Chuck Grassley (R-Iowa): 107
Sen. Rick Scott (R-Fla.): 107
Rep. Debbie Lasko (R-Ariz.): 101
Rep. Tom Emmer (R-Minn.): 99
Sen. Mike Crapo (R-Ida.): 97
Top 10 Democrats:
Warren: 83 times since Jan. 1.
Jayapal: 46
Rep. Don Beyer (D-Va.): 33
Rep. Sharice Davids (D-Kan.): 27
Sen. Mark Warner (D-Va.): 26
Rep. Sean Caston (D-Ill.): 24
Sen. Sherrod Brown (D-Ohio): 24
House Majority Leader Steny Hoyer: 23
Rep. Bobby Scott (D-Va.): 21
Rep. Peter DeFazio (D-Ore.): 21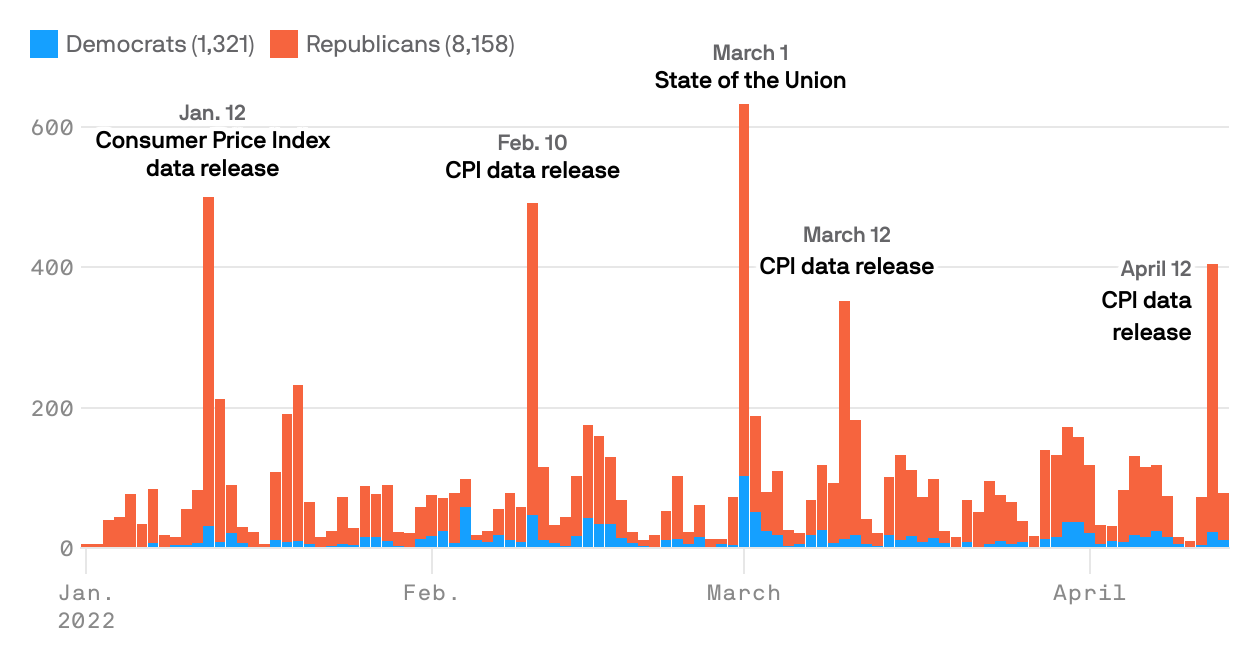 Inflation has not only become a major flashpoint in domestic politics but the biggest and most prominent line of attack from Republicans ahead of this fall's midterms. They've also leaned heavily on the monthly release of the Consumer Price Index to further fuel their inflationary messaging.
The GOP isn't alone: Inflation is a leading topic of concern among vulnerable Democrats.
They recognize price increases for everything from food to gas as a major weakness for the party — especially after last week's CPI report revealed the U.S. hit the highest annual rate of inflation in 40 years.
By the numbers: Since Jan. 1, Republicans have mentioned "inflation" on their official Twitter accounts and Facebook, through press releases, in floor statements and in newsletters to constituents 8,158 times, Quorum found.
During that same time frame, Democrats mentioned it just 1,321 times.
Editor's note: This story, first published on April 17, has been updated with new reporting showing the lawmakers that discuss inflation the most.
Go deeper