Updated Feb 21, 2022 -

World
Putin orders Russian "peacekeeping operations" in eastern Ukraine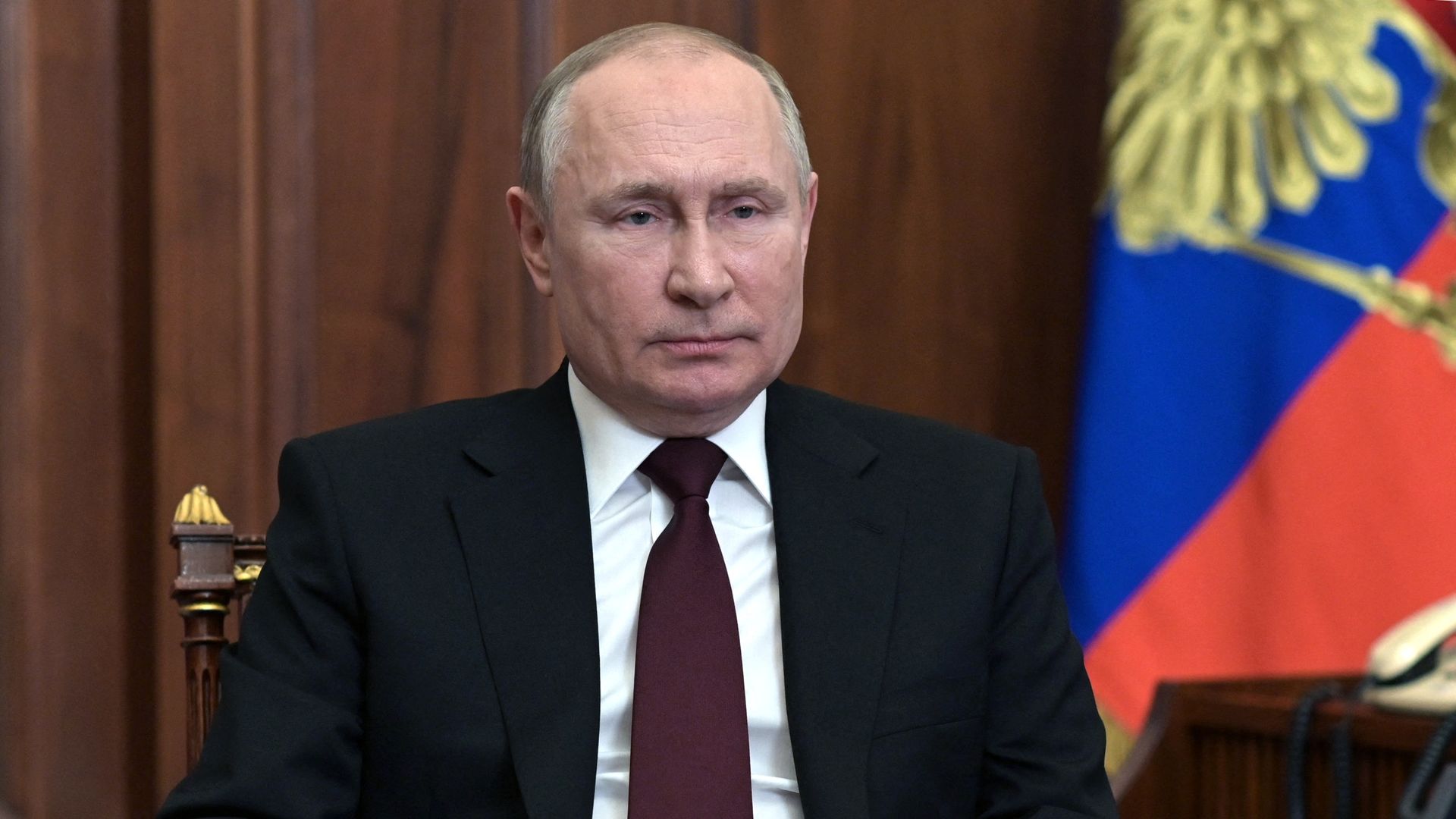 Russian President Vladimir Putin announced in a combative, hourlong address on Monday that he will recognize two breakaway "republics" in eastern Ukraine as independent.
The latest: In a decree recognizing the independence of the Donetsk People's Republic (DNR) and the Luhansk People's Republic (LNR), Putin ordered the Russian military to conduct "peacekeeping operations" in the occupied Ukrainian territories.
The U.S. ambassador to the United Nations called Putin's "peacekeeping" description "nonsense" during Monday night's U.N. Security Council meeting on the crisis.
The big picture: The separatists don't hold all of the territory they claim so recognition could swiftly evolve into war unless Russia limits its operations to the separatist-held areas.
Analysts have also warned that Moscow could also use any attacks on its troops in eastern Ukraine — real or fabricated — as a pretext for a broader war.
The separatists declared independence in 2014 and have waged a low-scale war against Ukrainian forces since then, with military backing from Moscow.
The fighting has escalated since Thursday, with Kyiv accusing the separatists of persistent shelling across the line of contact.
What they're saying: Western leaders swiftly denounced Putin's move as a violation of international law and Ukrainian sovereignty.
White House press secretary Jen Psaki said in a statement that the U.S. would prohibit investment in the separatist republics and that further sanctions would be coming that were separate from the "massive" package promised if Russia invades.
European Commission President Ursula von der Leyen and European Council President Charles Michel said in a statement that "[t]his step is a blatant violation of international law as well as of the Minsk agreements. The Union will react with sanctions against those involved in this illegal act."
Putin used his speech not only to announce recognition of the separatist republics but to make a broader argument that Ukraine is not truly a separate country from Russia, that the West is responsible for this standoff, and that Ukraine will bear responsibility for any "future bloodletting."
Between the lines: It's unclear whether the Russian troops will seek to secure only the territory the separatists currently hold or the entirety of the areas they claim (see map).
At a time when the White House continues to warn of an imminent, large-scale invasion, Putin's latest moves could be interpreted as a sign that his immediate military focus is on the eastern Donbas region and not on the capital, Kyiv.
Michael Kofman, an expert on Russia's military capabilities at CNA, contends it's more likely the first step in a broader military operation that won't be limited to the Donbas.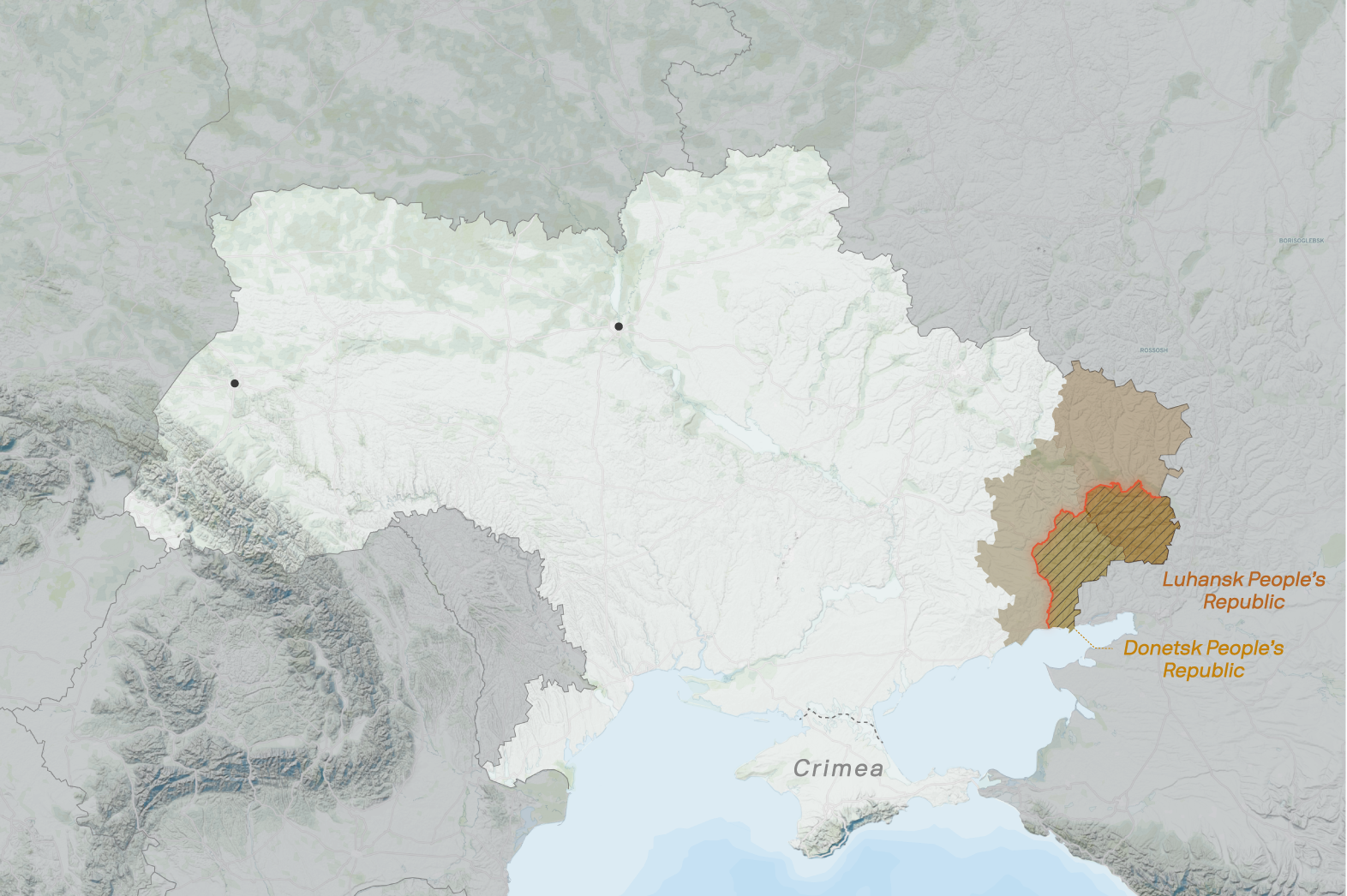 Background: Russia's Duma voted last week to ask Putin to recognize the DNR and LNR as independent.
The separatist leaders echoed that request earlier on Monday, before Russia's most senior officials took turns making the case for recognition in an extraordinary televised Security Council meeting.
The Kremlin claims Ukraine is preparing for a major military offensive in the east, which U.S. and Ukrainian officials have dismissed as absurd. More than 150,000 Russian troops are massed on the borders.
Zoom out: Russia claimed earlier Monday that its forces had killed five Ukrainians with anti-tank weapons after their vehicles crossed into Russian territory. The head of Russia's FSB intelligence service later claimed one Ukrainian soldier had been captured.
Ukrainian Foreign Minister Dmytro Kuleba denied the allegations and called on Russia to "stop your fake-producing factory now."
Worth noting: The justifications Russia appears to be building for war closely track with the playbook the Biden administration predicted Putin would follow.
They also seem choreographed in advance. Independent Russian network TV Rain noted that Defense Minister Sergei Shoigu's watch showed a time five hours earlier than the purportedly "live" Security Council meeting was aired.
Previously, separatist leaders had released videos announcing an emergency civilian evacuation which turned out to have been recorded two days before they were released.
Go deeper: Biden and Putin fight to control of Ukraine narrative
Editor's note: This story has been updated with additional details from Putin's televised address, Western leaders' reactions and information on the Russian president's decree.
Go deeper