Manchin tanks Biden's $1.75 trillion spending plan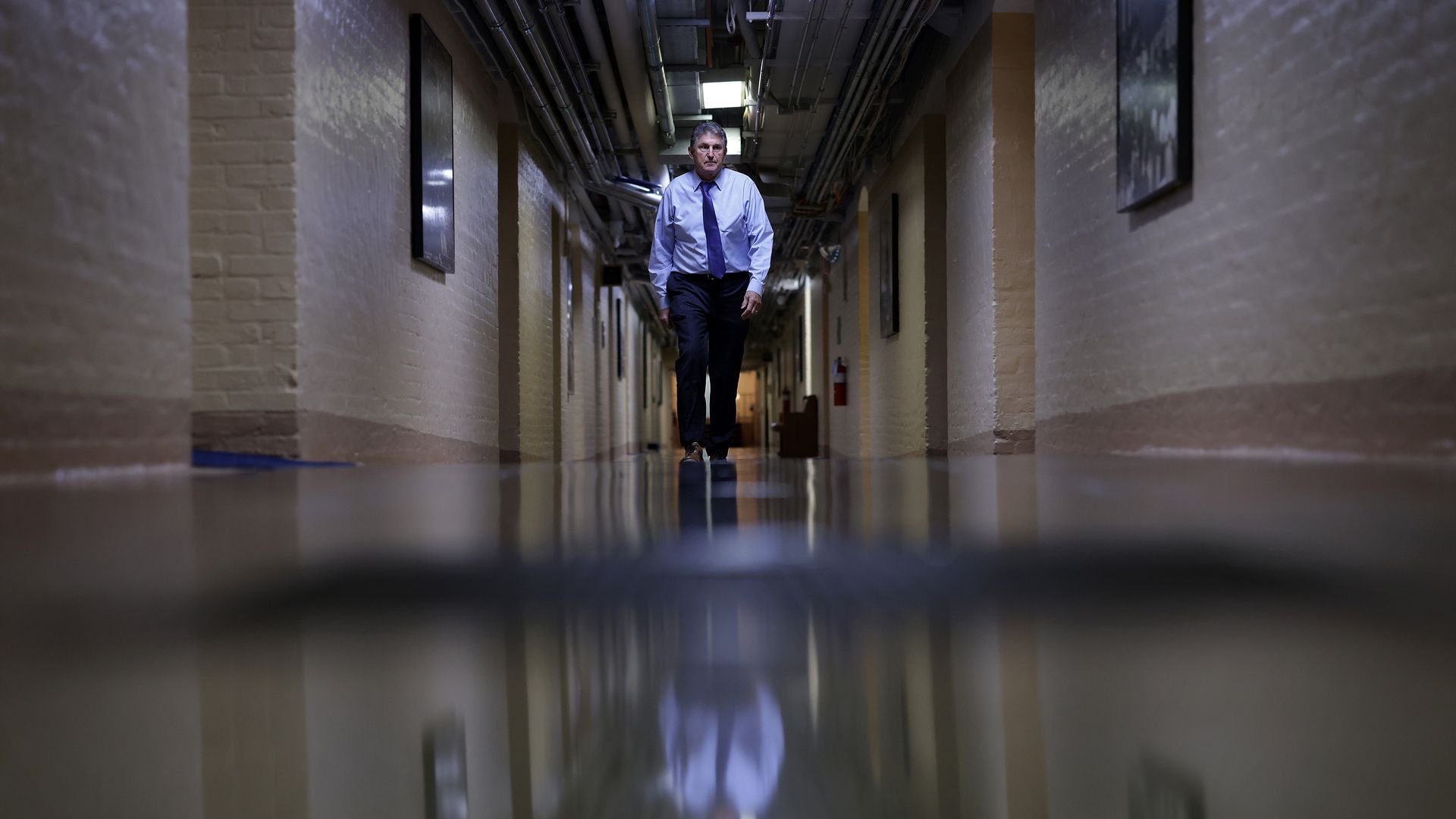 Sen. Joe Manchin will not support the president's Build Back Better legislation, he told "Fox News Sunday," all but guaranteeing the end of the $1.75 trillion spending package that is the centerpiece of the Biden agenda.
Driving the news: A Manchin staffer reached out to the White House and leadership roughly 30 minutes before his interview, two sources familiar with the West Virginia Democrat's remarks told Axios.
And in a statement after his appearance, Manchin doubled down, saying his "Democratic colleagues in Washington are determined to dramatically reshape our society in a way that leaves our country even more vulnerable to the threats we face. I cannot take that risk."
While it's still unclear what became the final straw for Manchin, President Biden and the senator had been locked in a disagreement over how long BBB programs should be funded, people familiar with the matter told Axios on Wednesday.
"My concerns have only increased as the pandemic surges on, inflation rises and geopolitical uncertainty increases around the world," Manchin said in the Sunday statement.
White House press secretary Jen Psaki responded in a statement Sunday that said, in part: "Sen. Manchin promised to continue conversations in the days ahead, and to work with us to reach that common ground."
"If his comments on Fox and written statement indicate an end to that effort, they represent a sudden and inexplicable reversal in his position, and a breach of his commitments to the president and the senator's colleagues in the House and Senate."
Biden told Manchin in a Monday phone call that he didn't want to budge from his plan to fund some of his programs for one year, and others for 10 years, Axios reported at the time.
Manchin was equally clear: Before negotiating which individual programs should survive, he wants to agree to a common denominator for their funding term.
Between the lines: Democratic senators feel blindsided. Multiple members were not given a heads up about the change or the decision to announce it on "Fox News Sunday" morning, and their offices are now scrambling to hold meetings with their staff over how to respond, Senate aides tell Axios.
But, but, but: It's clear Manchin doesn't support the Build Back Better package as it stands now. But it's still unclear whether he'll get behind separate legislation passing some of these key provisions.
"BBB is dead," a source familiar with Manchin's remarks makes clear to Axios. "Anything else is hypothetical at this point."
What he's saying: "For five and a half months, I have worked as diligently as possible meeting with President Biden, Majority Leader Schumer, Speaker Pelosi and my colleagues on every end of the political spectrum to determine the best path forward despite my serious reservations," Manchin said in a statement.
"I have made my concerns clear through public statements, op-eds and private conversations," he said, adding: "I have always said, 'If I can't go back home and explain it, I can't vote for it.' Despite my best efforts, I cannot explain the sweeping Build Back Better Act in West Virginia and I cannot vote to move forward on this mammoth piece of legislation."
Go deeper:
Editor's note: This is a developing story and has been updated throughout.
Go deeper