Historic wind storm spawns tornadoes, causes widespread power outages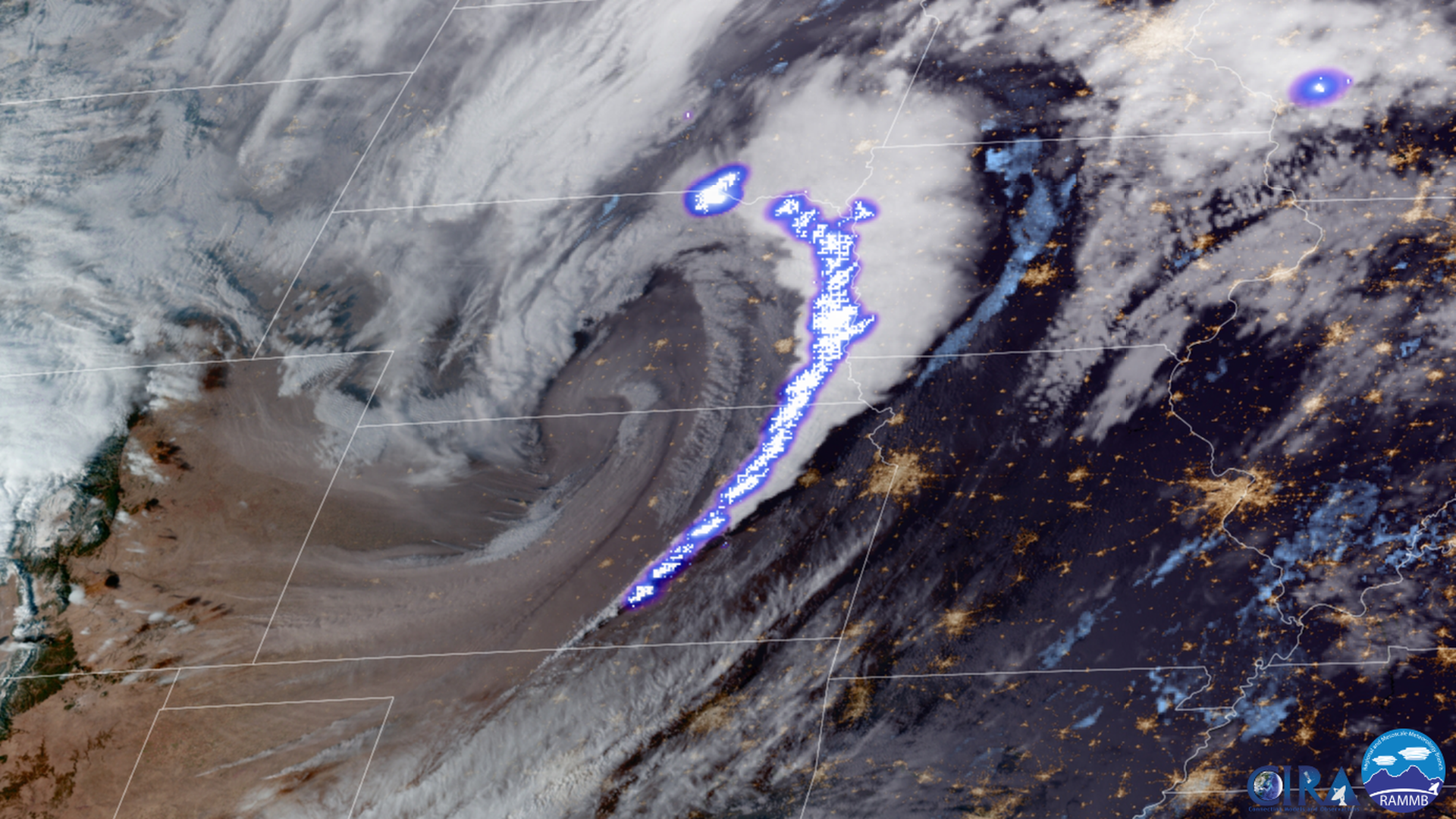 An expansive storm is unleashing an array of hazardous weather to a broad swath of the lower 48 states — with winds reaching 85 to 100 mph from Colorado to Iowa, along with record warmth that's fueled an ongoing derecho moving into Minnesota and Wisconsin.
Why it matters: The storm set all-time high temperatures for the month of December on Wednesday, as readings soared into the 70s all the way to the Iowa-Minnesota border. Its winds had knocked out power to some 500,000 customers in 10 states Thursday, with outages climbing in Iowa and Kansas, per poweroutage.us.
The expansiveness of the high wind threat has been unusual, with 84 million people under some type of high wind warning on Wednesday, as strong winds tossed trucks off highways and initiated a large-scale dust storm across the Plains, raising the risk of wildfires.
Travel delays and cancellations rippled across major airline hubs in Denver, Chicago and Minneapolis.
Threat level: Multiple tornadoes were reported in Nebraska and Iowa — many in places where none had been observed before during December.
Widespread damaging winds were occurring and the Storm Prediction Center said more strong tornadoes were possible Thursday, along with further widespread damaging winds.
Winds have gusted above 80 mph at multiple locations in Kansas, Colorado, Nebraska, Iowa and other states as an area of low pressure rapidly intensified and moved into the Upper Midwest.
The NWS' Twin Cities office tweeted: "TODAY'S VOLATILE DAY OF WEATHER HAS NOT BEEN SEEN BEFORE IN MID-DECEMBER."
These storms have produced straight-line winds of 85 to 100 mph across a large area and qualify as a derecho that extends into Minnesota and eventually Wisconsin and Illinois. As the storms pushed east, they continued to produce severe wind gusts.
As the storms passed through Lincoln, Nebraska, Wednesday afternoon, a wind gust to 93 mph was recorded. Damaging winds have been observed across much of Iowa, in some cases causing structural damage to homes and businesses.
The National Weather Service issued tornado warnings on Wednesday where it would normally have post-winter storm or blizzard warnings at this time of year. The forecast office in Sioux Falls, South Dakota, issued its first December tornado warning Wednesday.
For the record: The scope of hurricane-force wind gusts has been larger than many actual landfalling hurricanes.
A wind gust of 107 mph was recorded in Lamar, Colorado, on Wednesday and 91 mph gusts were recorded at the National Center for Atmospheric Research near Boulder. Shortly before noon local time, a wind gust of 100 mph was recorded at the U.S. Air Force Academy just north of Colorado Springs.
The wind reached the century mark in Russell, Kan., as well.
By the numbers: Iowa broke its state record for the highest temperature during the month of December, with an observation of 76°F at Oskaloosa Municipal Airport. Des Moines and Moline broke their December highs also.
Temperatures are up to 40°F above average for this time of year in the Plains and Midwest. The warmth fueled the outbreak of severe thunderstorms, including the threat of tornadoes, across parts of Iowa, Nebraska, Minnesota and Wisconsin.
Context: Human-caused climate change is making such warm spells more likely to occur, and unusually mild waters of the Gulf of Mexico are playing a role in Wednesday's weather. Warming waters are also connected in part to climate change.
Wildfire danger has been extreme across the Plains, as strong, dry winds howl. Wildfires have been reported in Kansas, Texas, and Oklahoma, with smoke blowing north into Nebraska.
The winds were caused difficulties for firefighters battling the Parker Creek fire in Oldham, Hartley and Moore counties of Texas and the Corsino Fire in Potter County as well.
A fire warning was in effect in Russell County, Kansas, because of a large "life-threatening" grass fire rapidly spreading eastward by the high winds, according to NWS Wichita.
Satellite imagery showed heat signatures from the blazes located underneath the veil of blowing dust.
Of note: The warm weather continues a trend seen so far in December, with the contiguous U.S. recording 32,179 daily record highs compared to just 14 daily record lows through Dec. 8, according to the most recent data available in NOAA's database.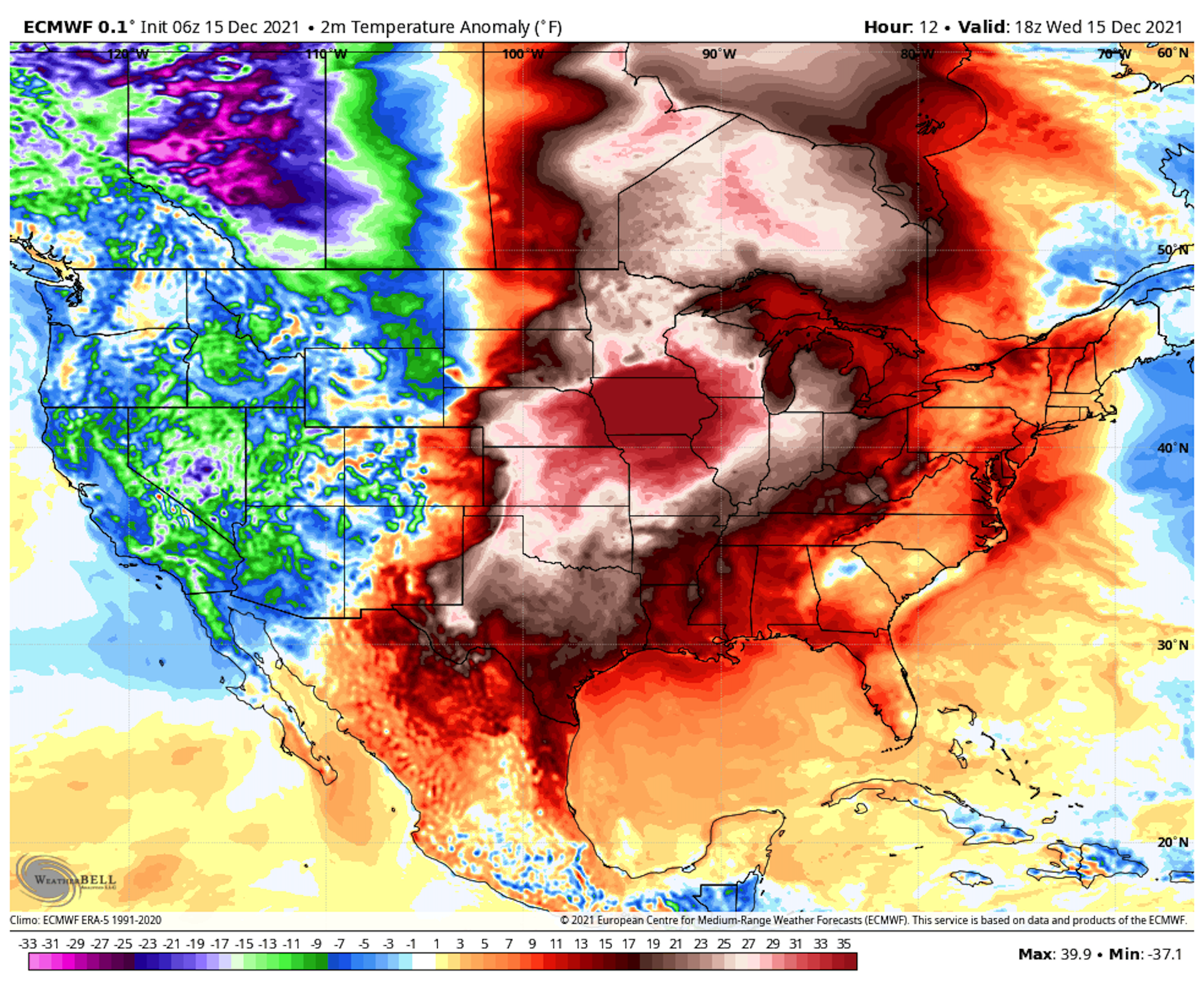 What's next: A strong, potentially record-breaking low-pressure system racing across the Upper Midwest was forecast to eventually reach southern Canada on Thursday.
"Dangerously high winds" were expected to impact much of the Central and Northern Plains Thursday evening, and the Midwest and Upper Great Lakes overnight.
"As a result, blowing dust and power outages will likely be found throughout the region," the NWS said. "Extremely Critical Fire Weather also exists into this evening from the northern Texas Panhandle to north-central Kansas."
Editor's note: This article has been updated with new details throughout.
Go deeper