Prime minister flags vaccine mandate for 40% of New Zealand workforce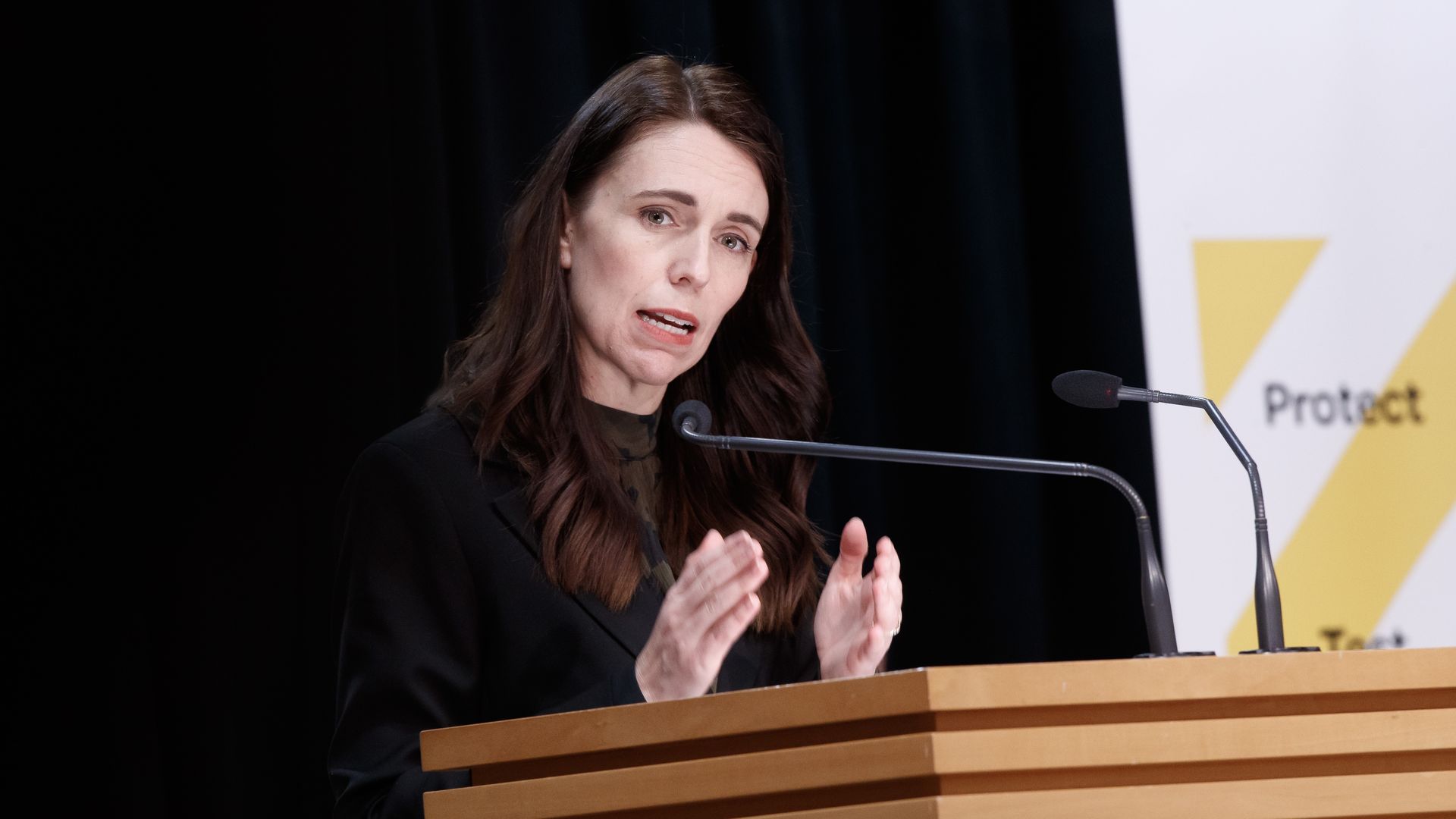 New Zealand Prime Minister Jacinda Ardern on Tuesday announced a COVID-19 vaccine mandate for businesses, as the government pushes to reach a nationwide 90% vaccination target.
Why it matters: Under the new COVID-19 Protection Framework, businesses must require vaccine certificates from customers if they're in close contact with them. Ardern said at a briefing Tuesday that such venues wishing to operate, including hair salons, bars, restaurants and gyms, must ensure staff is vaccinated.
Unlike in the U.S., there are no religious exemptions. Fewer than 100 people in the population of 5 million are estimated to qualify as medically exempt from the Pfizer vaccine, currently the only brand offered in New Zealand.
The mandate affects about 40% of New Zealand's workforce, workplace relations minister Michael Wood said at the briefing.
Of note: NZ is phasing out its pandemic elimination strategy, which proved successful before the arrival of the Delta variant in August.
Auckland, New Zealand's most populous city and the center of the current outbreak, has been under lockdown restrictions since then.
It's due to exit lockdown and switch to the highest setting of a new "traffic light" system once all three of Auckland's District Health Boards have fully vaccinated 90% of the eligible population of residents over 12, expected by the end of November.
By the numbers: New Zealand's outbreak has grown to 1,209 active community cases as of Tuesday, the vast majority in Auckland.
28 people have died from the virus since the pandemic began.
The big picture: Auckland and COVID-19-affected parts of the Waikato region are under level 3 of NZ's four-tier restrictions, set under the elimination strategy. Nonessential businesses that have close contact with customers remain closed.
They're operating in the rest of the country under level 2 restrictions, with venue capacities capped.
Auckland is set to become the first region to experience the traffic light system, which enables businesses to operate under vaccine mandates — entering in the red setting. Other regions can join once they hit the 90% vaccination target.
What she's saying: "With the new traffic light system, businesses we previously treated as high risk like hospitality, hairdressers and gyms can operate at all levels if they ask customers for a vaccine certificate," Ardern said at the briefing of the threat these venues posed to the spread of the virus.
"If customers must be vaccinated, then so too must the workers."
— Ardern
Threat level: COVID-19 modeler Michael Plank, of New Zealand's University of Canterbury, said in a statement after the traffic light system was announced last week that the "red" setting "may not be enough to control a large outbreak that was threatening health care systems."
He recommended the government keep some of the stricter measures from the elimination strategy, such as localized lockdowns.
Māori and Pacific Islander leaders and health experts have expressed concern at the disproportionate effects of the pandemic among these populations.
Between the lines: Vaccination rates of Māori and Pacific Islanders have been lower than the general population.
Rhys Jones, a lecturer in Māori Health at the University of Auckland, expressed concern in a statement that the vaccine had been rolled out to "systematically privileged non-Māori, non-Pacific populations," putting indigenous Māori in particular at risk.
They've been let down by successive governments and faced systemic barriers in NZ's health system for decades. Consequently, there's been a distrust of governments.
Yes, but: These populations are younger, so vaccination rates have been rising as the rollout continues.
Editor's note: This article has been updated with comment from Jones and further context.
Go deeper