Bob Woodward shares his final interview with "reluctant warrior" Colin Powell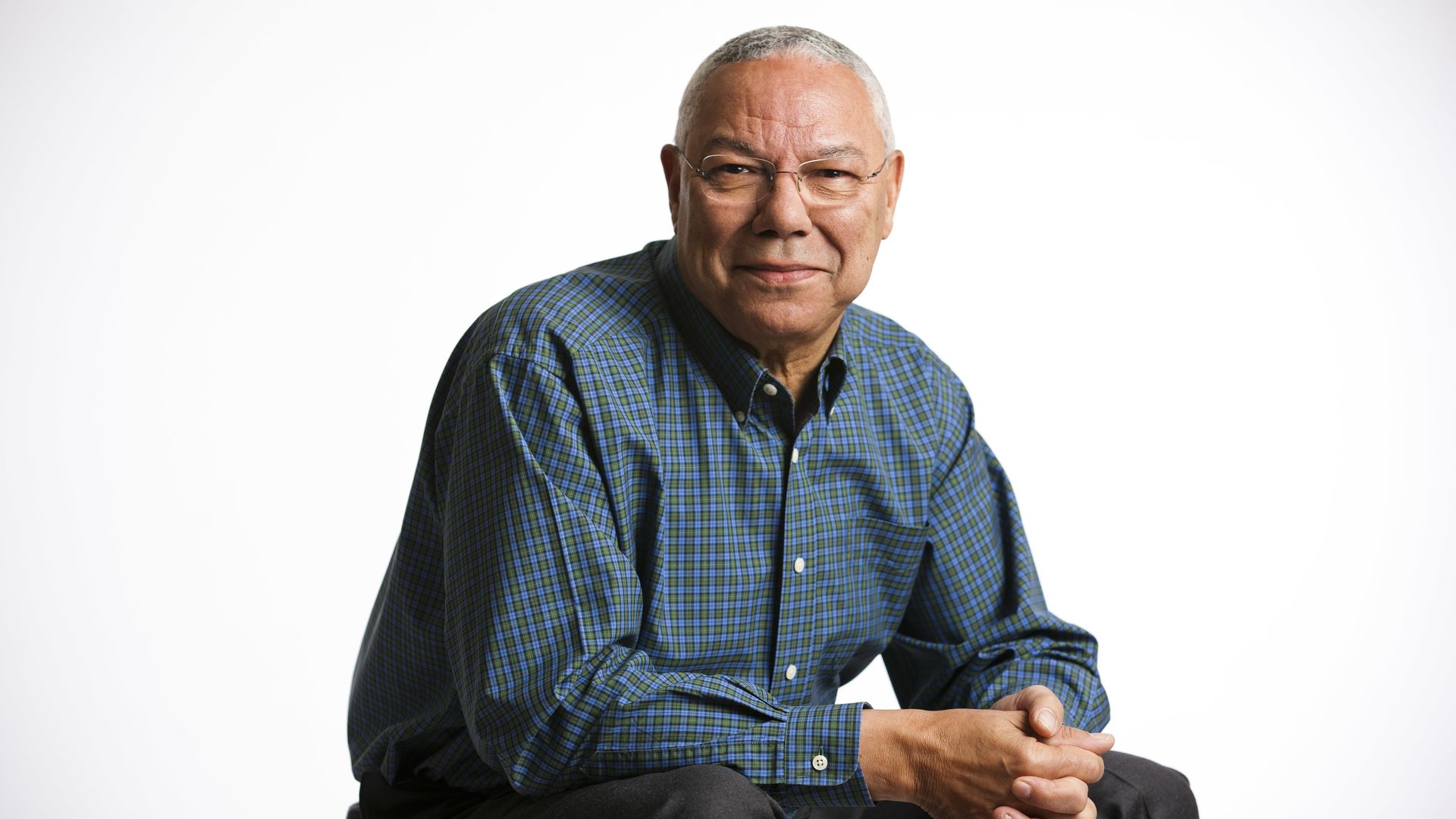 Colin Powell, the first Black U.S. secretary of state who died on Monday at age 84, opened up to journalist Bob Woodward about his life, legacy and recent health problems in one of his last interviews.
Of note: In a Washington Post article and audio shared Monday, Powell, who died from COVID-19 complications, responded to Woodward's concerns upon learning in their July interview of his Parkinson's disease and multiple myeloma cancer by saying: "Don't feel sorry for me, for God's sakes!"
"I'm [almost] 85 years old," the retired four-star general continued in the phone interview, also shared with CNN.
"I've got to have something. I haven't lost a day of life fighting these two diseases. I'm in good shape."
The big picture: Woodward's interview explored Powell's trailblazing career, which saw him become the first Black national security adviser, in the Reagan administration, and first Black Joint Chiefs of Staff chair in the George H.W. Bush administration, during the first Gulf War against Iraq.
He notched another first as secretary of state in the George W. Bush administration during the second war against Iraq.
Woodward asked him about being described as "a reluctant warrior." "I am a reluctant warrior," Powell replied.
"I don't like wars. I don't want to be a warrior. But remember the other thing that is well-known about me and, that is, we go to a war, and I will do everything I can to beat the crap out of somebody and win it."
— Powell
On Afghanistan, Powell said in the interview, recorded before the Taliban takeover, that he didn't have a problem with President Biden's decision to fully withdraw U.S. troops from the country.
"[We] can't beat these guys," Powell said. "You're never going to win. Afghans are going to win.
"They have hundreds willing to fight and die for this country of theirs. That's why I don't have any problem with us getting out of there."
Former President Trump came in for criticism from Powell, who last year revealed he'd vote for Biden because he said the then-president was "dangerous for our democracy."
The bottom line: After all of his experiences and the people that he'd met, Powell didn't hesitate when Woodward asked him who was the greatest person he'd known.
"It's Alma Powell," he said of his wife of 58 years. "She put up with a lot. She took care of the kids when I was ... running around. And she was always there for me, and she'd tell me, 'That's not a good idea.' She was usually right."
Go deeper:
Go deeper