Trump calls officer who fatally shot rioter Ashli Babbitt a "murderer"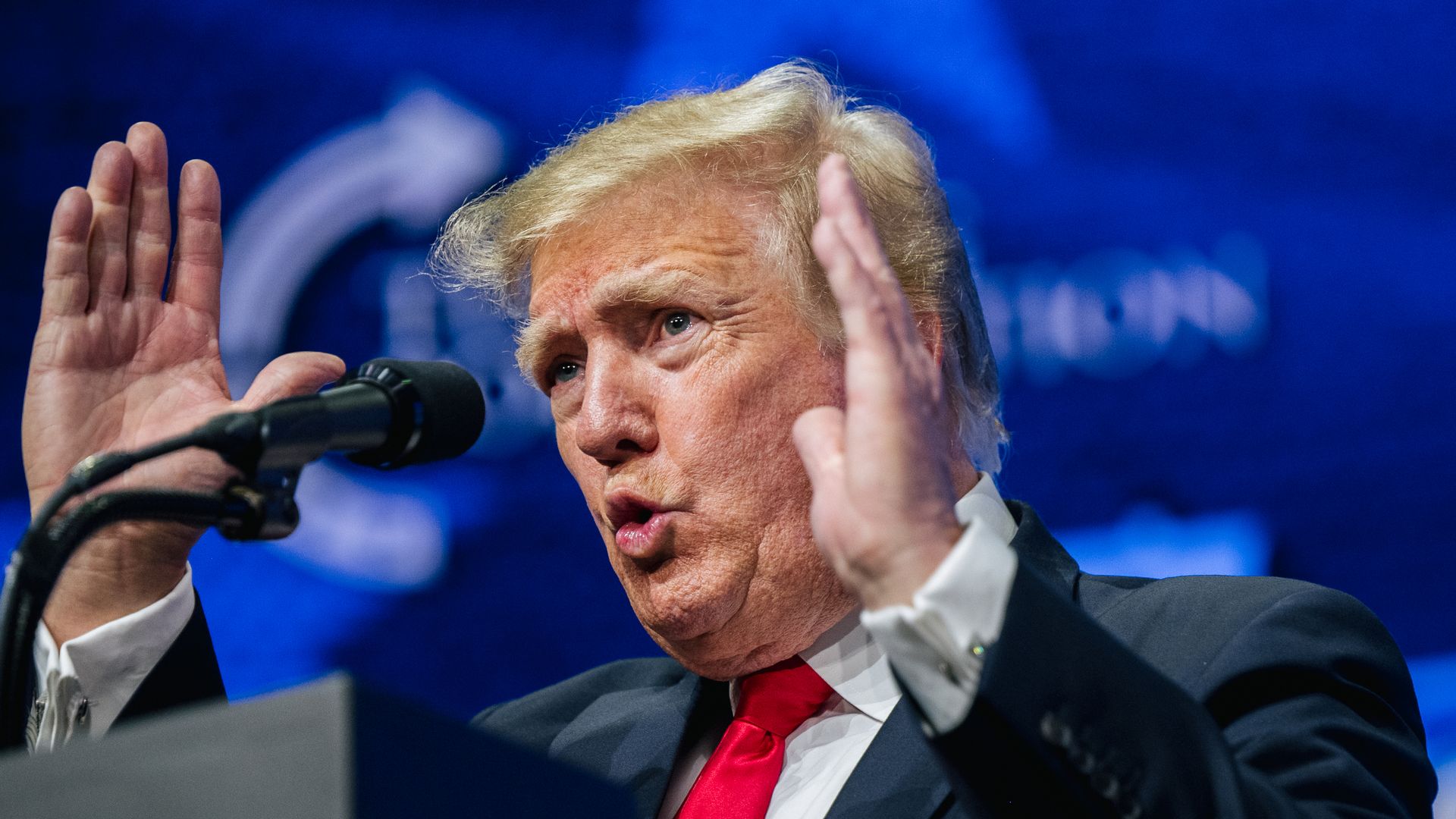 Former President Trump issued a statement Wednesday criticizing law enforcement who responded to the Capitol insurrection and praising Ashli Babbitt, who was fatally shot while participating in the riot.
Why it matters: Babbitt was one of five people to die as a result of the Jan. 6 Capitol attack that caused some $500 million in damage to the building and resulted in the arrests of hundreds of people.
The Justice Department found insufficient evidence to support criminal prosecution against the officer who shot Babbitt in a shoulder as she tried to enter the Speaker's Lobby through a door's broken window.
What he's saying: "I spoke to the wonderful mother and husband of Ashli Babbitt, who was murdered at the hands of someone who should have never pulled the trigger of his gun," Trump said in an emailed statement to news outlets calling for "justice."
"If this happened to the 'other side,' there would be riots all over America, and yet there are far more people represented by Ashli, who truly loved America, than there are on the other side."
House Speaker Nancy Pelosi's (D-Calif.) spokesperson issued a statement Thursday condemning the former president's remarks.
"Enough is enough.  These attacks are disgusting, wrong and a wholly unacceptable way to treat the men and women who went through hell to protect our democracy from armed insurrectionists," Pelosi's spokesperson Robyn Patterson said in a statement.  
"It's long overdue for Minority Leader McCarthy to get off of his hands and stand up to the members of his conference and party who have been terrorizing the brave officers that saved the lives of countless workers, staff, journalists and Members on January 6th.  It is no less than these heroes deserve."
The big picture: The family of Babbitt, an Air Force veteran, is suing Washington, D.C. for records revealing the identity of the officer who shot her.
Babbitt has been lionized by members of the far-right and Trump surrogates — notably Rep. Paul Gosar (R-Ariz.), who was condemned by Rep. Liz Cheney (R-Wyo.) and others for defending Babbitt and the other rioters over the insurrection.
Flashback: Trump received widespread condemnation in 2017 for saying there were "very fine people, on both sides" following a white supremacists rally in Charlottesville, Virginia, which resulted in the death of Heather Heyer, 32, after a self-professed neo-Nazi ran into a group of counter-protesters.
Editor's note: This story has been updated with a statement from House Speaker Nancy Pelosi's office.
Go deeper