New Zealand to gradually reopen to the world next year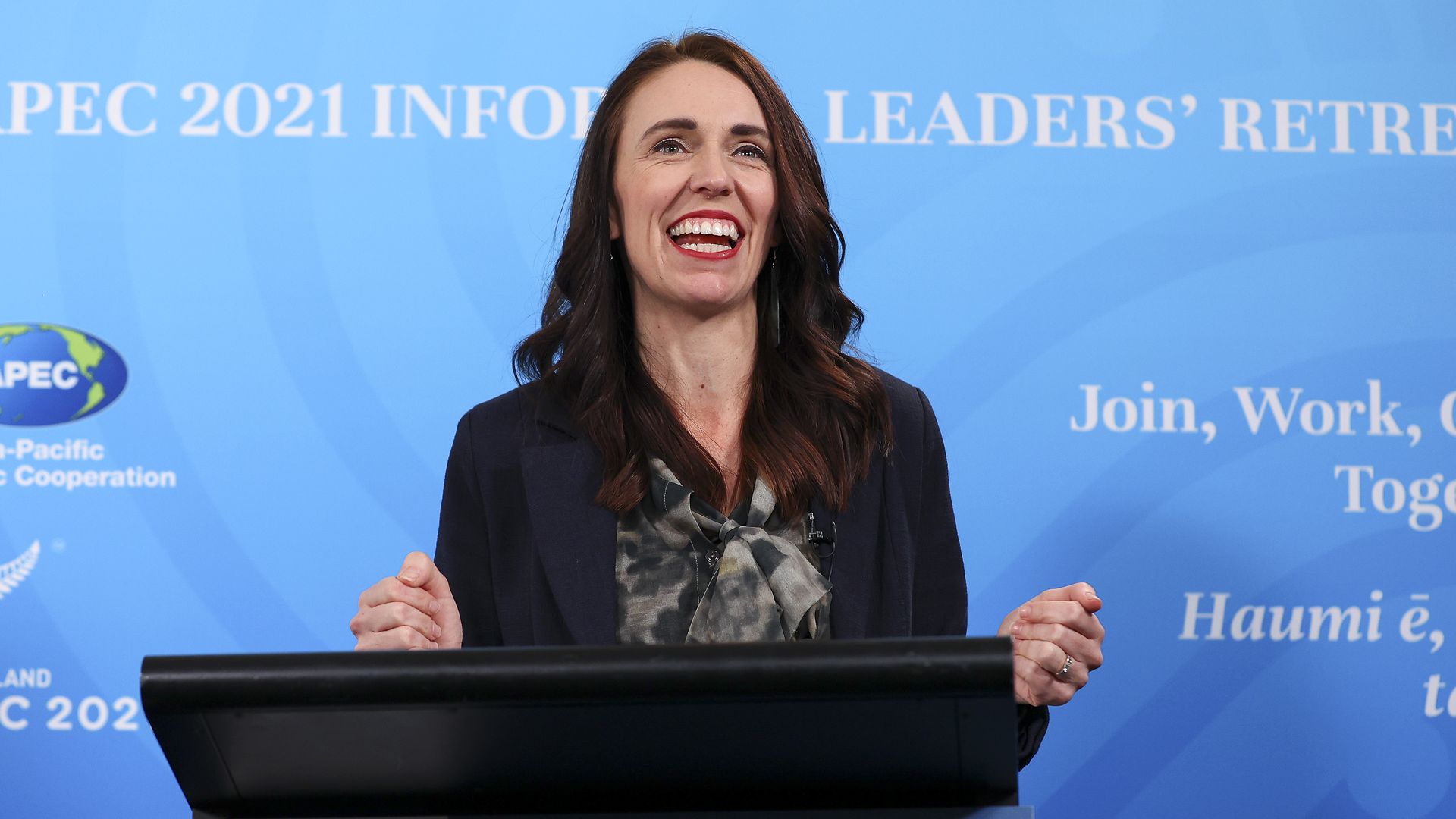 New Zealand Prime Minister Jacinda Ardern announced plans Thursday to reopen the country's borders in 2022 while maintaining a COVID-19 elimination strategy — with vaccinated travelers from low-risk countries not required to quarantine.
Why it matters: New Zealand has some of the lowest coronavirus rates in the world, reporting fewer than 2,900 infections and 26 deaths from the virus since the pandemic began. It's detected no community cases for 166 days, containing COVID-19 to managed quarantine facilities.
The country effectively closed its border to non-residents in March last year as the pandemic spread across the world.
It has managed to largely keep the virus out despite some residents returning to quarantine hotels from abroad infected with the Delta variant, health officials noted at a forum ahead of Ardern's announcement.
What to expect: The government will implement a phased, risk-based system for travelers entering New Zealand from early 2022, once all residents have been offered Pfizer doses — the only coronavirus vaccine available in the country.
"Low-Risk, Medium-Risk and High-Risk travel pathways will be created, and which pathway a traveller takes will be based on the risk associated with where they are coming from and their vaccination status," per a statement from Ardern.
Under this system, vaccinated travelers from high-risk countries would need to quarantine in a managed facility for 14 days. Those from medium-risk countries would have a reduced quarantine period, or be allowed to self-isolate.
Travelers from low-risk countries would not have to quarantine upon arrival.
What she's saying: "Our ultimate goal is to get to quarantine-free travel for all vaccinated travelers," Ardern said.
"A careful approach that says, there won't be zero cases, but when there is one in the community, we crush it, is the best way to maintain our normal lives while we monitor the twists and turns of COVID-19 over the next six months."
The big picture: Ardern's government has been criticized by opposition figures for a slower COVID-19 vaccine rollout than other countries. The prime minister maintained that New Zealand must not participate in vaccine nationalism and wait for coronavirus-affected countries get supplies first.
Now, NZ is ramping up its rollout. Roughly a third of New Zealand residents have received their first dose and over 20% their second.
By Sept. 1, vaccine bookings will be open to everyone in the country over 16, and the government expects it to be offered to all residents by December.
Of note: New Zealand and Australia opened a quarantine-free "travel bubble" in April. But this was paused last month after Australia was hit by an outbreak of cases driven by the Delta variant.
Go deeper