Exclusive: ProtonMail wades into U.S. antitrust war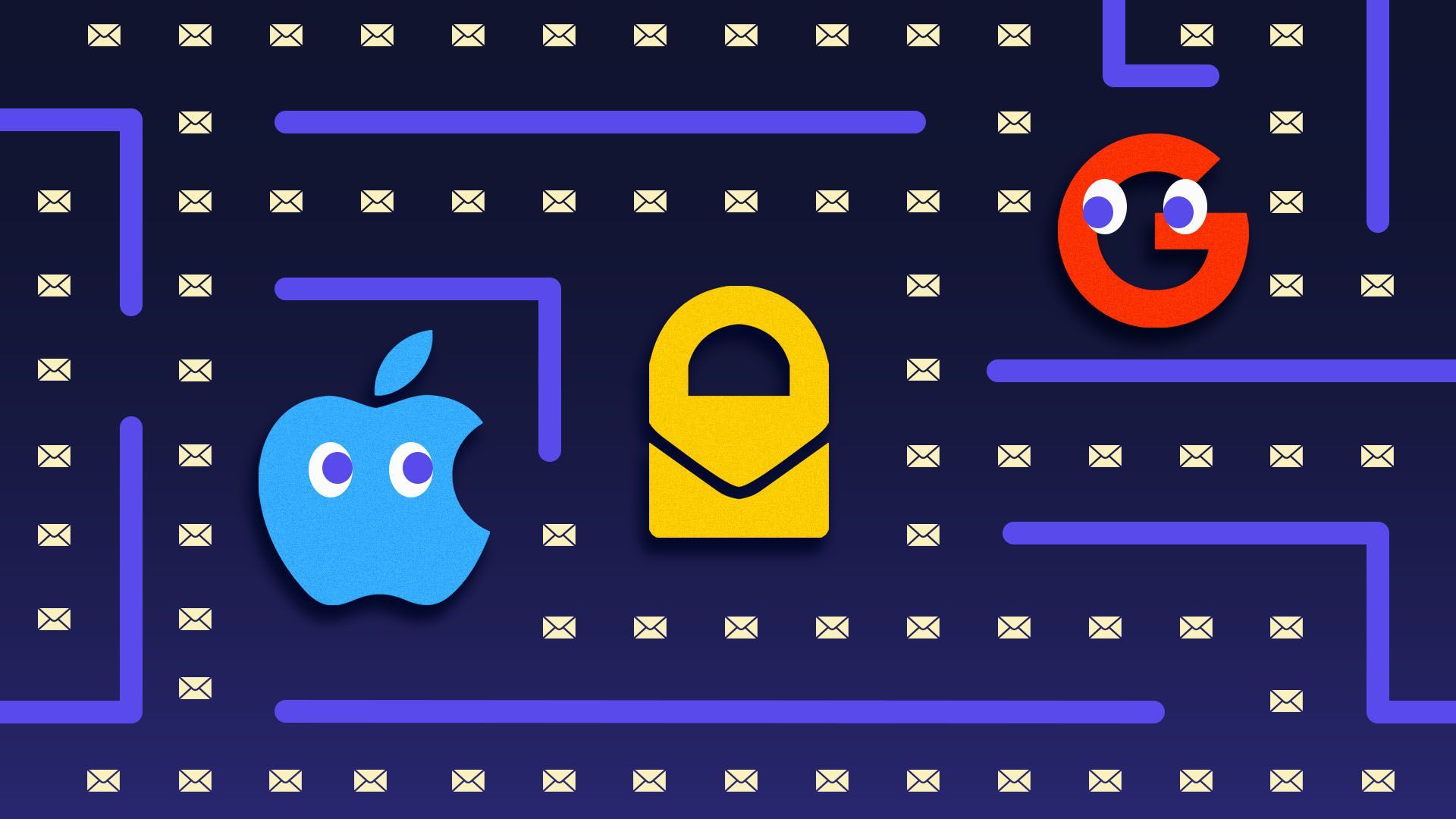 Privacy-focused email app ProtonMail is stepping into the U.S. antitrust debate as it and other smaller players take on Apple and Google in a fight over app store fees and practices.
Why it matters: App makers have long feared antagonizing Big Tech firms that control their access to customers, but now some are seizing the antitrust moment as a chance to change the rules.
Driving the news: Proton Technologies, a Swiss company that provides fully encrypted email services, argues that privacy is an antitrust issue in a new post Thursday that throws its support behind the House Judiciary Committee's tech antitrust bills.
Proton argues that if it could compete on a level playing field with Google for email services, consumers would be more likely to choose its privacy-focused app over Google's ad-supported offerings.
"Essentially, they control the whole ecosystem," Proton policy counsel Jurgita Miseviciute told Axios. "For startups, especially privacy-focused companies, it's very, very difficult to compete when there are conditions like that."
At the top of Proton's list of grievances is the 30% commission Apple collects on subscriptions sold through its App Store, with Google planning to enforce the same fee (although Google recently announced a temporary extension to 2022).
Proton's "freemium" model means it relies on paid subscriptions for revenue.
The company raised prices for consumers to cover the Apple fee, and is facing the prospect of doing the same when Google enforces its fee.
"As a small company, there is no way we can afford to just absorb those fees," Miseviciute said. "So we are forced to raise the subscription prices for our consumers."
The big picture: "Fortnite" maker Epic Games has pursued a private antitrust lawsuit against Apple over its app store restrictions, and a ruling could come any week.
The other side: A study on commission rates last year commissioned by Apple found that the 30% cut is "similar in magnitude to the commission rates charged by many other app stores and digital content marketplaces."
Apple notes that 85% of apps don't pay a commission, and it has exempted books, video and music apps from paying the fee.
Google, which is facing an antitrust lawsuit from state attorneys general over its Play Store practices, says only 3% of developers are subject to its fee, and notes "our current business model benefits the overwhelming majority of developers."
What's happening: Proton, a member of the Coalition for App Fairness, sees the tech antitrust bills, and particularly the American Choice and Innovation Online Act, as a path toward more competitive fees.
Proton believes the bill would make it illegal for Apple and Google to require the use of their payment processing services in order to distribute apps, allowing for more competition and perhaps lower fees.
"We think that the bill will really bring much more choice for consumers, and will provide more possibilities for businesses like ours, that are providing alternatives to the Big Tech services," Miseviciute said.
What to watch: Proton thinks the bills could be improved if they prevented Apple and Google from pre-installing default apps on devices. (The legislation currently says users should be allowed to remove pre-installed apps.)
"This is a critical moment," the company wrote in its post. "Big Tech is already fighting to maintain its dominance of the internet. American citizens and independent businesses must not let them succeed. "
Yes, but: After the bills were narrowly approved out of the House Judiciary Committee in June, it is unclear when they could move to the House floor.
The bottom line: Expect to hear more and more from app developers eager to advance these changes.
"Before, small developers were not even able to speak about these issues because they were so scared — because if you disappear from the App Store, in one week, you can go bankrupt," Miseviciute said. "Now, things are changing."
Go deeper