The long drive toward ending HIV/AIDS once and for all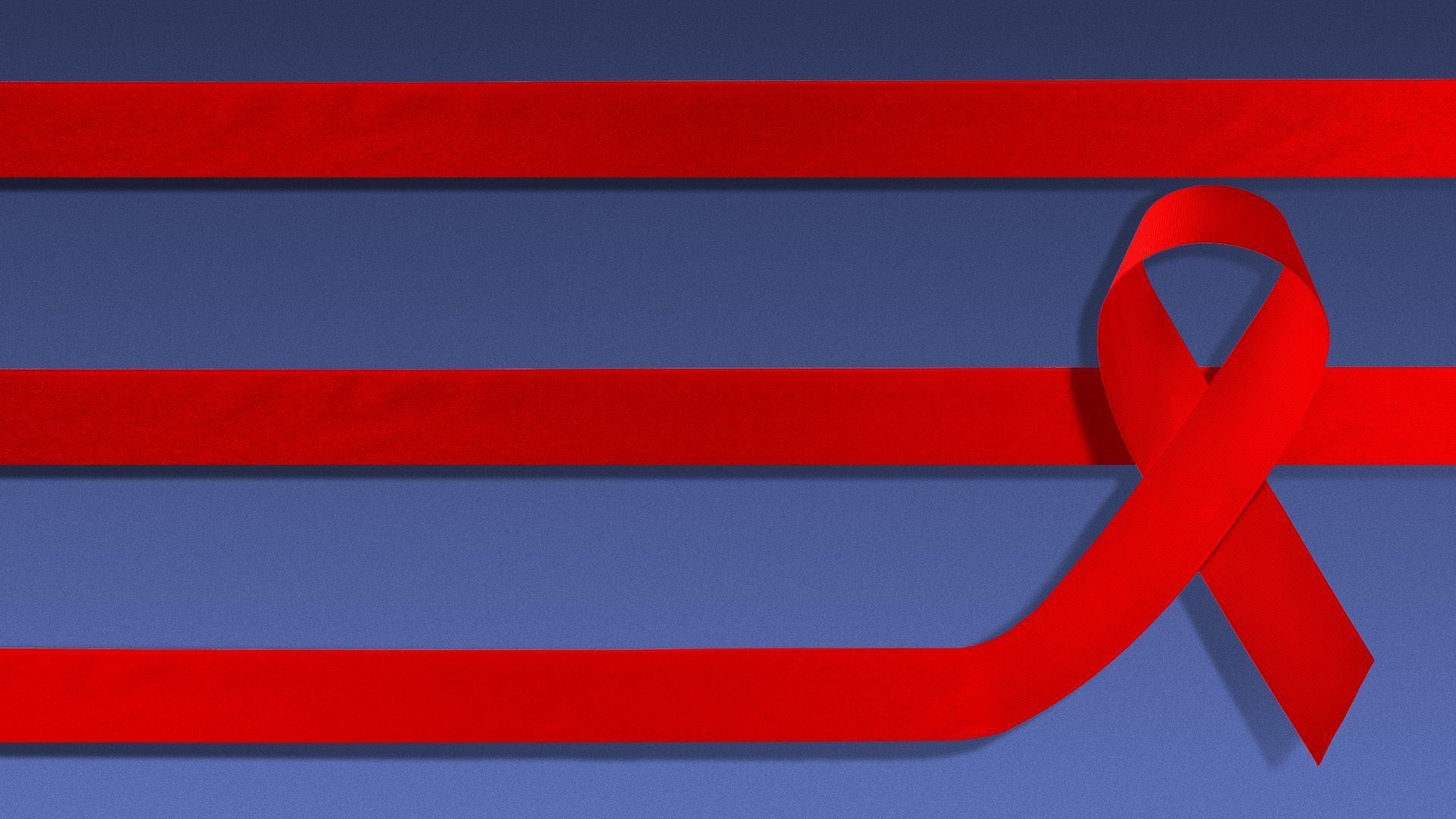 After watching the swift success story of COVID-19 vaccines, researchers and advocates are hopeful renewed funding and vaccine advances might finally lead to an end to the devastating 40-year-old AIDS epidemic.
The big picture: HIV is more difficult to target than the coronavirus responsible for COVID-19 because the virus can mutate quickly and a vaccine would need to trigger a broadly neutralizing antibody response.
The other "showstopper" about HIV is that unlike other types of viruses that infect and kill cells, HIV is a retrovirus that integrates its genome into the genome of cells very quickly and very early after infection, NIAID director Anthony Fauci tells Axios.
The state of play: Death rates from AIDS have dropped dramatically, particularly in the U.S., where new annual HIV infections decreased 73% from 1981 to 2019, the CDC reported Thursday. However, disparities persist and worries have grown about the COVID-19 pandemic's impact on the AIDS epidemic.
Examining the disparities in HIV incidence in 2019, the CDC said Thursday that 70% of new infections were in gay and bisexual men. African Americans accounted for 41% and Hispanic/Latinos 29% of new cases. And a recent CDC survey of seven cities found 4 out of 10 transgender women had HIV.
A lot of the disparities come from distrust in the health care system, racism, language barriers, stigma, plus a lack of education, awareness and access, says Carl Schmid, executive director of the HIV+Hepatitis Policy Institute.
"The stigma associated with HIV is the one thing that has remained constant of the past 40 years," Schmid says.
"The biggest challenge is that there are still tens of thousands of cases that occur in the United States every year, that we don't have a true cure or a vaccine, and that because HIV is not in the headlines, there's often complacency that it's not a major problem anymore," Amesh Adalja, senior scholar at Johns Hopkins Center for Health Security, tells Axios.
The biggest accomplishment over the past 40 years has been developing PrEP and treatments like antiretroviral therapy that can block certain stages of viral replication, Adalja says. "That's allowed HIV to no longer be a death sentence."
But a vaccine could offer the key to halting the epidemic.
To succeed with an HIV vaccine, Fauci says researchers need to find a better HIV immunogen, or antigen, to target for an immune response, like the spike protein that many of the COVID-19 vaccines focus on.
The NIAID's clinical trial of an investigational HIV vaccine called HVTN 702 failed, although other trials continue.
Fauci, Adalja and others hope the mRNA vaccine platform that has offered an adaptable and flexible tool to fight COVID-19 may be able to help combat AIDS as well.
But "it's unclear yet whether that's going to work" with HIV, Adalja says.
What's next: Now that the urgency of COVID-19 is diminished a bit in the U.S. and the new vaccine platform has been proven, advocates hope more attention and funding will be given to this 40-year epidemic.
The funding proposed by the Biden administration falls a little short of what was requested, Schmid says, but it would continue a positive momentum if Congress passes it.
"We know how to prevent HIV, we know how to treat HIV, and we know we can end it. But we need the leadership and the resources to make sure it happens," Schmid says.
Go deeper: Fauci interview: Reaching for a "home run" in AIDS research
Go deeper