America's pastime returns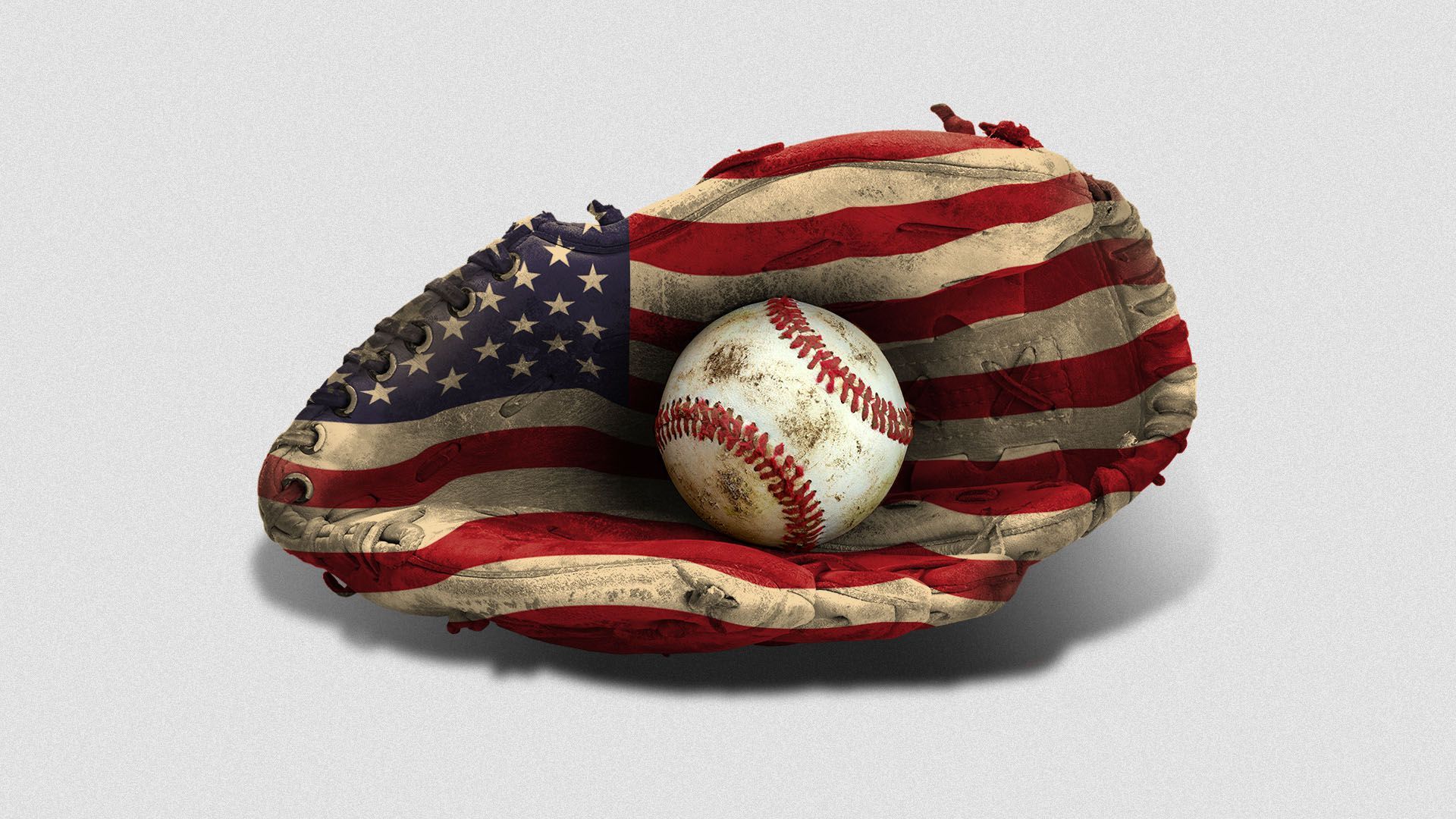 Baseball is back, America. After a 60-game season in 2020, this year's complete 162-game schedule begins this afternoon in the Bronx.
Driving the news: MLB saw just 17 positive tests out of 72,751 conducted (0.02%) last Friday. But five Nationals are currently in quarantine due to a positive test — a reminder of how fragile any sense of stability will be.
The state of play:
New ball: MLB is debuting a new ball that's supposed to decrease flight distance and possibly limit home runs. But based on spring training data gathered by The Ringer, it still seems juiced.
CBA negotiations: The collective bargaining agreement between MLB and the players' union expires on Dec. 1, and they'll need to agree to a new one to avoid a lockout. Negotiations should begin soon and will be a storyline all year.
Changes that remain: Some of the changes MLB enacted in 2020 remain in effect, including seven-inning double-headers and placing a runner on second base to start each extra half-inning.
New-look Minors: Dozens of minor league affiliates were eliminated or rearranged this offseason (see map). MLB will also test potential rules changes in the minors, including larger bases (Triple-A) and defensive shift restrictions (Double-A).
Dodgers repeat? MLB hasn't had a repeat champion since 2000 (Yankees). That kind of parity is part of what makes baseball great, but the Dodgers are heavy favorites (+300) to win another World Series.
The big picture: Between the new ball, the new rules carried over from 2020, and the experiments being conducted in the minors, the push to evolve — and improve — the game of baseball has never been stronger.
"I think everyone in the game can look at the product on the field right now and say ... while we love it, and baseball is as important to us and as special to us as ever, it's probably not the very best version of the game that's possible in the universe."
— Theo Epstein,
via The Athletic
66% of Americans say they feel comfortable attending an outdoor sporting event such as baseball, according to a new Washington Post-University of Maryland poll.
Meanwhile, just 32% percent say they feel comfortable attending an indoor event such as basketball or hockey.
Opening Day schedule: 15 games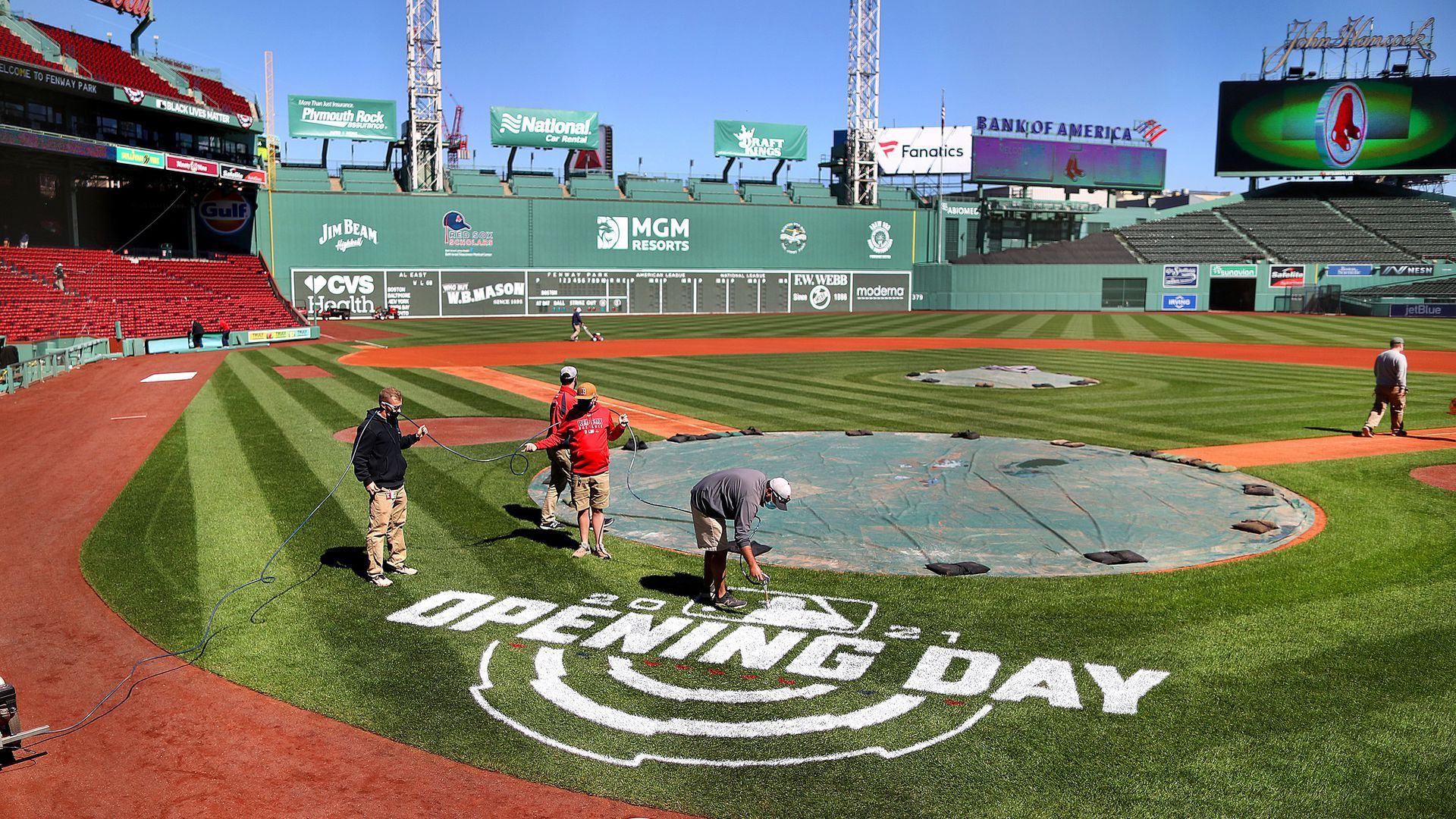 Early afternoon: The season gets underway at Yankee Stadium, which will continue to operate as a vaccination center through at least April 30.
1:05pm ET: Blue Jays (Ryu) vs. Yankees (Cole)
1:10pm: Indians (Bieber) vs. Tigers (Boyd)
2:10pm: Orioles (Means) vs. Red Sox (Eovaldi)
2:10pm: Twins (Maeda) vs. Brewers (Woodruff)
2:20pm: Pirates (Kuhl) vs. Hendricks (Cubs)
3:05pm: Braves (Fried) vs. Phillies (Nola)
Late afternoon: Five games, all starting at the same time. Make sure you power up the iPad for prime multi-screen viewing.
4:10pm: Diamondbacks (Bumgarner) vs. Padres (Darvish)
4:10pm: Dodgers (Kershaw) vs. Rockies (Marquez)
4:10pm: Cardinals (Flaherty) vs. Reds (Castillo)
4:10pm: Rays (Glasnow) vs. Marlins (Alcántara)
4:10pm: Rangers (Gibson) vs. Royals (Keller)
Night: The nation's capital will play host to the day's best pitching duel, with two multi-Cy Young winners facing off at Nationals Park.
7:10pm: Mets (deGrom) vs. Nationals (Scherzer)
10:05pm: White Sox (Giolito) vs. Angels (Bundy)
10:05pm: Astros (Greinke) vs. A's (Bassitt)
10:10pm: Giants (Gausman) vs. Mariners (Gonzales)
Fun fact: Max Fried, Jack Flaherty and Lucas Giolito were all high school teammates at Harvard-Westlake in 2012. Nine years later, all three are Opening Day starters.
Go deeper:
Sign up for my daily newsletter Axios Sports for more content like this.
Go deeper