Axios Sports
April 01, 2021
⚾️ Good morning! It's Opening Day! Welcome to our 2021 MLB season preview.
🎙 Reminder: Tomorrow morning at 8am ET, we're hosting a live conversation on Locker Room for Axios Sports readers — and you're all invited! Download the app.
We'll have a link at the bottom of tomorrow's newsletter so you can jump right into the discussion, but you'll need to have the app downloaded.
Discussion topics: Final Four, Opening Day, and other top stories from around the sports world.
Today's word count: 1,848 words (7 minutes).
1 big thing: ⚾️ America's pastime returns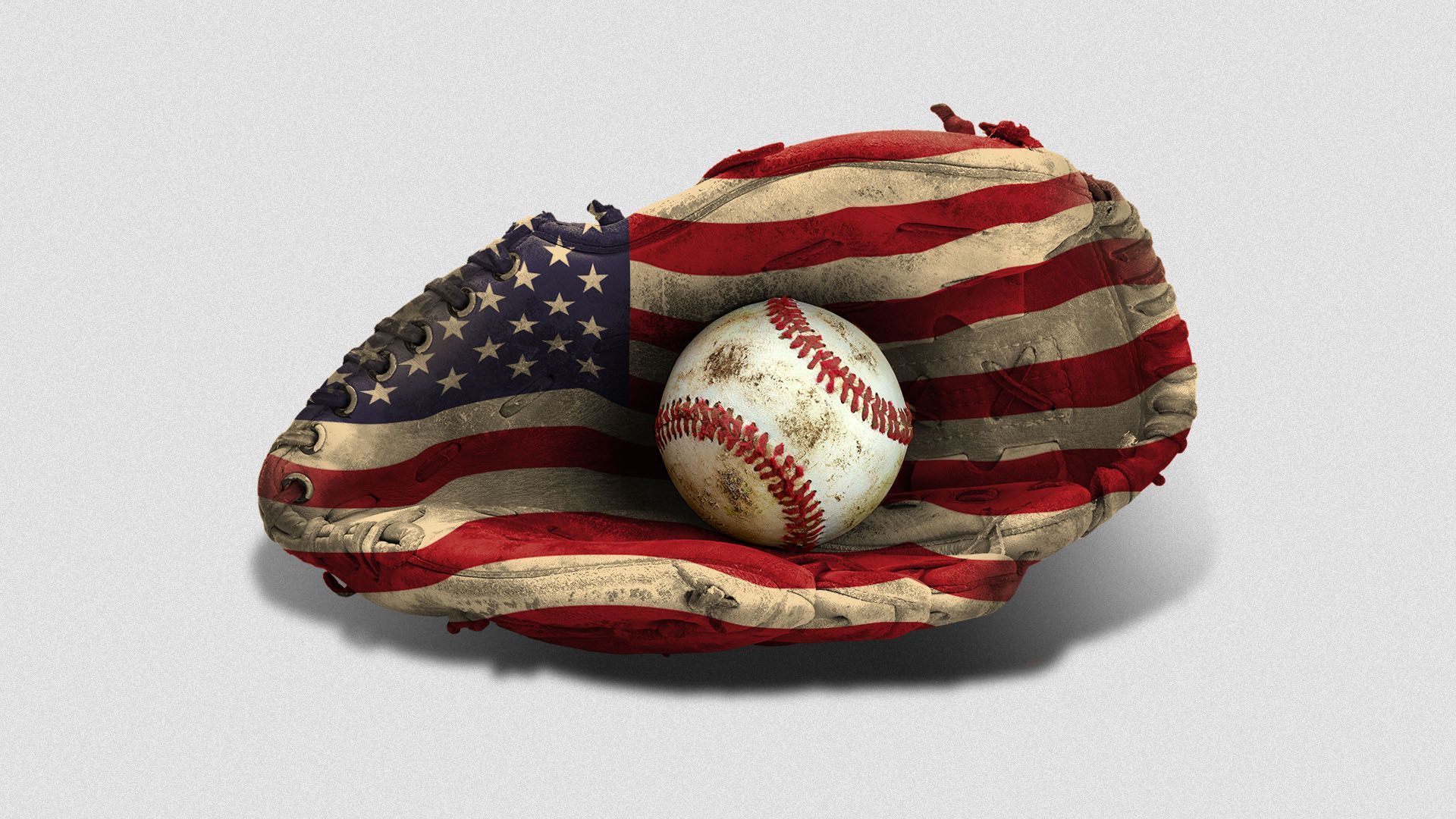 Baseball is back, America. After a 60-game season in 2020, this year's complete 162-game schedule begins this afternoon in the Bronx.
Driving the news: MLB saw just 17 positive tests out of 72,751 conducted (0.02%) last Friday. But five Nationals are currently in quarantine due to a positive test — a reminder of how fragile any sense of stability will be.
The state of play:
New ball: MLB is debuting a new ball that's supposed to decrease flight distance and possibly limit home runs. But based on spring training data gathered by The Ringer, it still seems juiced.
CBA negotiations: The collective bargaining agreement between MLB and the players' union expires on Dec. 1, and they'll need to agree to a new one to avoid a lockout. Negotiations should begin soon and will be a storyline all year.
Changes that remain: Some of the changes MLB enacted in 2020 remain in effect, including seven-inning double-headers and placing a runner on second base to start each extra half-inning.
New-look Minors: Dozens of minor league affiliates were eliminated or rearranged this offseason (see map). MLB will also test potential rules changes in the minors, including larger bases (Triple-A) and defensive shift restrictions (Double-A).
Dodgers repeat? MLB hasn't had a repeat champion since 2000 (Yankees). That kind of parity is part of what makes baseball great, but the Dodgers are heavy favorites (+300) to win another World Series.
The big picture: Between the new ball, the new rules carried over from 2020, and the experiments being conducted in the minors, the push to evolve — and improve — the game of baseball has never been stronger.
"I think everyone in the game can look at the product on the field right now and say ... while we love it, and baseball is as important to us and as special to us as ever, it's probably not the very best version of the game that's possible in the universe."
— Theo Epstein, via The Athletic (
subscription
)
Go deeper:
2. 🏟 Chart du jour: Fan policies by team
66% of Americans say they feel comfortable attending an outdoor sporting event such as baseball, according to a new Washington Post-University of Maryland poll.
Meanwhile, just 32% percent say they feel comfortable attending an indoor event such as basketball or hockey.
My thought bubble: Of all the sporting events with limited fans, baseball games are by far the least weird. In fact, it could be kind of awesome. No food or bathroom lines. Nice weather as the summer approaches.
I often spend a few innings wandering around the ballpark and admiring the architecture, and that could be an even more cathartic experience with fewer people crowding the walkways.
Sure, I'll miss the roar of the crowd. But oftentimes, baseball games feel like more of a picnic than a spectacle — and personally, that's the exact vibe I'm looking for right now.
Go deeper: Fauci says going to a ballgame is "the one fun thing I can't wait to do" (WashPost)
3. 📆 Opening Day schedule: 15 games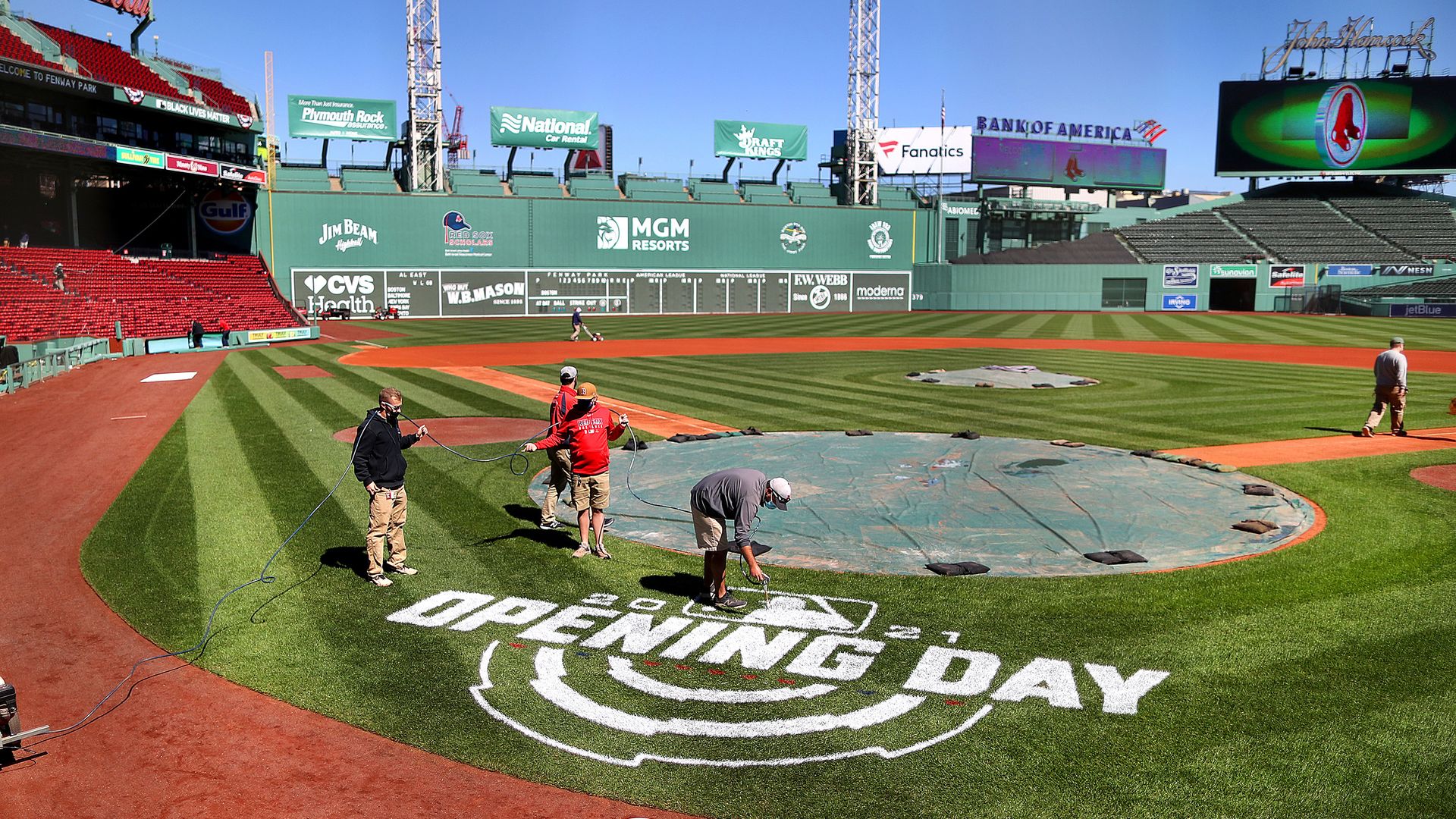 Early afternoon: The season gets underway at Yankee Stadium, which will continue to operate as a vaccination center through at least April 30.
1:05pm ET: Blue Jays (Ryu) vs. Yankees (Cole)
1:10pm: Indians (Bieber) vs. Tigers (Boyd)
2:10pm: Orioles (Means) vs. Red Sox (Eovaldi)
2:10pm: Twins (Maeda) vs. Brewers (Woodruff)
2:20pm: Pirates (Kuhl) vs. Hendricks (Cubs)
3:05pm: Braves (Fried) vs. Phillies (Nola)
Late afternoon: Five games, all starting at the same time. Make sure you power up the iPad for prime multi-screen viewing.
4:10pm: Diamondbacks (Bumgarner) vs. Padres (Darvish)
4:10pm: Dodgers (Kershaw) vs. Rockies (Marquez)
4:10pm: Cardinals (Flaherty) vs. Reds (Castillo)
4:10pm: Rays (Glasnow) vs. Marlins (Alcántara)
4:10pm: Rangers (Gibson) vs. Royals (Keller)
Night: The nation's capital will play host to the day's best pitching duel, with two multi-Cy Young winners facing off at Nationals Park.
7:10pm: Mets (deGrom) vs. Nationals (Scherzer)
10:05pm: White Sox (Giolito) vs. Angels (Bundy)
10:05pm: Astros (Greinke) vs. A's (Bassitt)
10:10pm: Giants (Gausman) vs. Mariners (Gonzales)
Fun fact: Max Fried, Jack Flaherty and Lucas Giolito were all high school teammates at Harvard-Westlake in 2012. Nine years later, all three are Opening Day starters.
Go deeper: Previewing every matchup (ESPN)
4. ⚾️ American League preview
Every team in five words or less ...
AL East:
Yankees: Will mash if healthy.
Rays: Losing Snell and Morton hurts.
Blue Jays: No home, lots of talent.
Red Sox: Offense? Great! Pitching? Uh-oh.
Orioles: The warehouse is still cool.
AL Central:
Twins: 40 bombs for 40-year-old Cruz?
White Sox: Finally ready for primetime?
Indians: Lindor gone, era over?
Royals: Fast, fun and scrappy.
Tigers: Miggy watch: 3,000 and 500.
AL West:
Astros: Begrudgingly accepting they're actually good.
Athletics: West coast Rays need pitching.
Angels: Operation get Trout to October.
Mariners: Let the kids play!
Rangers: Ballpark = full. Outlook = not great.
Storylines:
Two-way Ohtani: The Angels' unicorn is a two-way star, but is he durable enough to play both ways for an extended stretch? He's healthy (save for a blister on his throwing hand) and fans are waiting with bated breath to see if this is the year he puts it all together.
The best rivalry's best rivalry: Yes, Dodgers-Padres will be electric, but with the Indians taking a step back, the budding duel between the Twins and White Sox should act as the Midwest equivalent to the star-studded matchups in Southern California.
Boston's volatility: The Red Sox have finished first or last in eight of the last nine seasons, and while I don't see the Yankees losing that division, Boston's also too talented for a cellar-dweller. Bold prediction: They're fighting for a Wild Card down to the final week.
Awards predictions:
MVP: José Ramírez (Indians)
Cy Young: Gerrit Cole (Yankees)
ROY: Jarred Kelenic (Mariners)
5. ⚾️ National League preview
Every team in five words or less ...
NL East:
Mets: Steve Cohen = good change.
Braves: Four straight division titles?
Nationals: Stars shine bright. But depth?
Phillies: Predicting Bryce's best since 2015.
Marlins: Still a couple years away.
NL Central:
Brewers: Anyone
Cardinals: can
Cubs: win
Reds: this division.
Pirates: Just kidding.
NL West:
Dodgers: Overwhelming favorites to repeat.
Padres: "We're coming for ya, champs."
Diamondbacks: What does MadBum have left?
Giants: Ready for Yaz's continued breakout.
Rockies: Story time in Colorado.
Storylines:
Stars in new places: Francisco Lindor (Mets) and Nolan Arenado (Cardinals) bring eight combined top-10 MVP finishes to new cities; Trevor Bauer (Dodgers), Yu Darvish and Blake Snell (both Padres) bring two Cy Youngs and four other top-10 finishes to baseball's hottest rivalry.
Last hurrah for pitchers batting: It's not a done deal, but the DH is likely going universal in 2022, so drink in all the sacrifice bunts and awkward swings while you still can.
NL Central dogfight: Whoever ends up on top of the central could threaten the 2005 Padres' record for fewest wins by a division winner (82-80).
Awards picks:
MVP: Juan Soto (Nationals)
Cy Young: Jacob deGrom (Mets)
ROY: Ke'Bryan Hayes (Pirates)
6. ⭐️ Fantasy baseball: Player rankings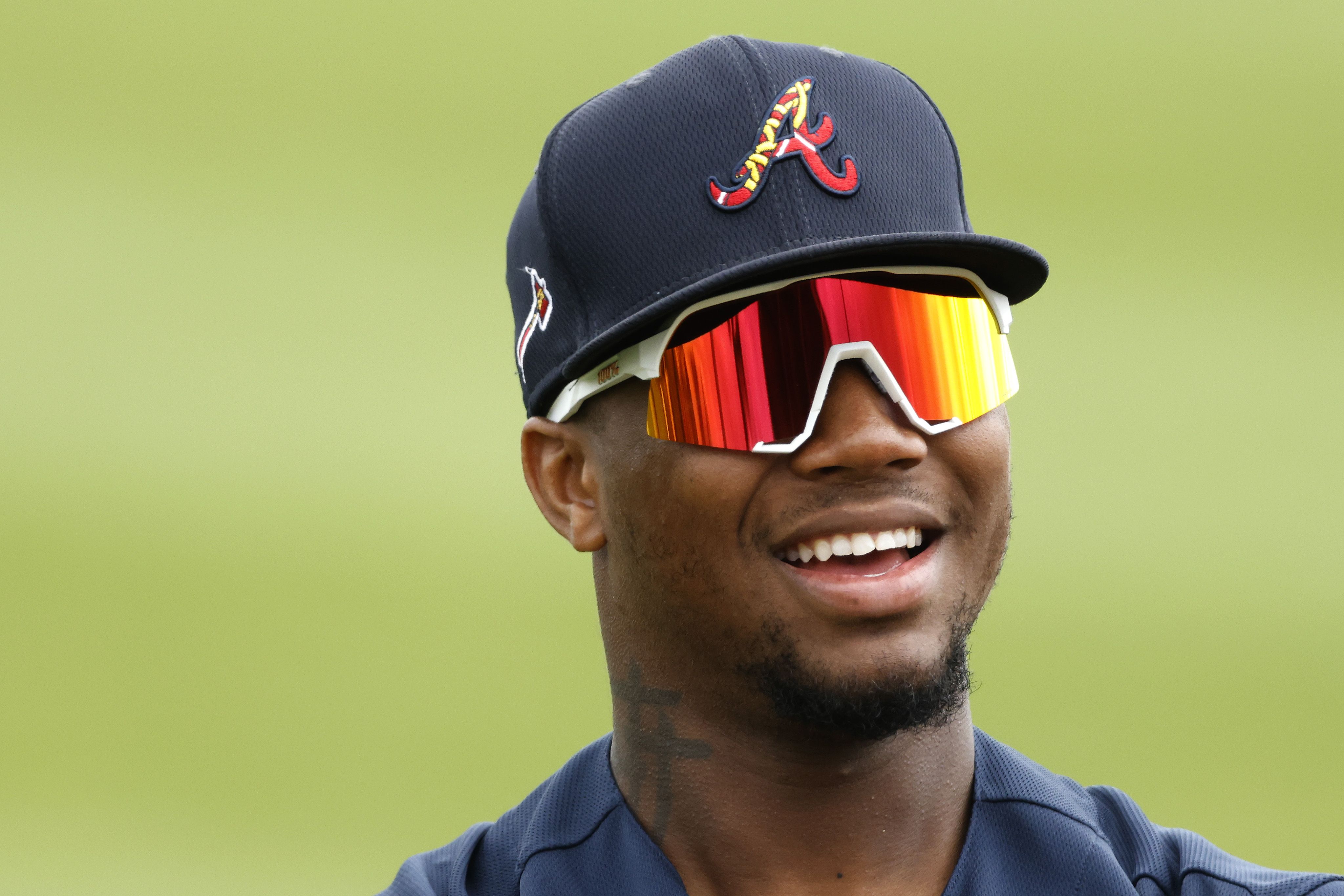 Real and fantasy baseball are hardly the same thing, but there's still plenty of overlap between the best in the former and latter.
The Dodgers lead the way with six players featured below, while the Braves, Padres, Nationals, Brewers and White Sox have four each.
Not represented: Rangers, Mariners, Orioles, Tigers, Pirates, Athletics, Diamondbacks, Giants and Marlins.
Top 25 hitters:
1–5: Ronald Acuña Jr. (ATL), Mookie Betts (LAD), Fernando Tatís Jr. (SD), Juan Soto (WSH), Mike Trout (LAA)
6–10: Trea Turner (WSH), Christian Yelich (MIL), José Ramírez (CLE), Trevor Story (COL), Freddie Freeman (ATL)
11–15: Bryce Harper (PHI), Cody Bellinger (LAD), Francisco Lindor (NYM), Manny Machado (SD), Bo Bichette (TOR)
16–20: Xander Bogaerts (BOS), Anthony Rendon (LAA), Adalberto Mondesí (KC), Corey Seager (LAD), Rafael Devers (BOS)
21–25: Ozzie Albies (ATL), José Abreu (CWS), Kyle Tucker (HOU), Marcell Ozuna (ATL), Alex Bregman (HOU)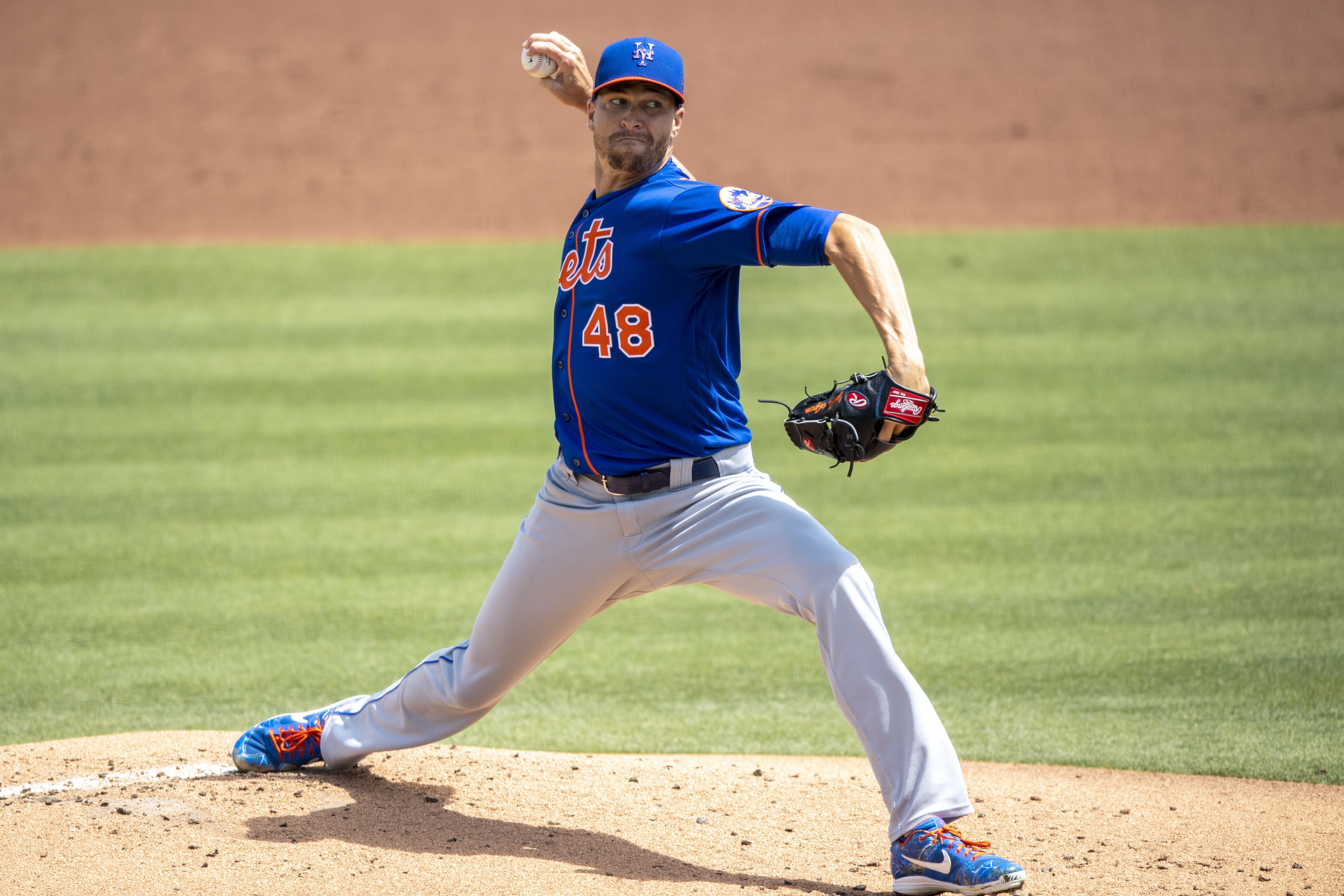 Top 25 pitchers:
1–5: Jacob deGrom (NYM), Gerrit Cole (NYY), Shane Bieber (CLE), Trevor Bauer (LAD), Yu Darvish (SD)
6–10: Walker Buehler (LAD), Lucas Giolito (CWS), Aaron Nola (PHI), Max Scherzer (WSH), Jack Flaherty (STL)
11–15: Clayton Kershaw (LAD), Luis Castillo (CIN), Brandon Woodruff (MIL), Blake Snell (SD), Tyler Glasnow (TB)
16–20: Kenta Maeda (MIN), Lance Lynn (CWS), Josh Hader (MIL), Liam Hendriks (CWS), Corbin Burnes (MIL)
21–25: Stephen Strasburg (WSH), Aroldis Chapman (NYY), Hyun-jin Ryu (TOR), Kyle Hendricks (CHC), Edwin Díaz (NYM)
Go deeper: Full player rankings
7. 📚 New book: "Comeback Season"
The Negro Leagues, finally elevated to "major" status thanks to MLB's long-overdue offseason decision, are at the center of the newest baseball book to hit shelves.
Book: "Comeback Season" by Cam Perron
Synopsis: The unlikely story of Perron's journey from adolescent card collector to champion for living Negro Leaguers.
The backdrop: In 2007, Perron, then in seventh grade, began writing letters to ballplayers in hopes of getting them to send back signed cards.
Few if any wrote back, but when Topps released its Allen & Ginter set that year, a handful of Negro Leaguers were featured as throwbacks.
Perron figured if current players wouldn't write back, maybe those Negro Leaguers would, so he tracked down some addresses, shot off a few letters and hoped for the best.
He never expected what came next, though.
"Several of them replied with lengthy, handwritten letters detailing their experiences in the Negro Leagues. Hearing their stories ... it was much more than just sending off some cards to get signed. It felt like I was diving into a much more fascinating realm of history and baseball."
— Perron
The big picture: From there, he got the bug and wrote nearly 100 more letters that year alone, creating a network of new friends and helping old teammates reconnect. But that's not all.
He helped secure pensions of $10,000 per year for over 40 people, and organized an annual reunion in Birmingham — which has the highest concentration of former Negro Leaguers — beginning in 2010.
He was also instrumental in the 2015 opening of Birmingham's Negro Southern League Museum, honoring the city's rich history.
Meet some of the players:
Joe Elliott, a Birmingham Black Barons star whom no one could seem to find until Perron tracked him down in New York City in 2013. Two weeks later, he received his first pension check totaling $152,000 in backpay.
Lonnie Harris, a "super-speedy, scrappy base stealer — kind of like Lou Brock."
8. 📆 April 1, 1989: Commissioner Giamatti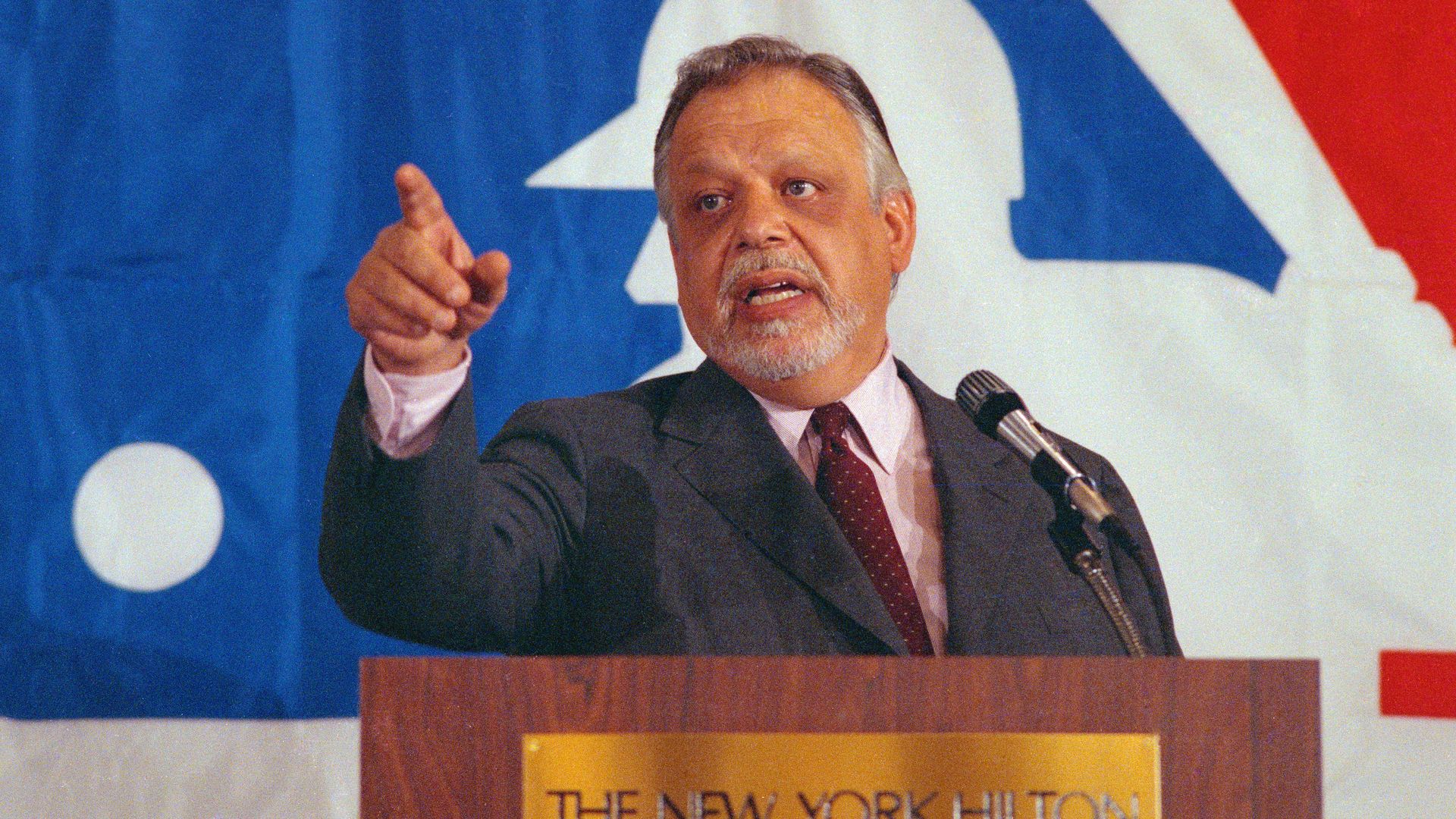 32 years ago today, A. Bartlett Giamatti — yes, actor Paul's father — became the seventh commissioner of baseball.
MLB commissioners:
Kenesaw Mountain Landis (1921–1944), a federal judge who had built a reputation for fighting corporations.
Happy Chandler (1945–1951), a senator from Kentucky who would later serve as the state's governor.
Ford Frick (1951–1965), a former sportswriter who had previously served as the National League president.
Spike Eckert (1965–1968), a former lieutenant general in the U.S. Air Force who had not seen a baseball game in person in 10 years when he took the job.
Bowie Kuhn (1969–1984), a lawyer whose firm represented the National League.
Peter Ueberroth (1984–1989), a businessman who had served as the chairman of the Los Angeles Olympic Committee, which brought the Summer Games to L.A. in 1984.
Bart Giamatti (1989), the former president of Yale University who died suddenly of a heart attack five months into his MLB tenure.
Fay Vincent (1989–1992), a former entertainment lawyer who had previously served as the chairman of Columbia Pictures.
Bud Selig (1992–2015), the former owner and team president of the Milwaukee Brewers.
Rob Manfred (2015–present), a lawyer who provided outside counsel for MLB owners during the 1994–1995 strike and briefly served as the league's chief operating officer.
9. ⚾️ Opening Day trivia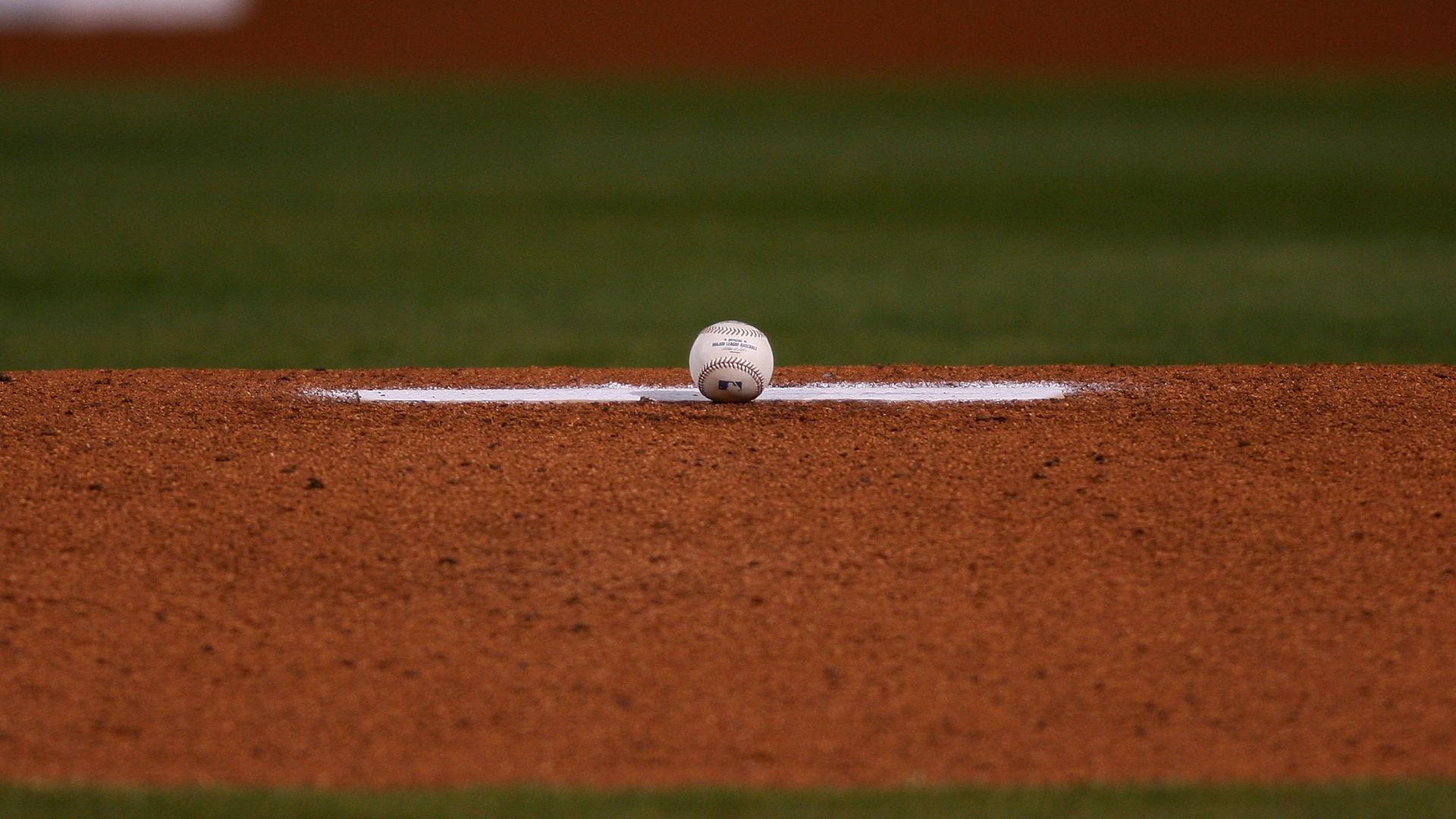 Question: Who has the most Opening Day starts among active pitchers?
Hint: American League.
Answer at the bottom.
10. 🇺🇸 Most HRs by presidency (1921-2020)
Who will hit the most dingers during the Biden years?
Talk tomorrow,
Kendall "Play ball!" Baker
Trivia answer: Justin Verlander (12 Opening Day starts)