2021 elections are 2022 bellwethers for both parties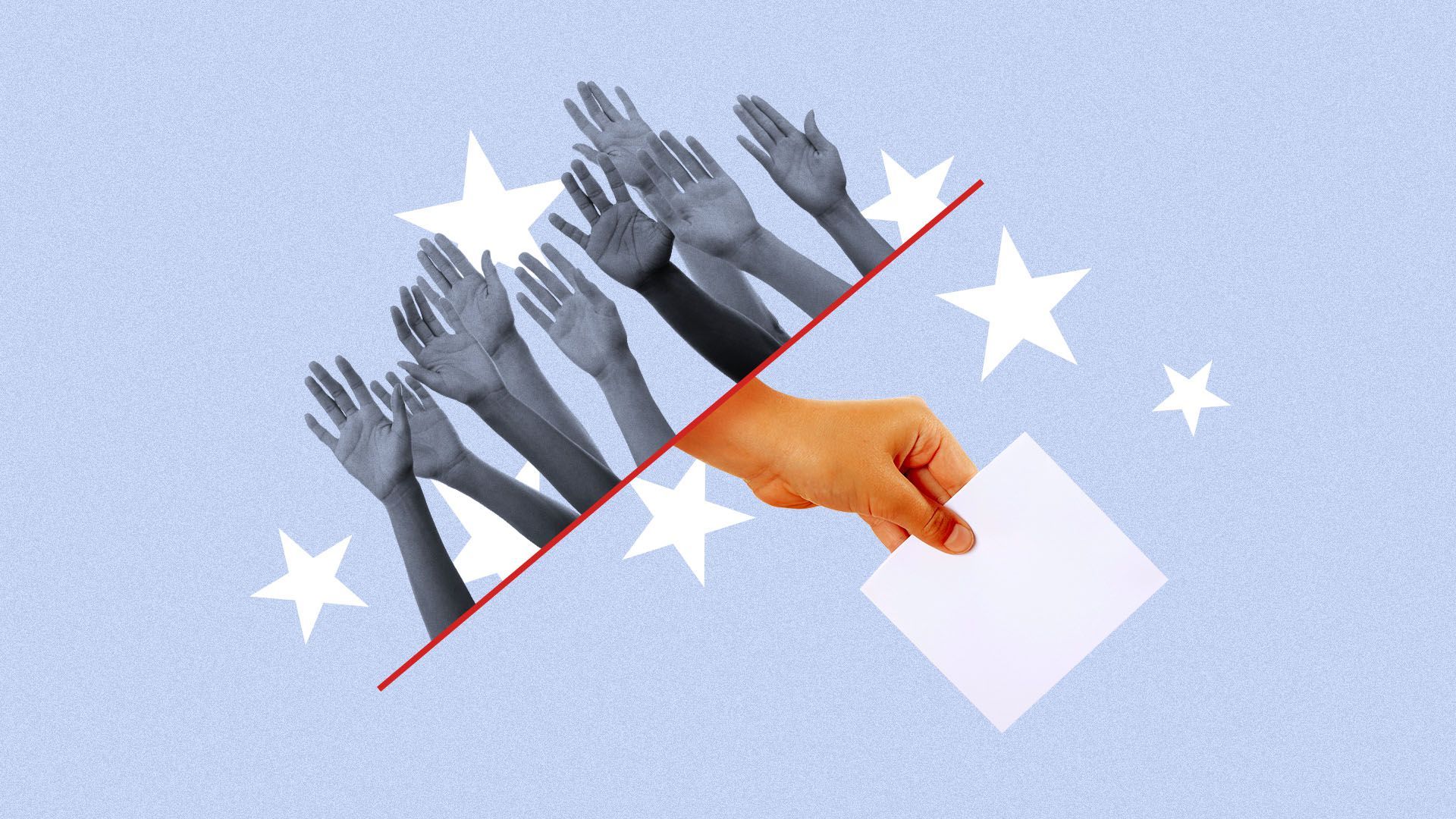 The handful of gubernatorial contests and special elections throughout 2021 could be the first litmus test of post-Trump politics during the Biden era.
The state of play: 2021's slate of contests begins this weekend. Two special elections take place on Saturday in Louisiana. The elections are to replace Rep.-elect Luke Letlow (R), who passed away last year due to COVID-19, and Rep. Cedric Richmond (D), who joined the administration as a Biden senior adviser.
Louisiana's majority-vote system will have all the candidates face off in each of the two individual primaries. The candidate receiving more than 50% of the vote will automatically win the seat.
If no candidate breaks the 50% threshold, which could be likely given the crowded field, the top two candidates will compete in a runoff election April 24.
In the race to replace Letlow in Louisiana's 5th Congressional District, the congressman-elect's widow, Julia Letlow (R), is running. Former President Trump has endorsed her.
In the race to replace Richmond in the state's 2nd Congressional District, the outgoing congressman has endorsed state Sen. Troy Carter (D).
Why it matters: These off-year results will give Republicans a measure of Trump's staying power, and they'll assess the Democrats' favorability heading into a year in which they'd historically lose congressional seats.
National immigration, COVID-19 relief and economic recovery debates could affect outcomes at a more local level.
The big picture: These aren't the only elections in 2021. There are two regular gubernatorial elections underway, and three special elections are so far slated for the next few months.
May 1: The special election in Texas takes place to replace Rep. Ron Wright (R), who also died from the coronavirus.

23 candidates are running in an open primary to replace him, including his widow, Susan Wright, a Republican.

May 8: Virginia Republicans hold their nominating convention.
June 1: The special election takes place in New Mexico to replace Rep. Deb Haaland (D), who was confirmed to head the Department of the Interior.
June 8: There are multiple primaries happening this day.

In Virginia, the Democratic primary for governor takes place. Over a dozen candidates are running to replace Gov. Ralph Northam, including Terry McAuliffe, a former governor, and Lt. Gov. Justin Fairfax.
Virginia is a swing state and its 2021 results will be seen as a strong indicator of the American political palate.
Northam won the 2017 gubernatorial election by 8.9 points. Biden also swept Virginia by 10.1 points.
In New Jersey, the Republican primary takes place. The key race here is the gubernatorial election in the fall where Democrat Phil Murphy is running for re-election in the solidly blue state.
Aug. 3: Ohio holds its special election primary to replace Rep. Marcia Fudge (D). Fudge was confirmed as secretary of the Department of Housing and Urban Development.
Nov. 2: New Jersey and Virginia hold gubernatorial elections, while Ohio holds its special election for Fudge's seat.
Go deeper