Capitol security and fencing to be scaled back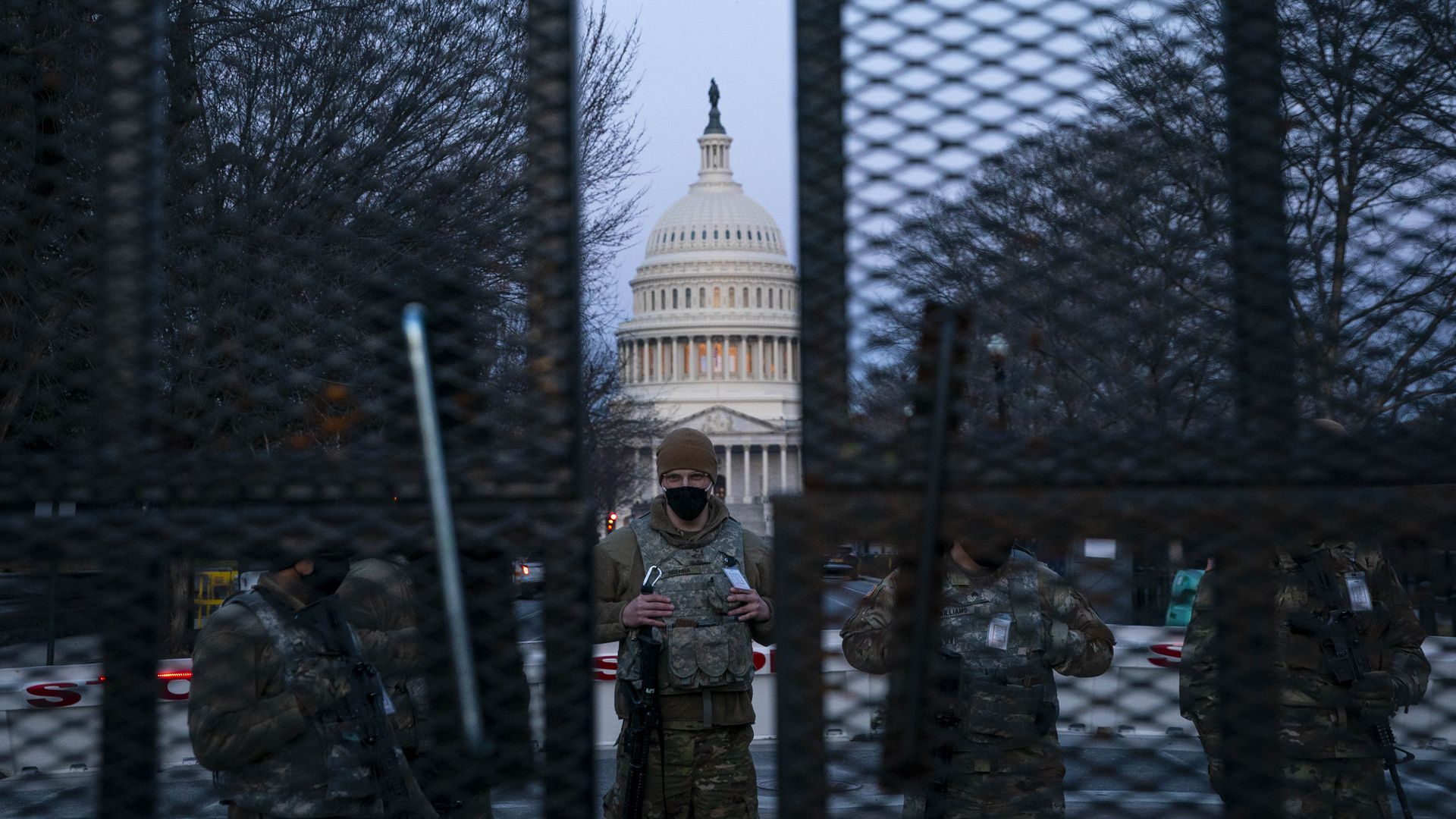 Security at the Capitol fortified in the wake of the Jan. 6 insurrection will soon be scaled back as there's now no "known, credible threat" against Congress, House Speaker Nancy Pelosi (D-Calif.) announced Monday.
Driving the news: Pelosi wrote to Democrats that following recommendations made Monday in a letter by the Acting House Sergeant at Arms and a Capitol security report "alterations to the temporary fencing around the Capitol will soon be made, and the National Guard presence will also begin to draw down."
Capitol Police "will continue to monitor the threat posture, and plans will be adjusted if and as needed," Pelosi added.
For the record: The Capitol Security Review report notes that the current, temporary security fence "requires significant personnel resources to monitor its entire length."
"As the fencing comes down, we recommend it be replaced with a mobile fencing option that is easily erected and deconstructed and an integrated, retractable fencing system in the long term to secure both the Capitol Building and Congressional office buildings," the report states.
"Such a solution could enable an open campus while giving security forces better options to protect the complex and its Members should a threat develop."
What to watch: Pelosi noted in her letter that a "remaining priority" was to move forward with an outside 9/11-type Commission to "investigate and report on the facts and causes relating to the January 6 domestic terrorist attack upon the Capitol Complex… and relating to the interference with the peaceful transfer of power."
Pelosi attached a discussion draft in her letter, which she sent to Republican leadership with a request for feedback last month. 
She added it's essential to proceed in a bipartisan way and that lawmakers must "get to the truth" of how the Capitol riots happened to ensure it didn't happen again. 
Pelosi's office did not immediately respond to Axios' request for comment on the timeline of the Capitol security changes.
Read the full Capitol security report, via DocumentCloud:
Go deeper