California issues limited stay-at-home order for most residents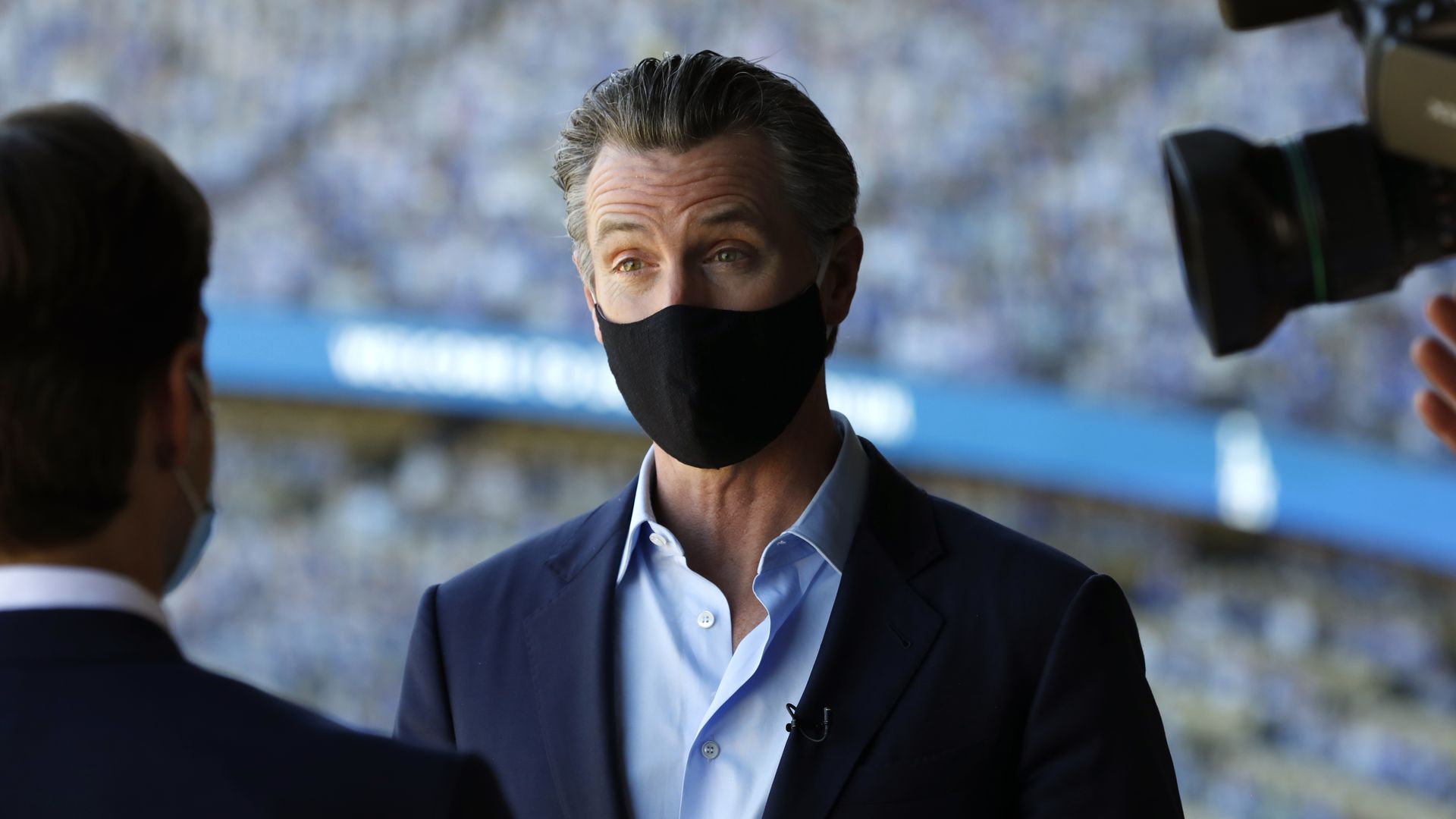 California Gov. Gavin Newsom on Thursday announced that the majority of the state will be under a limited stay-at-home order starting Saturday due to rising coronavirus cases.
The big picture: The announcement brings a monthlong curfew between 10 p.m. and 5 a.m. for residents in 41 counties, covering roughly 94% of the state's population. Newsom said earlier this week he was pulling an "emergency brake," halting further reopening plans, tightening restrictions on indoor businesses and strengthening mask mandates.
Under the curfew, non-essential businesses and gatherings must cease by 10 p.m., though residents will still be able to visit the pharmacy or grocery store, walk pets and order takeout and delivery from restaurants.
California recently moved more than 20 counties into its purple tier, meaning more than seven new cases each day per 100,000 residents, or a positivity rate higher than 8%.
Local and state jurisdictions will be able to use "enforcement tools" to reduce transmission, California Health and Human Services Secretary Mark Ghaly said at a press conference Thursday. He did not clarify what these tools look like.
Why it matters: The state's COVID-19 positivity rate has jumped 52% in the last two weeks. COVID-19 hospitalizations have increased by 63.6% during the same period.
All signs point to a continued rise, with the pandemic's disproportionate impact on people of color set to persist as well, according to Ghaly. Roughly 12% of new cases today will turn into hospitalizations in two to three weeks.
"All tools are on the table" to avoid further restrictions, he added.
Newsom caught flack last week for holding a private dinner that did not adhere to state guidelines.
What they're saying: "Non-essential work and gatherings must stop from 10pm-5am in counties in the purple tier," Newsom tweeted Thursday afternoon. "This will take effect at 10pm on Saturday and remain for 1 month. Together--we can flatten the curve again."
"These immediate actions will help reduce community spread, protect individuals at higher risk of severe illness or death from COVID-19, and prevent the state's health care delivery system from becoming overwhelmed," Erica Pan, California's acting public health officer, said in a statement.
Zoom out: Chicago Mayor Lori Lightfoot on Nov. 12 announced a stay-at-home advisory and a 10-person cap on social gatherings to combat a surge in new COVID-19 infections.
Go deeper