Updated Oct 18, 2020 -

World
Jacinda Ardern claims historic victory in New Zealand election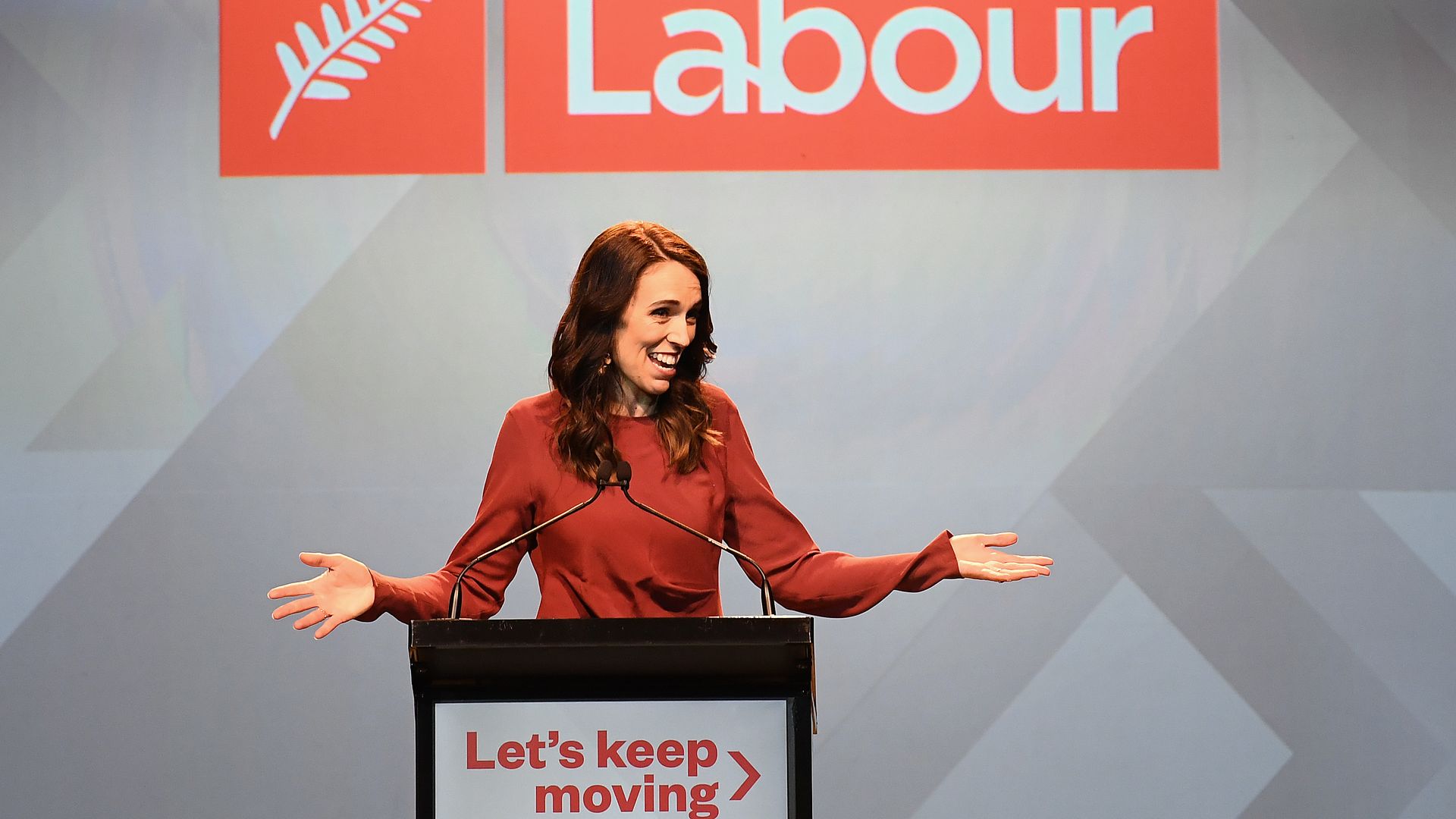 Prime Minister Jacinda Ardern told reporters Sunday that she expects to form a government "within the next two to three weeks" following her Labour Party's historic election win.
Driving the news: Labour is projected to win 49.1% of the vote, ensuring 64 of 120 available parliamentary seats. Ardern said in her victory speech Saturday, "New Zealand has shown the greatest support in at least 50 years."
"We will govern as we campaigned: positively with optimism about our future. Now more than ever is the time to keep going, to keep working, to grab hold of the opportunities that lay in front of us. Let's keep moving."
— Excerpt from Ardern's victory speech
Ardern said she would talk with the Green Party to discuss possibly continuing a coalition partnership in government, but added: "We clearly have a mandate on behalf of New Zealand to crack on with government formation."
Why it matters: A party needs to win 61 parliamentary seats to form a government alone. No party has won an outright majority in New Zealand since the Mixed Member Proportional (MMP) representation voting system was introduced in 1996.
For the record: The election was delayed by four weeks to Oct. 17 because of a second outbreak in Auckland.
Flashback: New Zealand imposed one of the world's toughest lockdowns when the pandemic reached the country in March.
The island nation went 102 days with no detected cases in the community before COVID-19 re-emerged in Auckland in August.
The country's most populous city went into a lockdown that was less severe than the first while lesser restrictions returned to the rest of the country. There are now no restrictions on the population of 5 million people.
Of note: Officials stamped out the second outbreak and NZ hadn't reported a new coronavirus case in the community since Sept. 25. But Health Director-General Ashley Bloomfield announced a new one Sunday.
Bloomfield said the case was "most likely a border-related" one as the man recently worked on ships docked at the ports of Auckland and Taranaki. He said it "shows our systems ... are working."
"Because he was tested the day he developed symptoms, we were able to move quickly," he added. "This case has been caught early and the risk of onward transmission is contained."
Ardern ruled out reintroducing restrictions.
The big picture: Under MMP, voters cast two ballots in the election— one to decide their local representative and another for a political party.
New Zealanders also voted on the End of Life Choice assisted dying bill and whether to legalize cannabis. The results of these referendums are due in two weeks' time.
Final election results will be announced on Nov. 6 after the votes of parties that didn't meet the 5% threshold to enter parliament and special ballots, such as those cast from abroad, are counted, the Electoral Commission said in an email to Axios.
By the numbers: Nearly 2 million people voted early — the most on record.
Go deeper: Prime minister pledges 100% renewable energy generation in New Zealand by 2030
Editor's note: This article has been updated with new details throughout.
Go deeper