White House enters cleanup mode over Trump's COVID-19 timeline
White House physician Sean Conley said in a statement Saturday that he misspoke at a press conference earlier that day to update the nation on President Trump's coronavirus diagnosis and trip to Walter Reed Medical Center.
The state of play: During the press conference, Conley said Trump was "72 hours into the diagnosis now," even though Trump announced his positive COVID-19 test late Thursday evening. Conley said in the new statement that he meant to say "day three" into the diagnosis.
Conley's statement also said he misspoke about "48 hours" instead of referring to it as the second day of Trump's treatment, although that statement came from another of Trump's physicians, Dr. Brian Garibaldi.
What they're saying: Conley said the president is "doing very well" during the press conference outside Walter Reed, adding he was experiencing "mild cough, nasal congestion, fatigue" — which are now improving.
He added that Trump has not had a fever in the last 24 hours and is not currently receiving supplemental oxygen. His medical team remains "cautiously optimistic."
"Doctors, Nurses and ALL at the GREAT Walter Reed Medical Center, and others from likewise incredible institutions who have joined them, are AMAZING!!!," the president tweeted on Saturday. "Tremendous progress has been made over the last 6 months in fighting this PLAGUE. With their help, I am feeling well!"
The big picture: Trump is 74, which generally puts him at higher risk for severe illness from the virus, per CDC guidelines. The president was experiencing "mild symptoms" on Friday, White House chief of staff Mark Meadows told reporters.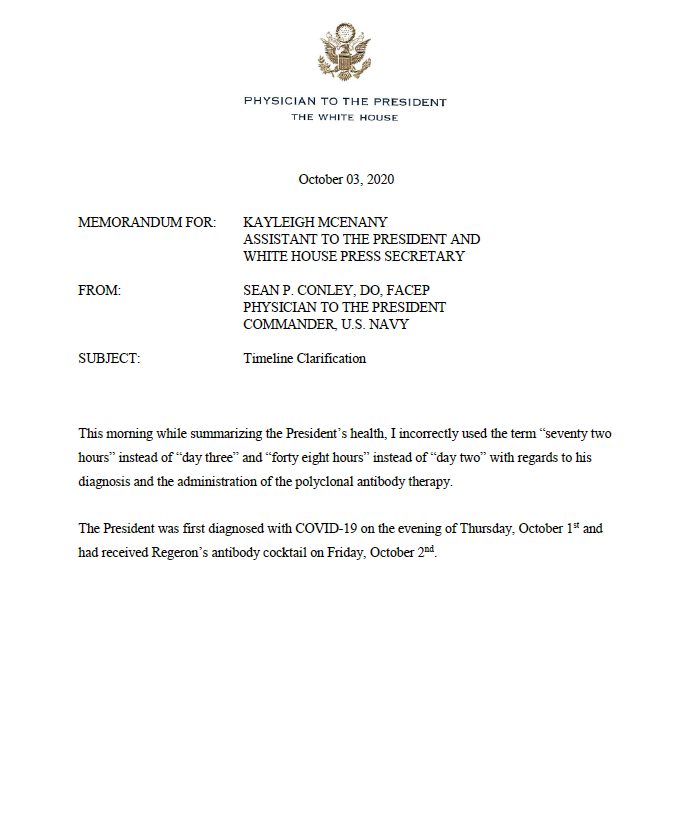 Go deeper