Hundreds of thousands of Americans ordered to evacuate ahead of Hurricane Laura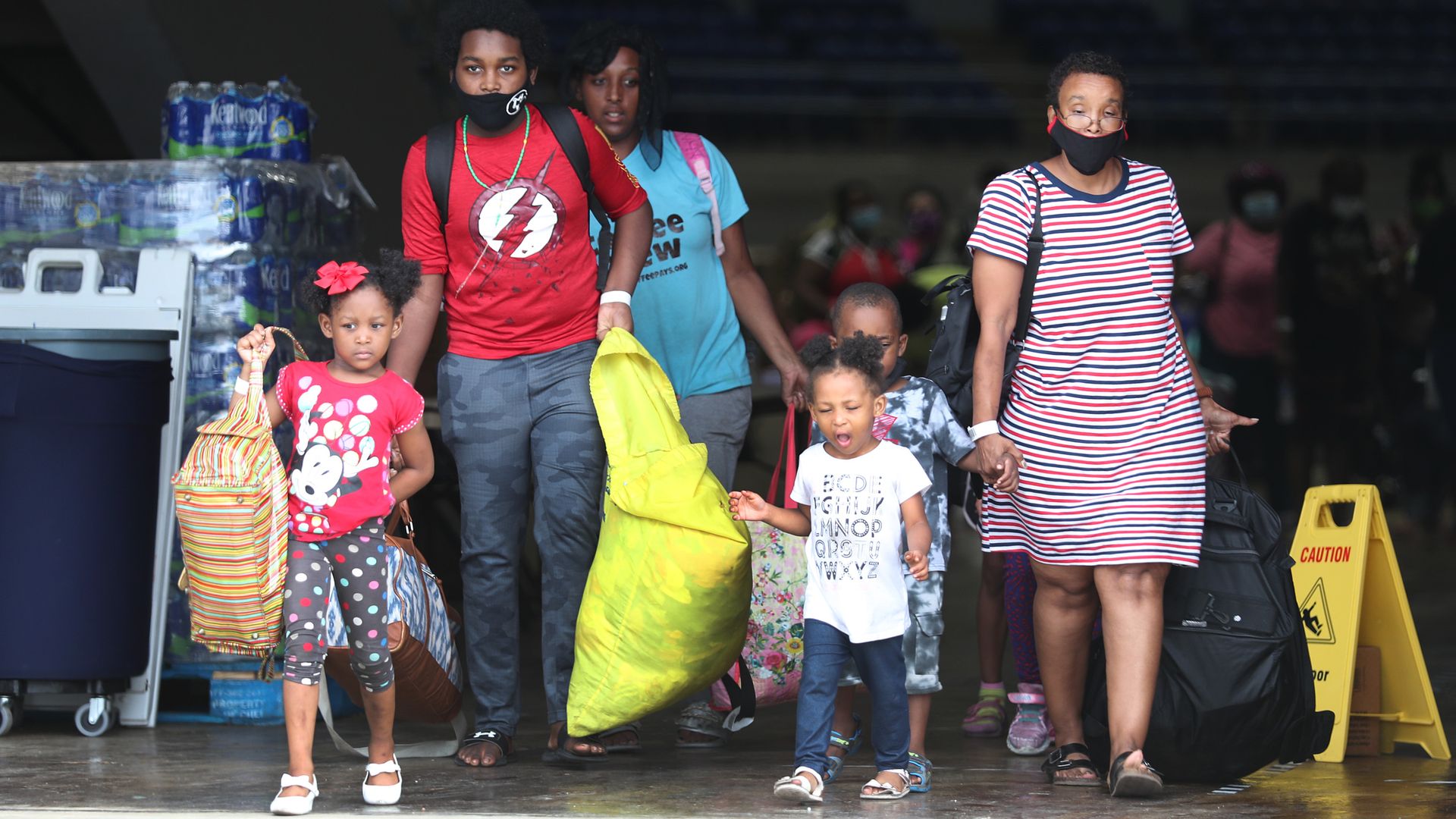 Evacuation orders were issued Tuesday for over 385,000 people in the Texas cities of Port Arthur, Galveston and Beaumont and for 200,000 others in another 200,000 in Calcasieu Parish, southwest Louisiana, ahead of Hurricane Laura's expected arrival this week, per AP.
Why it matters: It's the largest evacuation to take place in the U.S. during the pandemic and comes as the U.S. marks the 15th anniversary of Hurricane Katrina. Laura was strengthening over the central Gulf of Mexico on Tuesday night and was expected to make landfall in the U.S. as a Category 3 storm.
What to expect: "The hurricane should approach the Upper Texas and southwest Louisiana coasts on Wednesday night and move inland near those areas late Wednesday night or Thursday morning," the National Hurricane Center said in its 7 p.m. forecast, noting it was packing winds of almost 85 mph "with higher gusts."
"Significant strengthening is forecast during the next 36 hours, and Laura is expected to be a major hurricane at landfall. Rapid weakening is expected after Laura makes landfall."
Of note: Laura has killed at least 20 people and razed homes across the Caribbean, the BBC notes.
The state of play: President Trump has granted requests from the governors of Louisiana and Mississippi and Texas to issue federal emergency declarations. All three governors have declared states of emergency.
Louisiana Gov. John Bel Edwards (D) urged residents to take COVID-19 precautions, ensuring they have masks and sanitation supplies if they do leave home.
Mississippi Gov. Tate Reeves said at a news briefing on Saturday: "We are in unprecedented times. We are dealing with not only two potential storms in the next few hours; we are also dealing with COVID-19."
The big picture: Laura formed near the Leeward Islands on Friday morning. AP reports the storm on Saturday left some 200,000 customers without power and over 10,000 with no water in Puerto Rico after downing trees in the south — an area still recovering from 2017's Hurricane Maria and which was hit by a series of earthquakes earlier this year.
Former tropical storm Marco formed in the northwestern Caribbean last Friday night. It was upgraded from a tropical storm to a hurricane on Sunday but made landfall in the U.S. as a tropical depression near the mouth of the Mississippi River , where it lashed communities with heavy rains and tropical storm-force winds late Monday before weakening overnight.
Editor's note: This is a developing news story. Please check back for updates.
Go deeper