Biden releases $700B caregivers plan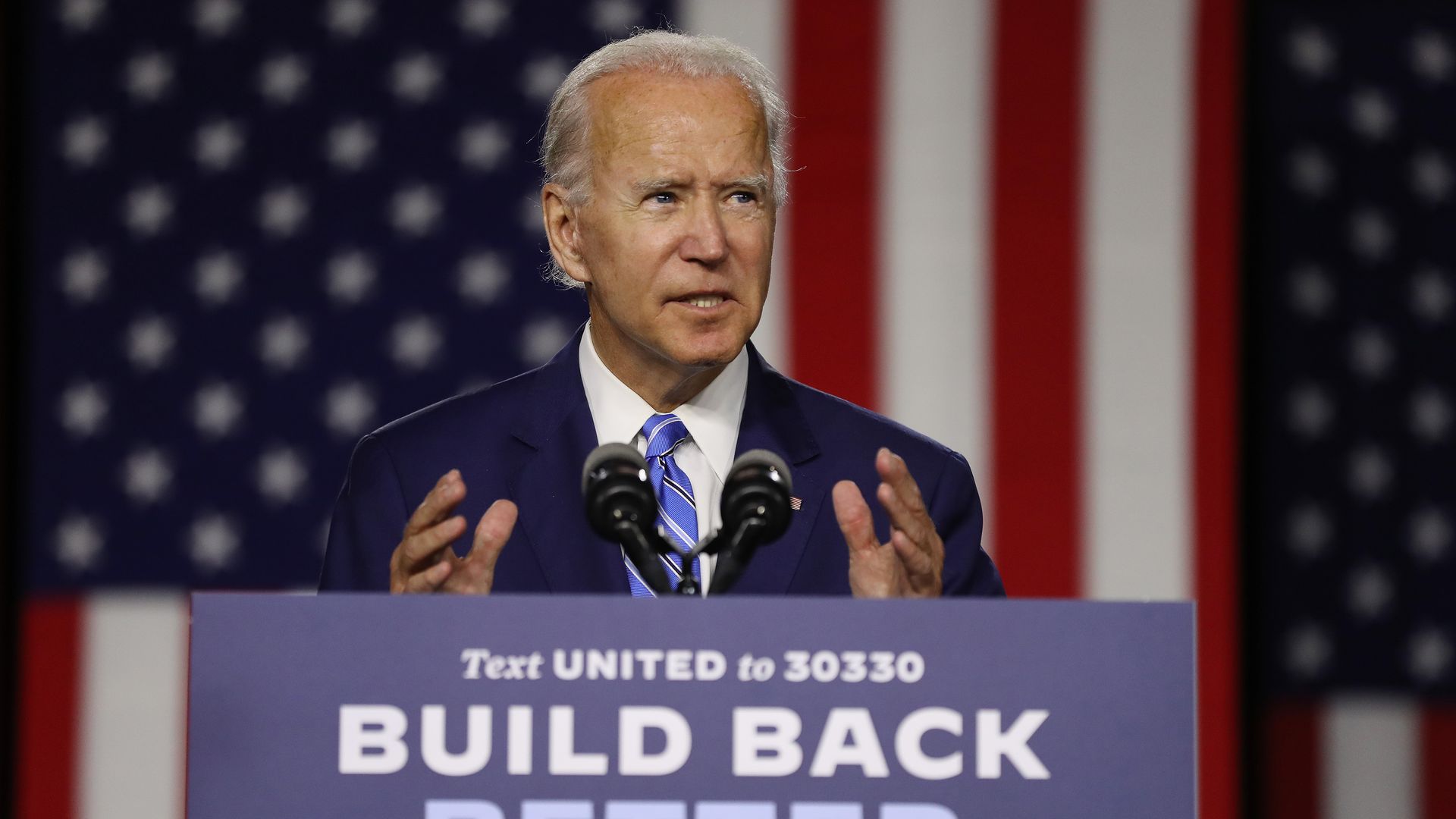 Joe Biden released the third plank of his "Build Back Better" economic recovery plan Tuesday, which would cost $775 billion over 10 years and aims to create 3 million new caregiving or education jobs.
The big picture: The Biden campaign is trying to make a big splash with their economic policy rollouts, deploying former 2020 rivals to help pitch the plans and sending the former vice president out to give remarks in person in Delaware.
These come at a time when the coronavirus pandemic has created an economic crisis just months before the presidential election.
Several states are begging for more financial help after they've had to shut down their economies because of the public health crisis.
Both parties are working on coronavirus relief efforts in Congress, but time is running out to get things done before members leave for August recess.
Details: "The Biden Plan for Mobilizing American Talent and Heart to Create a 21st Century Caregiving and Education Workforce" would cost $775 billion over 10 years.
The campaign said it would be paid for "by rolling back unproductive and unequal tax breaks for real estate investors with incomes over $400,000 and taking steps to increase tax compliance for high-income earners."
The two main focuses of the plan are childcare and expanding access to care for older Americans and those living with disabilities.
"Biden will allocate $450 billion to give more people the choice to receive care at home or in supportive community situations, or to have that choice for their loved ones," the plan says.
He proposes increasing Medicaid funding to states, eliminating the current waitlist for home and community care services that are available under Medicaid, and investing in community health services.
Driving the news: "Our country is experiencing a caregiving crisis," said a senior Biden campaign official during a phone briefing with reporters.
Their plan calls for creating a new "child care construction tax credit to encourage businesses to build child care facilities at places of work."
Biden would offer universal pre-k, make child care more affordable and accessible, aim to create over 1 million early education jobs.
Under this plan, low-income and middle-class families would receive a tax credit (as much as $8,000) to offset childcare costs.
Biden also proposes increasing pay for early childhood educators in public schools to "receive similar pay and benefits to elementary school teachers if they have similar qualifications and experience."
And it would aim to expand child care for military families, as well as train caregivers who deal with veterans and Americans dealing with substance use disorders.
The previous two planks of the economic recovery plan included a pathway to reopening schools safely and a roadmap for protecting the coronavirus supply chain.
Go deeper: How Warren is shaping Biden's policies
Go deeper