Updated Jun 30, 2020 -

World
China passes sweeping Hong Kong national security law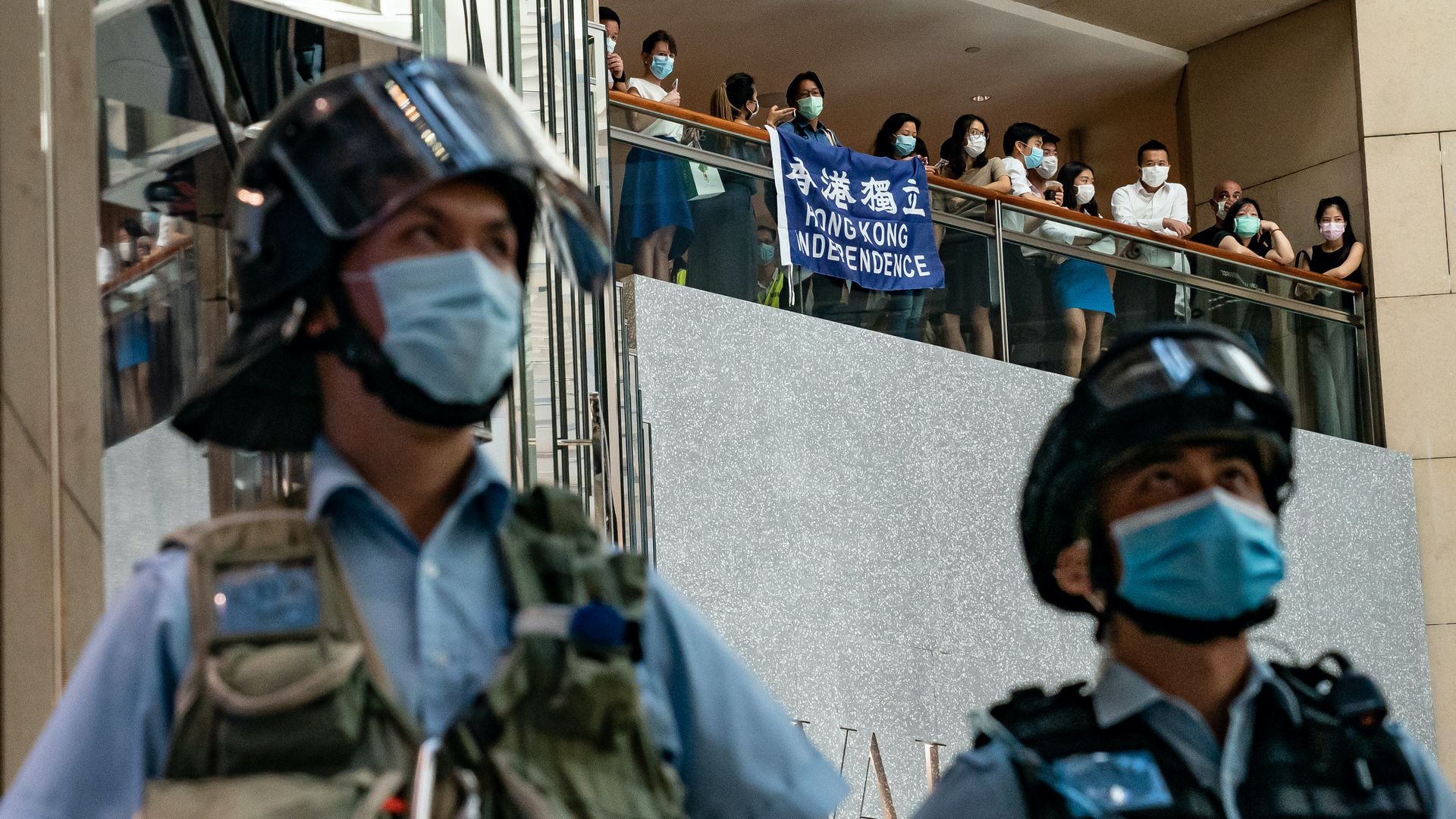 Chinese lawmakers passed a sweeping national security law on Tuesday that gives China more powers over the territory, per the New York Times.
Why it matters: Beijing's encroachment since 2019 on Hong Kong's independent legal system has prompted huge pro-democracy protests in the Asian financial hub. The law that bypassed Hong Kong's legislature criminalizes sedition, foreign influence and secession in the city. The U.S. is rescinding Hong Kong's special trade status in response to the move.
"It marks the end of Hong Kong that the world knew before."
—
Tweet by activist Joshua Wong
Leading pro-democracy activist Joshua Wong announced in a statement he would quit the Demosisto protest group, citing concerns the passage of the law marks the end of the autonomy the former British colony retained after it was returned to China in 1997 and reports that those who break the law could face life in prison.
Of note: The security law "passed unanimously with 162 votes" one day before the 23rd anniversary of Hong Kong being handed back to China, Reuters notes.
Per Bloomberg, it's expected to come into force on the anniversary, which pro-democracy activists usually mark with protests.
Last year, protesters stormed Hong Kong's Legislative Council, spray-painting slogans on the building's walls.
What they're saying: Commerce Secretary Wilbur Ross said in a statement Monday in anticipation of the law passing, "With the Chinese Communist Party's imposition of new security measures on Hong Kong, the risk that sensitive U.S. technology will be diverted to the People's Liberation Army or Ministry of State Security has increased, all while undermining the territory's autonomy. Those are risks the U.S. refuses to accept and have resulted in the revocation of Hong Kong's special status."
Secretary of State Mike Pompeo said in as statement after the law passed, "The Chinese Communist Party's crackdown on Hong Kong prompted the United States to retool its relationship with the territory."
Pompeo noted that the Chinese government's threats to retaliate with visas being placed on U.S. citizens over the Trump administration's action "exposes once again how Beijing refuses to take responsibility for its own choices."
What to watch: Protesters are appealing a ban on marching, but some activists said they would rally on Wednesday regardless, according to Bloomberg.
Go deeper: Hong Kong's economic future hangs in the balance
Editor's note: This article has been updated with new details throughout.
Go deeper