EU's Apple suit bares tech's global antitrust threat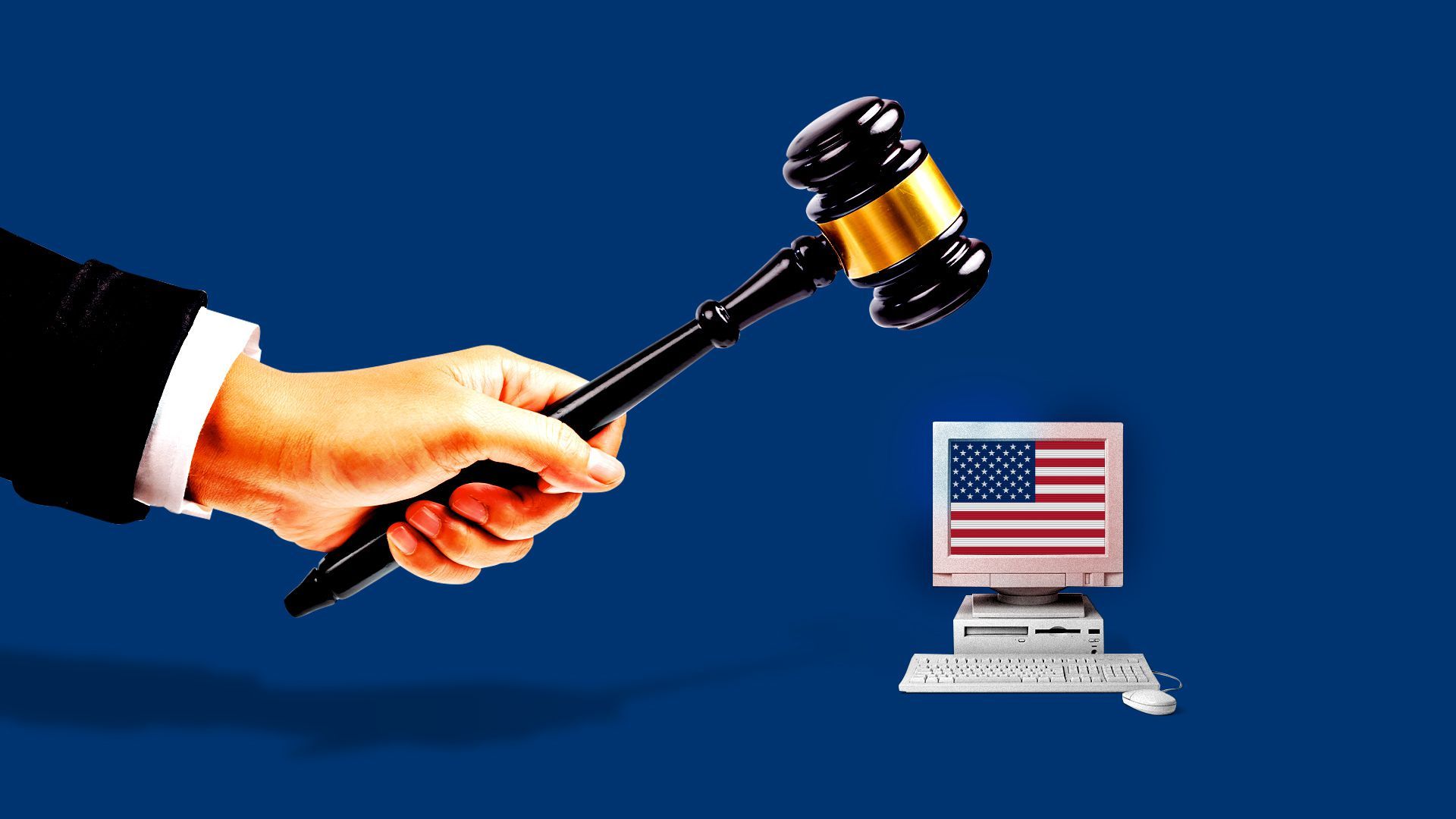 The European Union's move to open antitrust investigations of Apple Tuesday is a reminder that the attack against tech giants over their market power is not limited to America's borders.
Why it matters: Tech companies have historically faced some of their harshest criticism and judgments from Europe, though companies including Microsoft, Facebook and Google have been able to largely absorb the punishments levied. But a wider antitrust press by the EU could inform the accelerating U.S. probes, pry additional data and concessions from the companies, and add pressure on U.S. regulators to act.
Driving the news:
The EU announced formal antitrust investigations of Apple Tuesday for forcing app developers to use its proprietary system to offer in-app subscriptions — for which Apple takes a 30% cut— and for blocking developers from informing users of ways they can pay for in-app content that don't go through Apple.
Separately, according to a report from the Wall Street Journal, the European Commission is readying antitrust charges against Amazon, accusing the e-commerce giant of using data from third-party sellers to develop competing products.
"Antitrust enforcers seem to have finally woken up to the fact that having a few digital gatekeepers with power over their competitors is really problematic," Stacy Mitchell, co-director of the Institute for Local Self-Reliance, told Axios.
Context: Europe's moves come as federal and state antitrust agencies as well as lawmakers are already probing Google, Facebook, Amazon and Apple in the U.S. for anticompetitive practices.
Some of the investigations are expected to lead to lawsuits this summer, while the House Judiciary Committee is pressuring tech company CEOs to testify next month as part of its tech antitrust review.
In Apple's case, the EU is looking into grievances that a number of firms have voiced for years.
The big picture: The EU has moved aggressively against U.S. tech companies in recent years. Yet its investigations have typically ended in fines that don't trigger major changes in company behavior.
The EU has leveled billions in antitrust fines against Google, for instance, but search rival DuckDuckGo argues the EU's remedy in its 2018 case against Google has been ineffective.
"They have a track record of undertaking investigations with really serious antitrust charges only to close them with a fine that simply becomes another line item in a company's operating expense," Mitchell said.
Yes, but: If the EU learns from those past experiences and looks to bring greater structural changes to bear — or even delivers antitrust cases that are perceived as hard-hitting — that could up expectations for their American counterparts.
U.S. regulators in turn may be able to draw on evidence the Europeans collect to build their own case against domestic tech giants, despite having a narrower mandate than their EU counterparts.
"If by some definition the Europeans bring a big case, you don't want to bring forth a small case," said William Kovacic, a former member of the Federal Trade Commission and director of the Competition Law Center at George Washington University. "It creates more pressure for the U.S. agencies to act and to act in a way that's no less bold than the Europeans."
Go deeper