Dems react to Trump's threat to deploy military amid state protests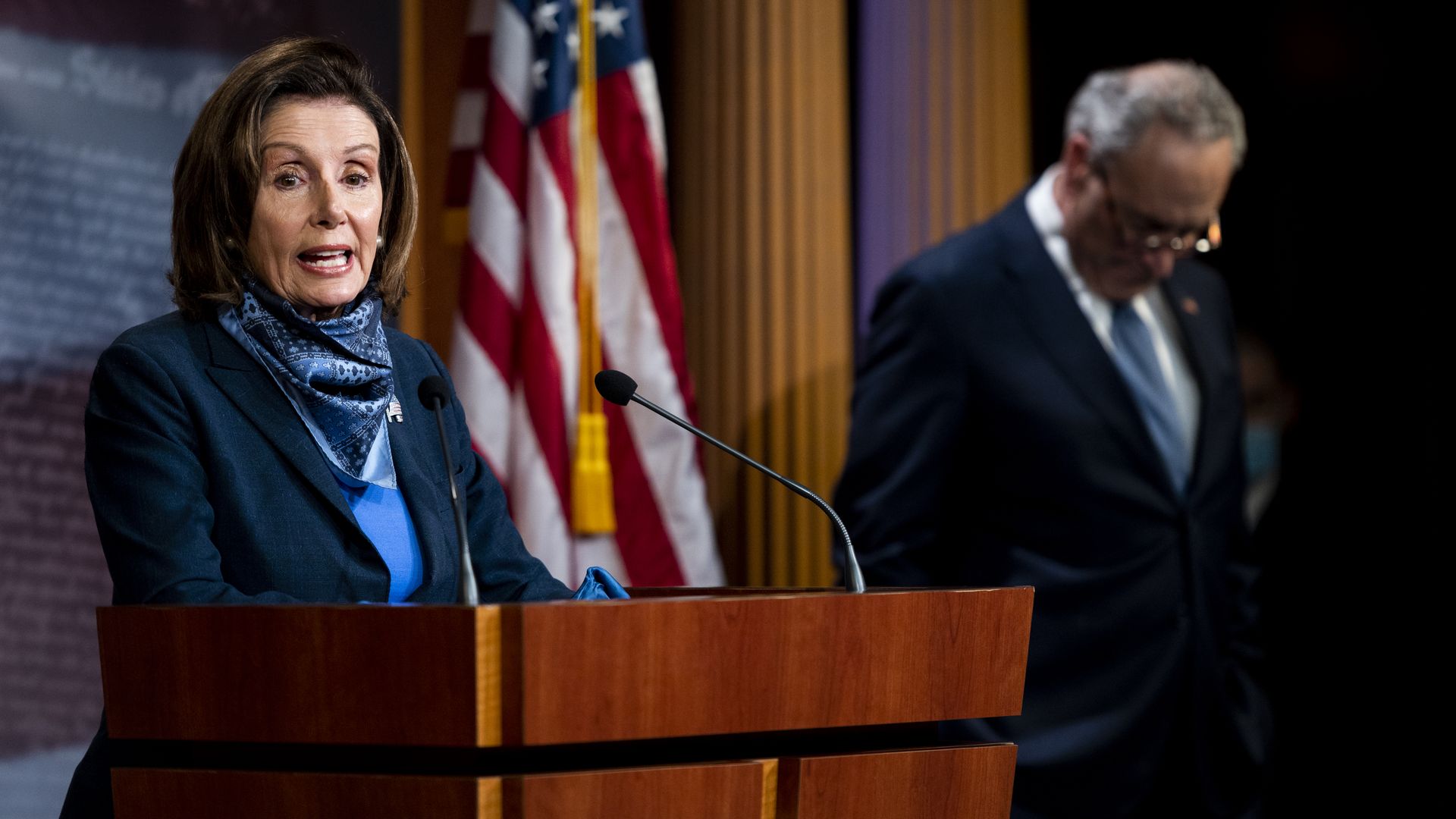 House Speaker Nancy Pelosi and Senate Minority Leader Chuck Schumer joined Democratic governors Monday night in slamming President Trump for vowing to deploy military personnel if civil unrest continues, accusing him of "ripping" the country apart.
What they're saying: "The President's continued fanning of the flames of discord, bigotry and violence is cowardly, weak and dangerous," the top Democrats said.
They also criticized him for visiting St John's Episcopal Church once military police and park rangers had cleared the area by firing tear gas on peaceful protesters.
"[A]t a time when our country cries out for unification, this President is ripping it apart. Tear-gassing peaceful protesters without provocation just so that the President could pose for photos outside a church dishonors every value that faith teaches us," the statement reads. ... We call upon the President, law enforcement and all entrusted with responsibility to respect the dignity and rights of all Americans."
What else they're saying: New York Gov. Andrew Cuomo (D), whose state has grappled with some of the most violent protests, told CNN on the president's quasi-offer: "Thank you but no thank you," and accused Trump of "calling out the American military for a photo opportunity."
Cuomo tweeted on Trump's St. John's church visit that the president "used the military to push out a peaceful protest so he could have a photo op at a church."
"It's all just a reality TV show for this president. Shameful," Cuomo added.
New York Attorney General Letitia James tweeted that Trump "is not a dictator & he doesn't have the right to unilaterally deploy U.S. military across American states."
"We will guard the right to peaceful protest & will not hesitate to go to court to protect our constitutional rights during this time & well into the future," she added.
Other Democratic governors also weighed in: Illinois Gov. J. B. Pritzker (D) slammed the president's military push, stating: "Well, it's illegal. He can't do it. We won't request military assistance here in the state of Illinois. I can't imagine why any governor is going to do that. This is, it's ridiculous."
Michigan Gov. Gretchen Whitmer (D) told CNN: "Apparently there are outreach efforts to ask for acknowledgement of federal officers in states. I can tell you that my understanding is they can't do it without the approval of governors and that's probably not going to happen in a lot of our state."
Washington Gov. Jay Inslee (D)said in a statement: "This president has repeatedly proven he is incapable of governing. He has shown nothing but false bravado throughout the chaos that has accompanied his time in office. His admiration of authoritarians around the world should not allow him to violate 200 years of American tradition of local law enforcement."
Between the lines: The president must invoke the 1807 Insurrection Act in order to deploy U.S. active-duty personnel to conduct domestic law enforcement. It's been ordered multiple times in U.S. history, including by President George H.W. Bush during the 1992 Los Angeles Riots.
Go deeper: Trump lashes out at governors, calls for National Guard to "dominate" streets
Go deeper