California coronavirus: Latest case has no recent history of international travel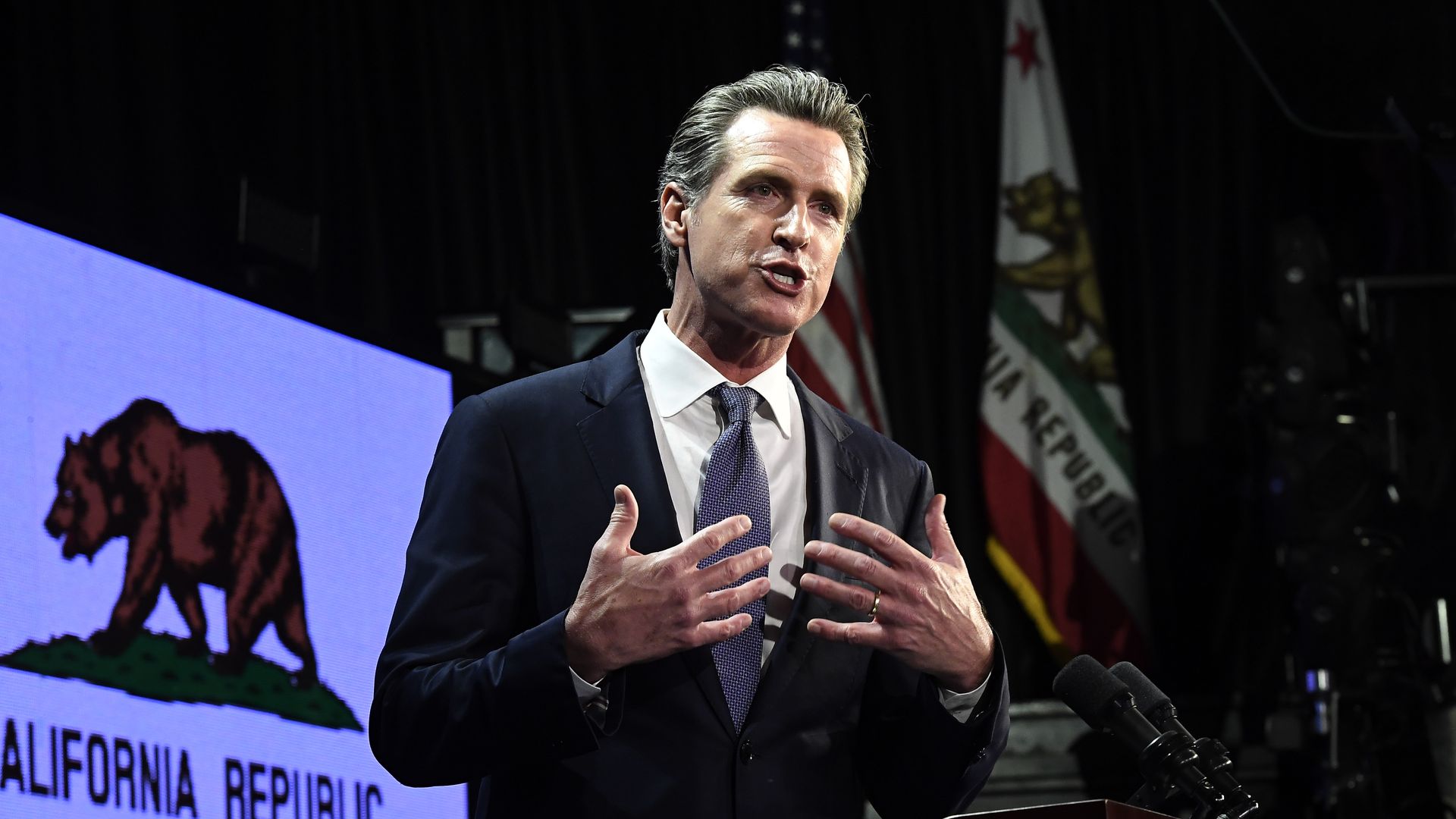 A new case of the novel coronavirus in California was announced on Friday after Gov. Gavin Newsom said Thursday that 33 people had tested positive for the virus, noting the risk to the public remains low.
What's new: An adult woman with chronic health conditions in Santa Clara County who "did not recently travel overseas" or come into contact with anyone known to be ill was confirmed to have contracted the coronavirus on Friday by CDC and California Department of Public Health officials.
What's happening: Dr. Sara Cody, director of the Santa Clara County Public Health Department, called for individuals to keep their hands clean and avoid touching their own faces. She said families should consider "what you might need to do if you need to stay home for a week or two."
State health officials and the CDC are investigating who the woman might have come into contact with while contagious.
"The case is not linked to either of our other two cases in the county … we don't have any evidence to suggest the case is linked to other cases in California," Cody said.
"This is an infection that is spread person to person, so the infection would've been from another person that's infected," she told reporters on Friday.
Why it matters: Federal health officials anticipate COVID-19 infections will spread further, but remain uncertain about the severity. Newsom called Thursday's development a "turning point."
"We are currently in deep partnership with CDC on one overriding protocol that drives our principal focus right now and that's testing, and the importance to increase our testing protocols and to have point of contact diagnostic testing as our top priority not just in the state of California, but I imagine all across the United States."
— Gov. Gavin Newsom on Thursday
What we know: State health officials are monitoring 8,400 potential cases of the novel coronavirus. All of these people — except the newly announced cases in Santa Clara county — have travel history from China, but are not currently showing symptoms. Those individuals have been advised to stay in their homes for 14 days, the recommended incubation period for the virus.
24 of the 33 announced on Thursday were flown to the U.S. from the Diamond Princess cruise ship or on federal repatriation flights from Wuhan.
California health officials have 200 testing kits on hand and will be receiving more next week, according to Newsom.
There are now eight public health labs in California able to test for the coronavirus, Dr. Charity Dean of the state health department said on Friday, adding that the labs would help officials "quickly identify and contain those with the disease."
The big picture: The U.S. had 62 cases as of Friday night, 42 of which are people who were on the ship, according to the Centers for Disease Control and Prevention.
The 60th person confirmed is from California, and the CDC is still investigating how that individual contracted the virus, but signs point to community spread.
President Trump on Wednesday downplayed the likelihood of a widespread U.S. outbreak.
Go deeper: Coronavirus updates
Go deeper