Trump impeachment trial recap, day 7: Trump's team closes its case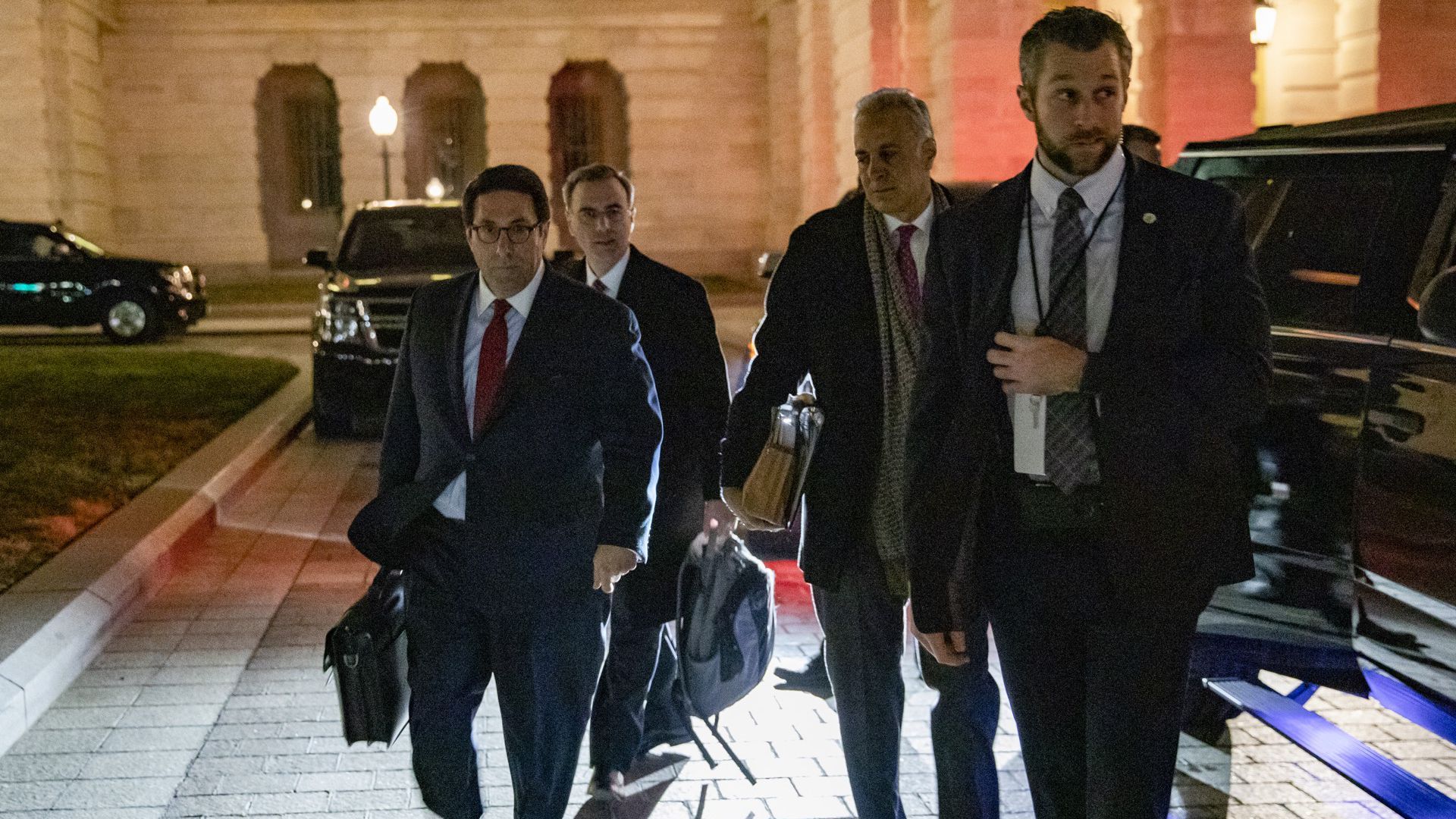 President Trump's legal team closed out its opening arguments during the seventh day of his Senate impeachment trial on Tuesday.
The big picture: Republicans spent their three days of arguments lamenting the facts that form the basis of the trial — claiming they don't rise to the level of an impeachable offense — and accusing Democrats of pushing forward a plot to subvert the will of American voters and remove the president from office.
Despite presenting their opening arguments over three days, Trump's team didn't use even half of its available 24 hours.
The highlights:
Deputy White House counsel Pat Philbin argued that Democrats had ascribed nefarious motives to actions "perfectly within [Trump's] authority" when drafting the articles of impeachment. "How are we supposed to get the proof of what's in the president's head?" he asked.
Trump's lawyer Jay Sekulow brushed aside the leak from former national security adviser John Bolton's book draft, calling it "an unpublished manuscript that maybe some reporters have an idea of maybe what it says ... I don't know what you'd call that. I'd call it inadmissible, but that's what it is."
White House counsel Pat Cipollone closed out the arguments in a mellow tone, asking for senators to "respect and defend the sacred right of every American to vote and to choose their president" in 2020.
From the floor:
Sen. Mitt Romney (R-Utah) was chided by staff for bringing a bottle of chocolate milk onto the Senate floor, which is against the chamber's rules. Per the Wall Street Journal, Romney returned to the floor with the chocolate milk poured into a glass.
The big picture: It's still unclear if the Bolton leak will upend Republicans' plans for a speedy end to the trial later this week.
On Monday, Trump's team largely shied away from the topic, and Trump attorney Alan Dershowitz, who spoke in the 8pm hour, was the only member of the team to namecheck Bolton.
"Nothing in the Bolton revelations, even if true, would rise to the level of an abuse of power or an impeachable offense," Dershowitz said.
What's next: Senators will now have 16 hours over the next two days to submit prewritten questions to Chief Justice John Roberts, who will direct them to the House impeachment managers or Trump's legal team.
What you need to know:
Go deeper:
Go deeper