Trump impeachment trial recap, day 1: Senators approve rules of proceeding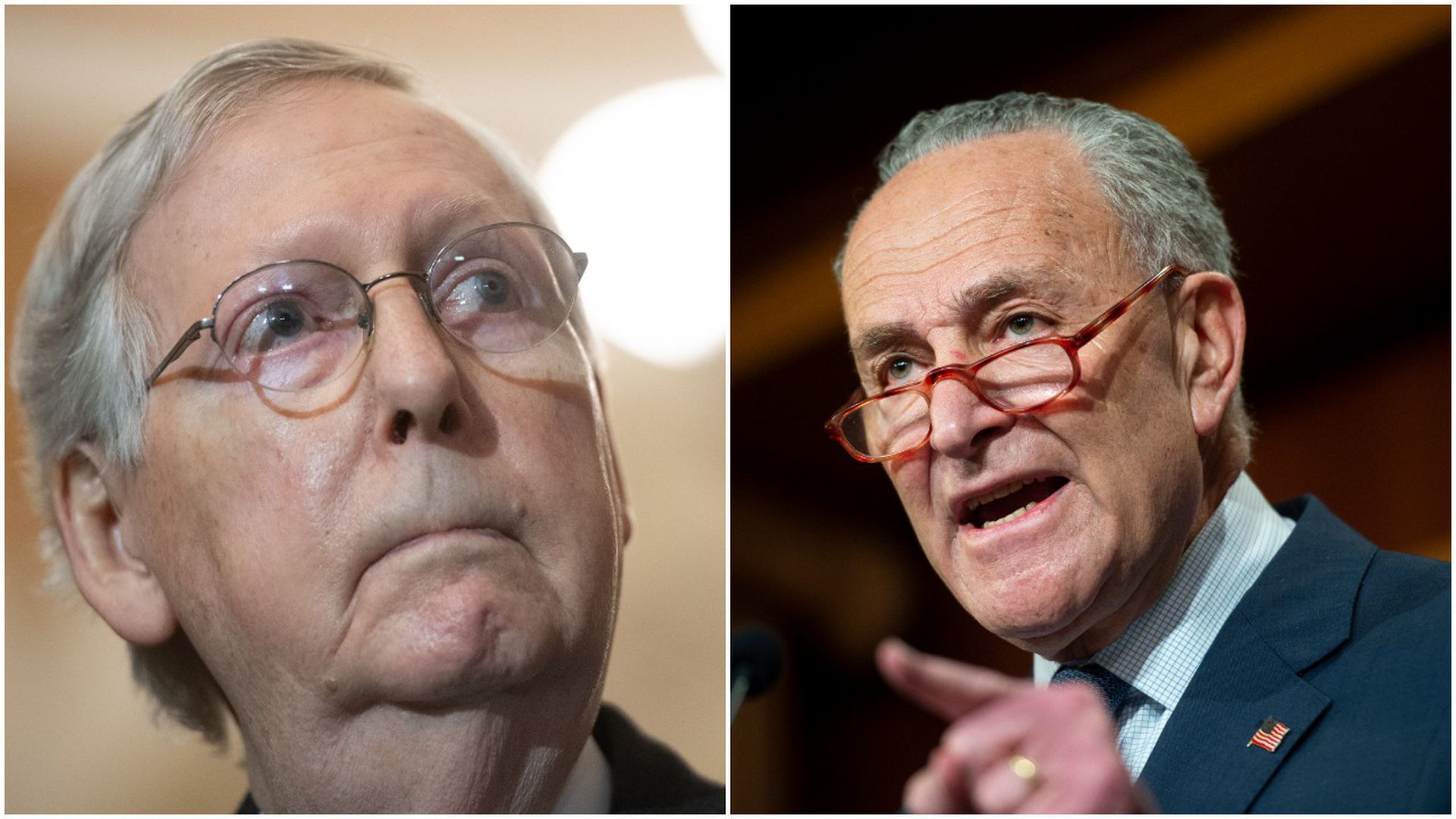 The first day of the Senate impeachment trial of President Trump saw a series of procedural clashes over the rules at the heart of the proceeding on Tuesday.
What happened: Senators ultimately approved Senate Majority Leader's Mitch McConnell's proposed roadmap for the trial after a series of votes initiated by Democrats to include more witnesses and evidence failed along party lines.
McConnell's roadmap changed significantly early on in Tuesday's debate — allowing each side 24 hours to present their opening arguments over three days, instead of two. That change means that the first days of arguments would max out at eight hours rather than 12.
Evidence from the House's impeachment inquiry will be entered into the trial automatically unless there are specific objections from a senator, in another change to McConnell's original plan.
The Senate will be able to revisit whether to subpoena witnesses or include more evidence after the forthcoming six days of opening arguments.
The big picture: Senate Minority Leader Chuck Schumer tried to issue subpoenas for testimony or documents from: (1) The White House; (2) State Department; (3) the Office of Management and Budget; (4) White House chief of staff Mick Mulvaney; (5) Defense Department; (6) Robert Blair, Mulvaney's senior advisor, and Michael Duffey, the OMB's associate director for national security programs; and (7) former National Security Advisor John Bolton.
Schumer also pushed a subpoena to require that each side release all evidence gathered from an authorized subpoena when admitting new evidence.
His other amendments involved giving Chief Justice John Roberts the ability to decide to allow motions on subpoenas and adjusting allotted time for written motions and response.
Inside the room:
In the chamber, desks were covered in papers and notepads, including booklets with evidence produced during the impeachment investigation, Axios' Alayna Treene reports from the Capitol.
About 9:30 p.m., McConnell, noting the late hour, asked if Schumer could stack the rest of his amendments so they could vote on all of them at once. Schumer said no and added that they could finish voting on Wednesday — but after a brief recess, the two couldn't reach a deal.
Many of the senators scribbled handwritten notes throughout, and only water and milk were allowed.
To get around the rule of silence, some senators were caught flashing each other notes.
Spotted in the audience: Alyssa Milano and former Sen. Jeff Flake.
Republican Reps. Mark Meadows, Lee Zeldin and Louie Gohmert came in partway through and sat in the back on the Senate floor.
Watch:
Read:
Go deeper:
The daily highlights from Trump's impeachment trial
Go deeper