Updated Jan 18, 2020 -

World
What we know: Ukrainian Boeing 737 crashes in Tehran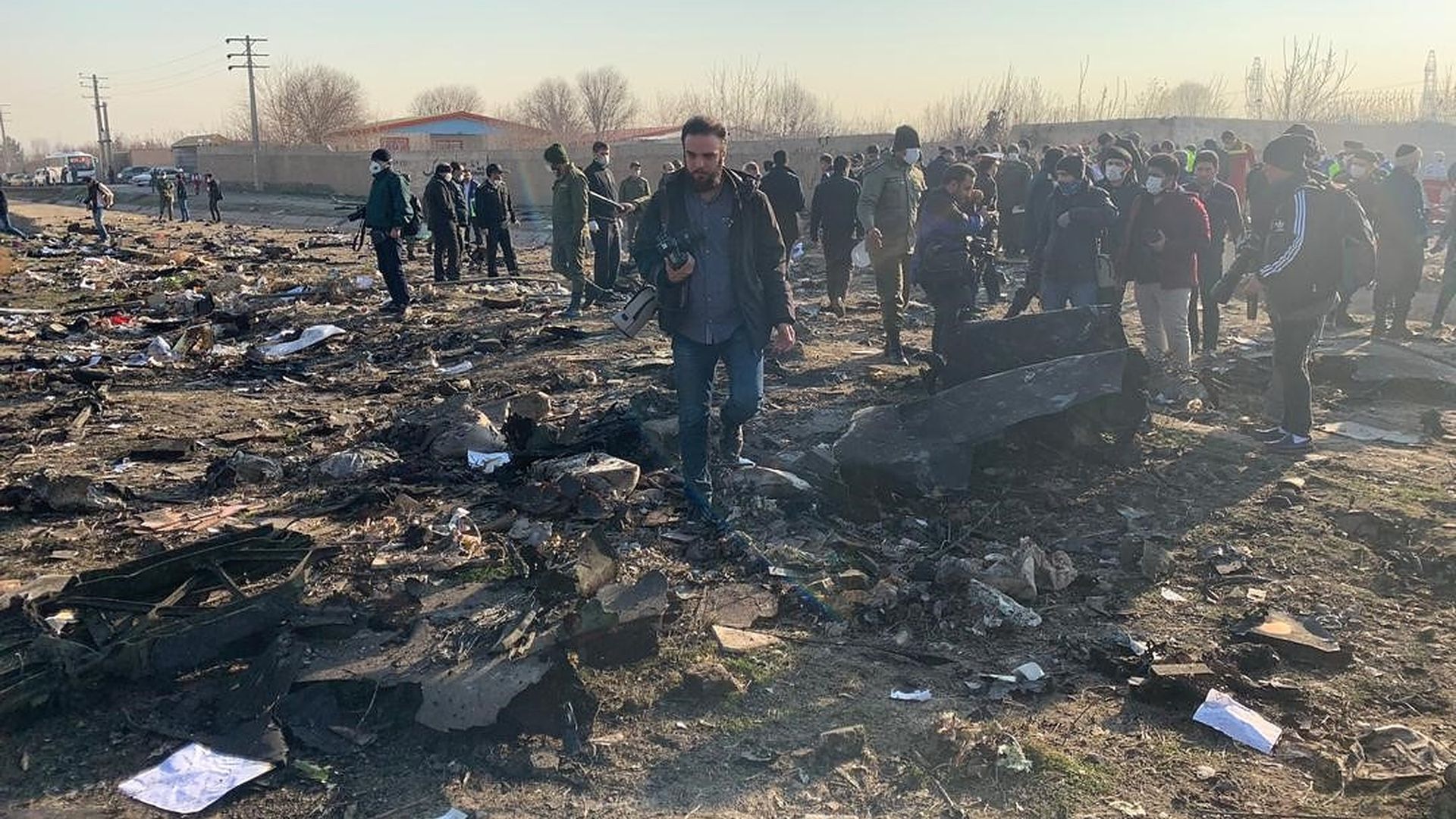 A Boeing 737-800 Ukraine International Airlines plane crashed in Tehran shortly after taking off from Tehran's Imam Khomeini International Airport on Jan. 8, killing all 167 passengers and nine crew members.
The latest: The Iranian government has agreed to send the black boxes from the downed jetliner to Ukraine, suggesting it cannot be read in Iran and providing little further detail, according to an unnamed Iranian official per AP. American, French and Canadian experts will help analyze the data in Ukraine.
The state of play: Security camera footage obtained by the New York Times shows that the plane was struck by two missiles fired from an Iranian military site about eight miles away.
What they're saying: "Iran did the right thing and took responsibility for the downing of this plane and this tragedy," Canada's Prime Minister Justin Trudeau said on Jan. 10. "I am of course outraged and furious that families across this country are grieving the loss of their loved ones," he said, emphasizing the strength of the Iranian-Canadian community.
"That is a very real question that many people are asking," Trudeau said in response to a reporter asking how he could trust Iran after the country lied about firing a missile at the Ukrainian plane.
Ukrainian President Volodymyr Zelensky said his country would "insist on a full admission of guilt" by Tehran in his initial reaction to Iran's announcement, per the New York Times.
What else we know: Canada is reaching out directly to Iran's government about the crash, Canada's deputy minister of global affairs said Jan. 8. Iran has said it is currently holding onto the plane's black boxes, but will likely grant Ukrainian investigators access, Trudeau stated on Jan. 9.
The victims: Officials in Ukraine said 82 Iranians, 11 Ukrainians, 10 Swedish, four Afghan, three German and three British nationals were aboard the Kiev-bound Flight 752 when it crashed, per AP. 63 Canadians were killed in the crash, per Trudeau.
Boeing said in a statement: "This is a tragic event and our heartfelt thoughts are with the crew, passengers, and their families. We are in contact with our airline customer and stand by them in this difficult time. We are ready to assist in any way needed."
The big picture: The Federal Aviation Administration issued an emergency restriction on Jan. 7 prohibiting U.S. civil aviation operators from flying in airspace over Iraq, Iran and the waters of the Persian Gulf and the Gulf of Oman after the Iranian military struck two Iraqi bases where U.S. troops are stationed.
Go deeper: Canada's Justin Trudeau says evidence indicates Iranians shot down airliner
Editor's note: This article has been updated with new details throughout.
Go deeper