Updated Jan 7, 2020 -

World
Saudi envoy met with Trump, shared message on Iran from crown prince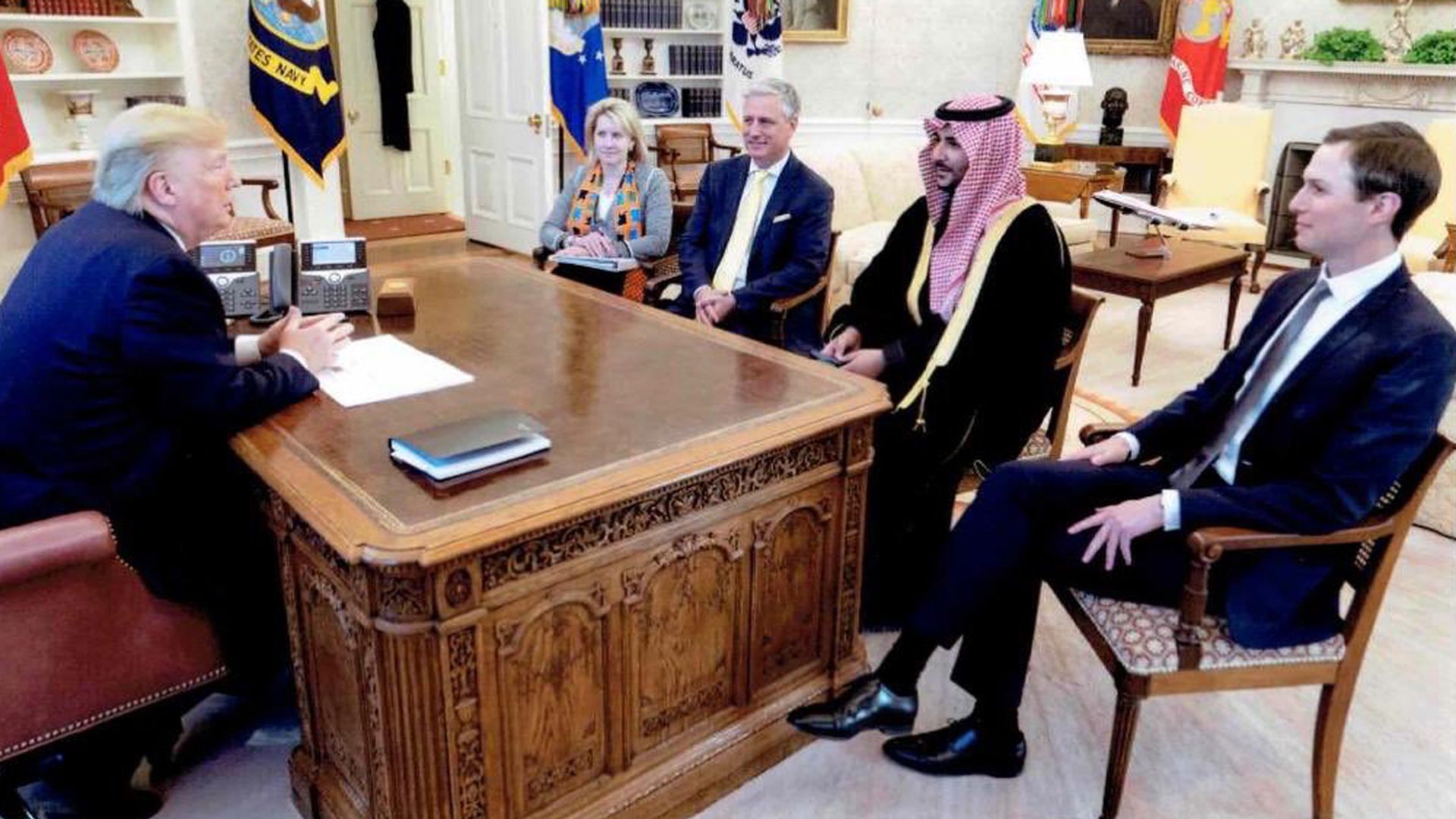 Saudi Arabia's deputy defense minister, Prince Khalid bin Salman, revealed on Twitter that he delivered a message to President Trump yesterday from his brother, Crown Prince Mohammed bin Salman.
Why it matters: Saudi Arabia is deeply concerned it could become engulfed in uncontrolled escalation between the U.S. and Iran following President Trump's decision to kill Iranian Gen. Qasem Soleimani. That explains the decision to urgently dispatch Prince Khalid to Washington.
The White House did not announce the meeting in advance or issue a readout afterward.
Senior adviser Jared Kushner, national security adviser Robert O'Brien and deputy national security adviser Victoria Coates also attended the meeting.
Prince Khalid, a former ambassador to Washington, also met yesterday with Secretary of State Pompeo and Secretary of Defense Esper.
Pompeo told him the U.S. does not seek war with Iran and remains committed to de-escalation, a State Department statement said.
According to a report in Asharq Al-Awsat newspaper, Pompeo and Esper discussed with the Saudi official the U.S. plans to secure American embassies and American interests in the region from an Iranian retaliation.
What they're saying: Jonathan Karl, president of the White House Correspondents' Association, said in a statement:
"A meeting with a foreign leader in the Oval Office should, at the very least, be on the public schedule with a read-out of the meeting released after it is over. This has been the long-standing precedent for presidents of both political parties. It is disturbing to see the government of Saudi Arabia have more transparency than the White House about a meeting with the President in the Oval Office."
Go deeper: Netanyahu tells Security Cabinet Israel must not be dragged into Soleimani killing
Go deeper