College football's conference championship weekend is here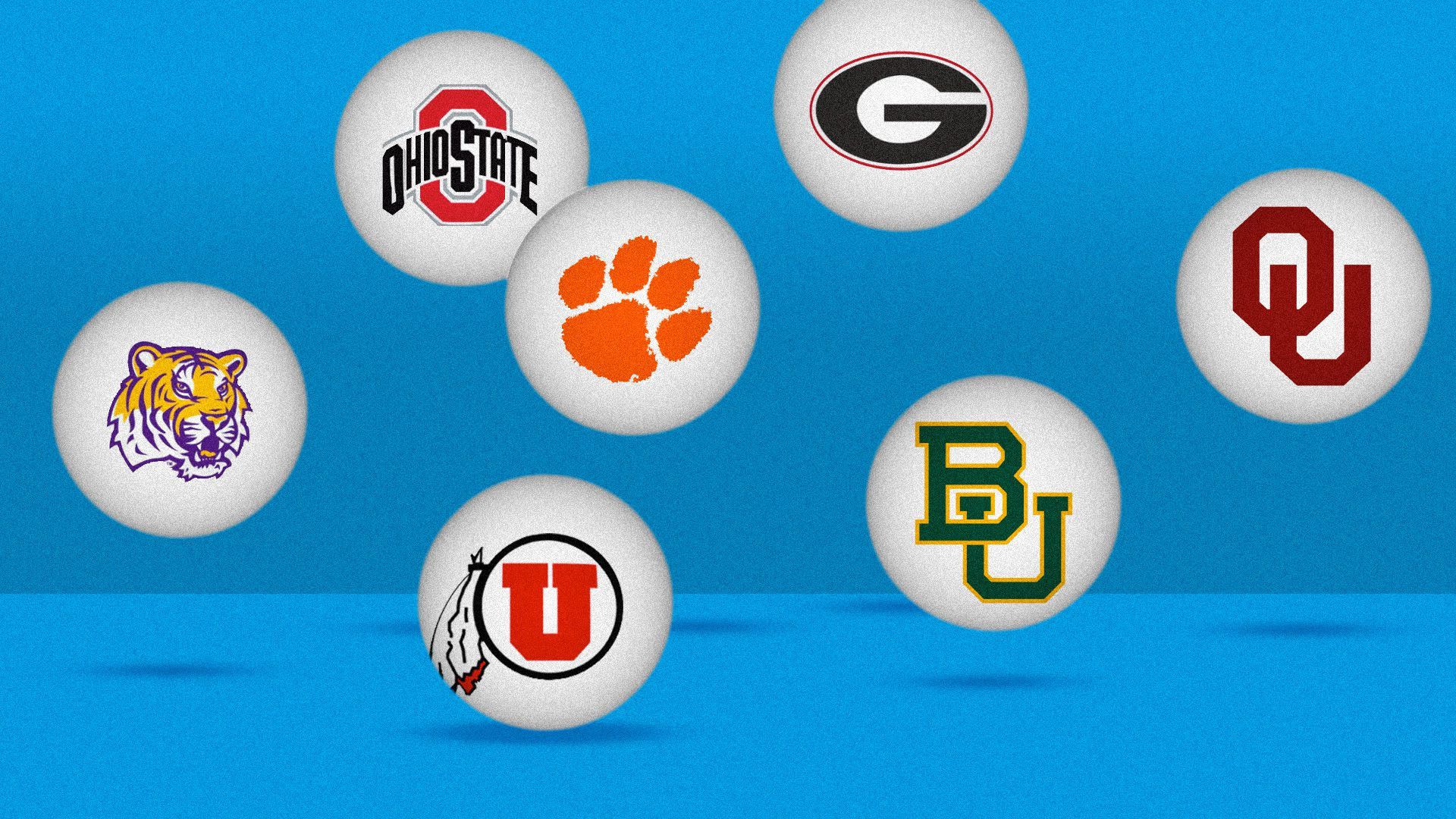 Conference championship weekend is upon us.
Why it matters: The action begins tonight in Santa Clara, Calif. and continues through Saturday, with the outcomes dictating who makes the playoff and who makes the Bad Boy Mowers Gasparilla Bowl.
Pac-12: No. 5 Utah vs. No. 13 Oregon, 8pm ET (tonight)
Lines: UTAH -6.5 | O/U: 46
What to watch: The game-within-the-game matchup between Utah's dominant D-line (nation's best rush defense) and Oregon's talented and experienced O-line.
Big 12: No. 6 Oklahoma vs. No. 7 Baylor, 12pm ET
Lines: OKLA -9 | O/U: 64
Fun fact: Oklahoma is the only school to win at least three straight Big 12 titles (2006-08 and 2015-18), while Baylor is the only other school to win two straight (2013-14).
SEC: No. 4 Georgia vs. No. 2 LSU, 4pm ET
Lines: LSU -7 | O/U: 55.5
What to watch: LSU has the nation's No. 2 scoring offense, so they should have the advantage if this turns into a shootout. Georgia has the nation's No. 2 scoring defense, so they should have the advantage if it turns into a slugfest.
ACC: No. 23 Virginia vs. No. 3 Clemson, 7:30pm ET
Lines: CLEM -28.5 | O/U: 57
Fun fact: Virginia is the seventh different ACC Coastal champ in as many seasons, with the first six all losing in the title game (Duke and Georgia Tech lost to FSU, while UNC, Virginia Tech, Miami and Pitt all lost to Clemson).
Big Ten: No. 1 Ohio State vs. No. 8 Wisconsin, 8pm ET
Lines: OSU -16.5 | O/U: 56
Consider this: If Oregon beats Utah, LSU beats Georgia, Baylor barely beats Oklahoma in a gross game and Wisconsin beats Ohio State 52-7 ... the Badgers could make the playoff! As the great Kevin Garnett once yelled at the top of his lungs, "Anything is possible!!!"
Other conferences:
American: No. 20 Cincinnati vs. No. 17 Memphis (-9.5)
Mountain West: Hawai'i vs. No. 19 Boise State (-14)
Sun Belt: Louisiana Lafayette vs. No. 21 Appalachian State (-6)
MAC: Miami (OH) vs. Central Michigan (-6.5)
C-USA: UAB vs. Florida Atlantic (-7.5)
Go deeper:
Go deeper