Schiff: Uncontested facts from inquiry show Trump solicited a bribe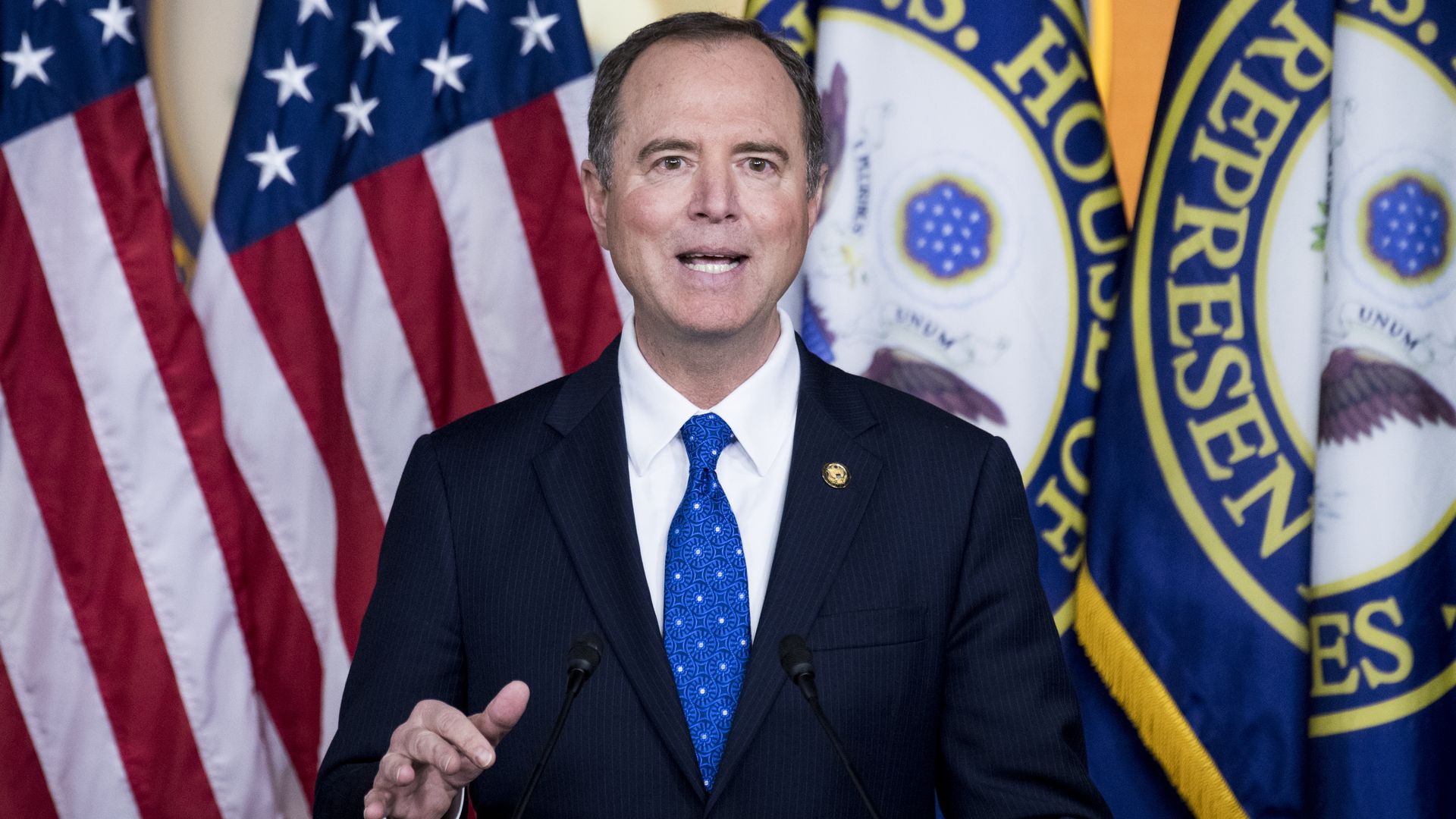 House Intelligence Committee Chairman Adam Schiff (D-Calif.) told NPR Tuesday the impeachment inquiry draft report provides "abundant evidence" that President Trump's acts on Ukraine would qualify him to be impeached.
What's new: Schiff told CNN's "Anderson Cooper 360" later Tuesday that evidence suggests Trump was "using" Rudy Giuliani to "coerce Ukraine" in that probe. Schiff said investigators are trying to find the owner of a "-1" number that featured in call records involving Giuliani and his Ukraine work. He said there were "indications in the trial of Roger Stone that when he was communicating with the president."
Background: Following the conclusion of a federal trial on charges related to former Special Counsel Robert Mueller's Russia investigation, a jury found longtime Trump associate Stone guilty last month of charges including obstruction, giving false statements to a House committee and witness tampering.
I don't think there's any question that the uncontested facts show this president solicited a bribe."
— Schiff to NPR
The other side: Republicans on the House committees investigating the Ukraine controversy concluded in their own report that the president committed "no quid pro quo, bribery, extortion, or abuse of power."
House Minority Leader Kevin McCarthy (R-Calif.) told reporters Tuesday Democrats' impeachment inquiry had "failed each one" of the standards outlined by Speaker Nancy Pelosi (D-Calif.) in a March Washington Post interview that "impeachment is so divisive to the country that unless there's something so compelling and overwhelming and bipartisan."
"There is nothing compelling, there is nothing overwhelming and the only bipartisan vote we have had in this House is not to move forward with impeachment inquiry," he said. "That has not stopped them," he added, singling out Schiff for criticism and claiming that the Democrat "has a long history with a problem of telling the truth."
Go deeper:
Editor's note: This article has been updated with new details throughout.
Go deeper