McGahn appeals ruling ordering him to comply with House impeachment subpoena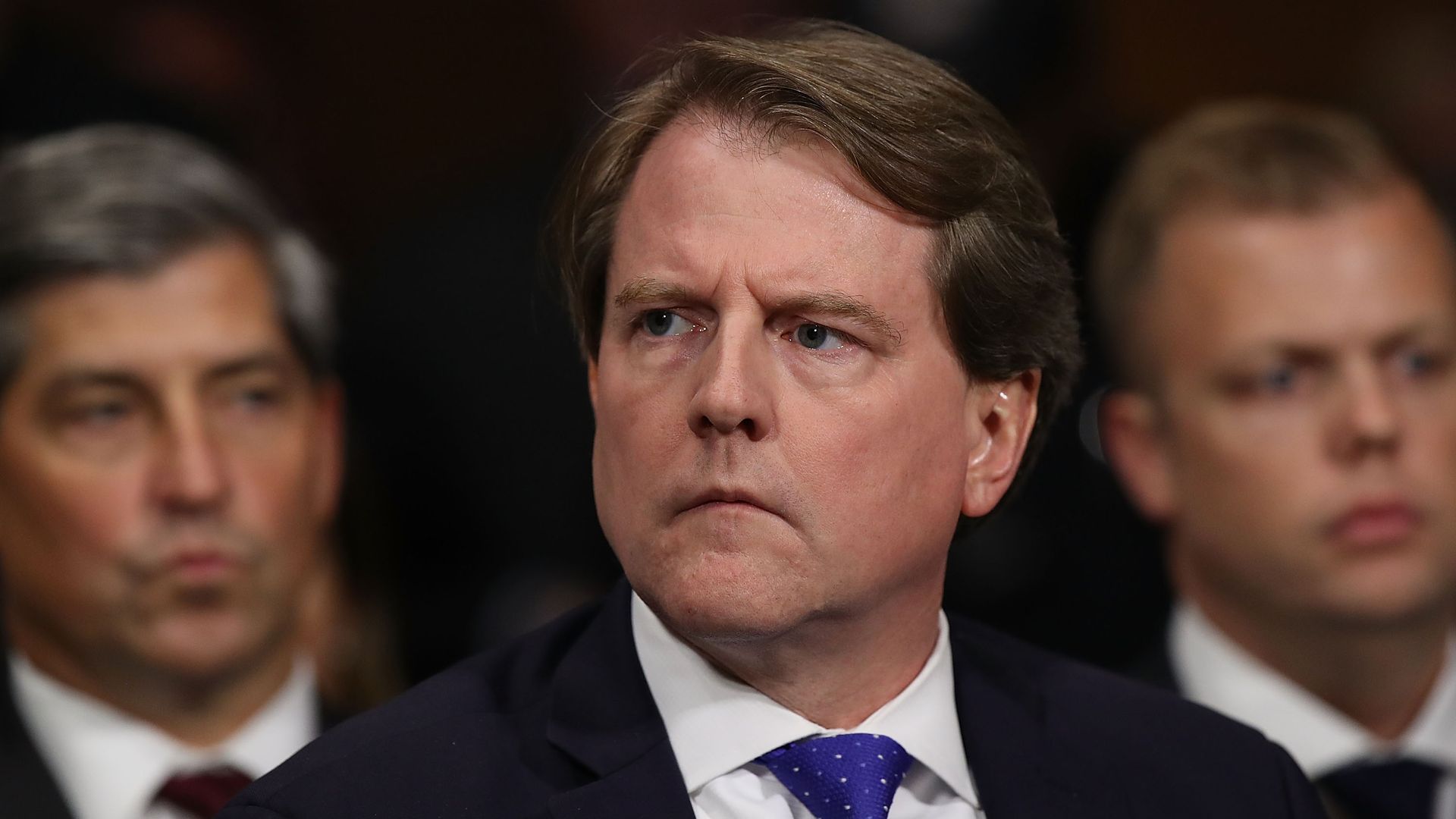 A federal judge ruled Monday that former White House counsel Don McGahn must testify under subpoena in the ongoing House impeachment inquiry, rejecting the White House's assertion that its aides are "absolutely immune" from congressional subpoenas. McGahn and the Justice Department appealed the ruling on Tuesday.
"When DOJ insists that Presidents can lawfully prevent their senior-level aides from responding to compelled congressional process and that neither the federal courts nor Congress has the power to do anything about it, DOJ promotes a conception of separation-of-powers principles that gets these constitutional commands exactly backwards. In reality, it is a core tenet of this Nation's founding that the powers of a monarch must be split between the branches of the government to prevent tyranny."
— Judge Ketanji Brown Jackson
Why it matters: McGahn was one of the Mueller investigation's most important witnesses, featuring heavily in the section of the special counsel's report about potential obstruction of justice by Trump.
Between the lines: House Democrats hope that some Trump administration members, including former national security adviser John Bolton, may use the ruling to justify cooperating with the inquiry.
Judge Ketanji Brown Jackson writes in the ruling:
"[I]f a duly authorized committee of Congress issues a valid legislative subpoena to a current or former senior-level presidential aide, the law requires the aide to appear as directed, and assert executive privilege as appropriate."
The state of play: The House Judiciary Committee sued McGahn in August to testify before Congress after the Trump administration directed him to ignore its subpoena, arguing that the former counsel was "absolutely immune from compelled congressional testimony."
The big picture: Though the House Intelligence Committee just wrapped up two weeks of public impeachment hearings, the committee's chairman, Rep. Adam Schiff (D-Calif.), refused to commit to setting a finite timetable for the investigation over the weekend.
Go deeper:
Editor's note: This article has been updated with the news of McGahn's appeal.
Go deeper