Trump repeats Ukraine conspiracy theory on 53-minute "Fox & Friends" call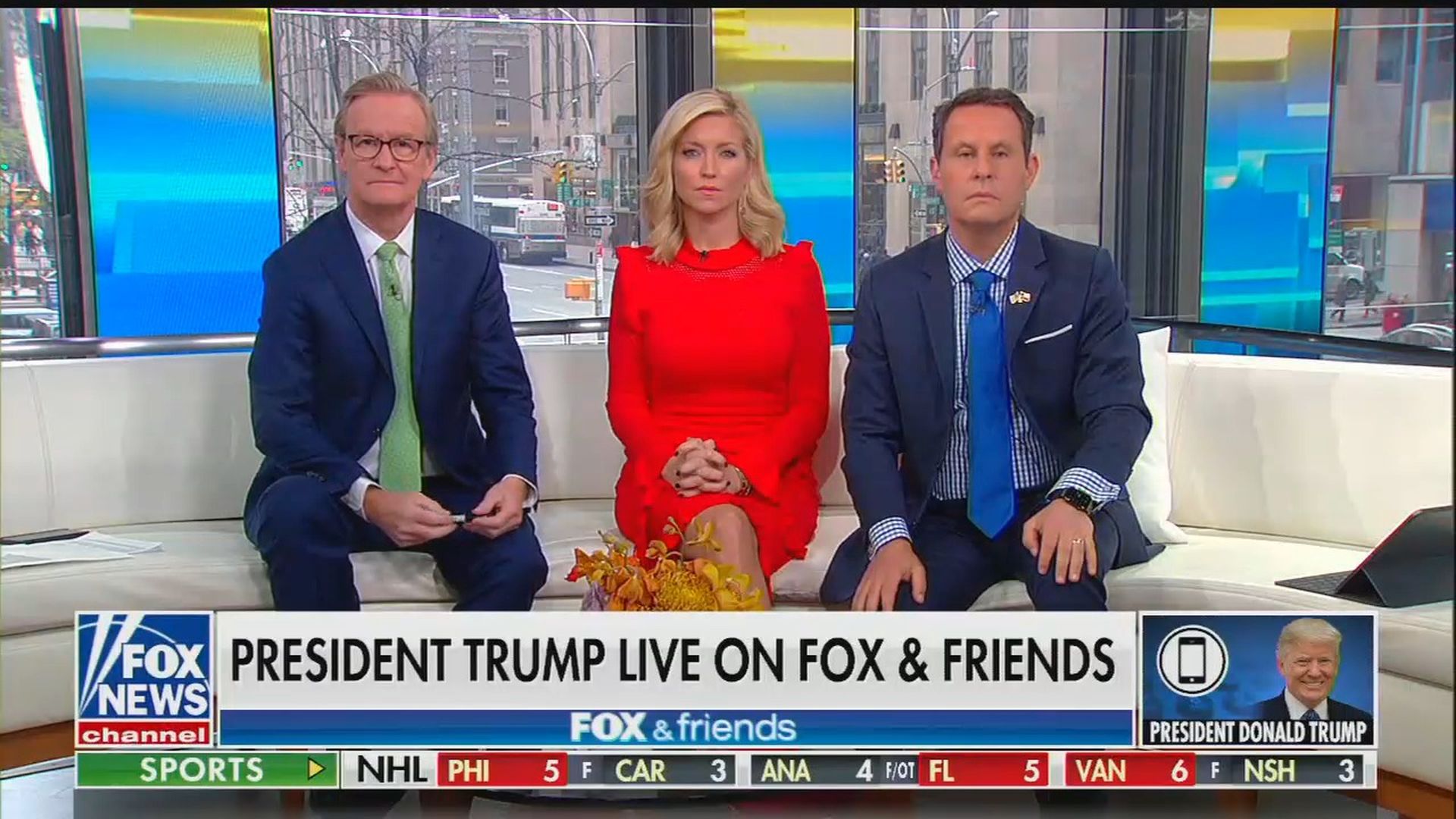 President Trump spent 53 minutes of his Friday morning on the phone with the hosts of "Fox & Friends" — his latest call-in to one of his favorite TV shows.
Driving the news: President Trump spent a chunk of the interview repeating a debunked conspiracy theory that Ukraine interfered in the 2016 presidential election. "That's what the word is," he claimed without evidence.
The debunked conspiracy theory — frequently referred to as CrowdStrike, the security firm at its center — is based on the idea that Ukraine was complicit in the 2016 hacking of the Democratic National Committee to create false electronic records that Russia was behind the hacking.
Lt. Col. Alexander Vindman, the National Security Council's top Ukraine expert, said during his impeachment hearing that the Crowdstrike conspiracy theory is "a Russian narrative that President Putin has promoted."
Fiona Hill, Trump's former top Russia adviser, said during her impeachment hearing that the conspiracy theory is "a fictional narrative that has been perpetrated and propagated by the Russian security services themselves."
Worth noting: Trump also said that Crowdstrike is owned by "a very wealthy Ukrainian," but it's actually a publicly-traded company. Its largest outside shareholder is Warburg Pincus, a New York City private equity firm from which Trump plucked one of his top economic advisors.
Impeachment-related highlights:
The president once again slammed former Ukraine Ambassador Marie Yovanovitch, claiming she was "not an angel." During her impeachment testimony , she agreed that it was Trump's prerogative to fire ambassadors at will, but asked, "What I do wonder is why was it necessary to smear my reputation also?"
Trump said that during a Senate impeachment trial he only wants House Intelligence Committee Chairman Adam Schiff (D-Calif.) to testify more than Hunter Biden.
Trump said that he knows "exactly" who the Ukraine whistleblower is — and insinuated that the "Fox & Friends" hosts did as well — prompting them to attempt to steer the conversation away from the topic live on air.
Other highlights:
He tried to find a middle ground between supporting pro-democracy protestors in Hong Kong and not offending Chinese President Xi Jinping as the U.S. attempts to close a "phase one" trade deal with China. "We have to stand with Hong Kong, but I'm also standing with President Xi," he said.
Trump denied rumors surrounding his health after a surprise visit to Walter Reed National Medical Center last weekend, calling it "fake, disgusting news."
2020 lightning round:
Joe Biden: "I don't know if Joe can make it mentally. He's off."
Pete Buttigieg: "I don't see him dealing with President Xi. I don't see him dealing with Kim Jong-un. But maybe he is."
Elizabeth Warren: "I think Pocahontas has come up from the embers."
Michael Bloomberg: "I think his time has come and gone.
Go deeper:
Go deeper