Mulvaney denies Fiona Hill testimony tying him to Ukraine scheme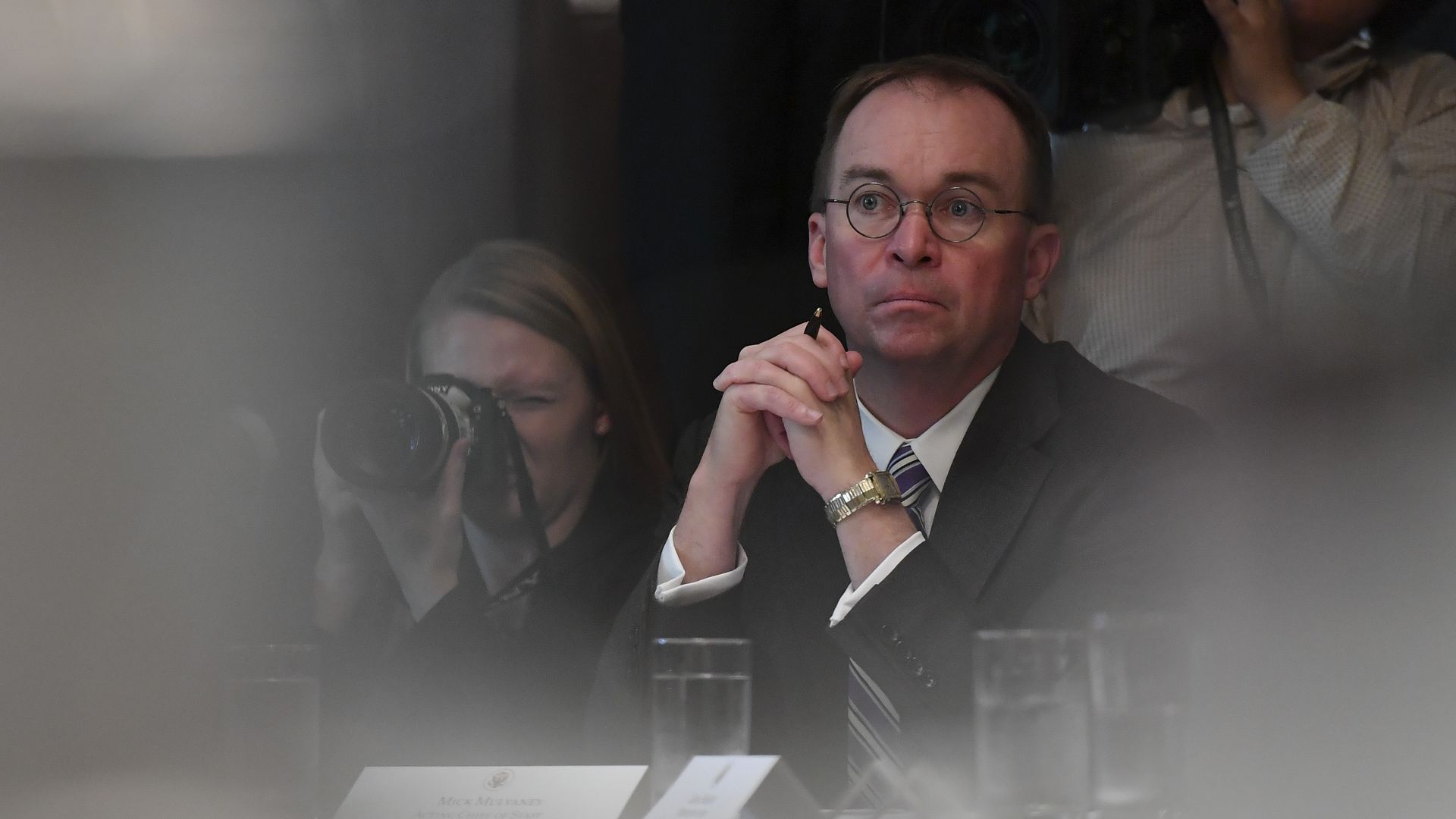 A lawyer for White House acting Chief of Staff Mick Mulvaney released a statement Thursday casting doubt on the testimony of former top Russia adviser Fiona Hill, who told investigators that EU Ambassador Gordon Sondland had a "deal" with Mulvaney to engage in a quid pro quo with Ukraine using a coveted White House visit.
Why it matters: Sondland testified that he kept Mulvaney and a number of other top administration officials apprised of his efforts to push Ukraine to announce investigations into the Bidens and the 2016 election. Mulvaney himself admitted at a press conference in October that Trump conditioned military assistance to Ukraine on the announcement of the 2016 investigation, before later walking it back.
The big picture: Mulvaney, Vice President Mike Pence and Energy Secretary Rick Perry have all released statements this week disputing elements of certain testimonies in the impeachment hearings. All three have been asked to cooperate in the House's inquiry, but none have complied.
What they're saying:
"Fiona Hill's testimony is riddled with speculation and guesses about any role that Mr. Mulvaney played with anything related to Ukraine. She bases much of her testimony about him on things allegedly heard from unnamed staffers, guards in the West Wing, and "many people." The fact is that Ms. Hill has never met Mr. Mulvaney other than in passing, and has never discussed anything with him regarding Ukraine. We have no idea why Ms. Hill believes Mr. Mulvaney was so heavily involved, especially in light of Ambassador Sondland's contrary testimony that he only spoke very infrequently to Mr. Mulvaney and had zero substantive conversations with him about Ukraine. This inquiry continues to be a sham. No court in this country would give any weight to testimony about Mr. Mulvaney as speculative as Ms. Hill's. Neither should Congress or the public."
— Mulvaney attorney Bob Driscoll
Go deeper:
Go deeper