Inside Democrats' Week 2 impeachment strategy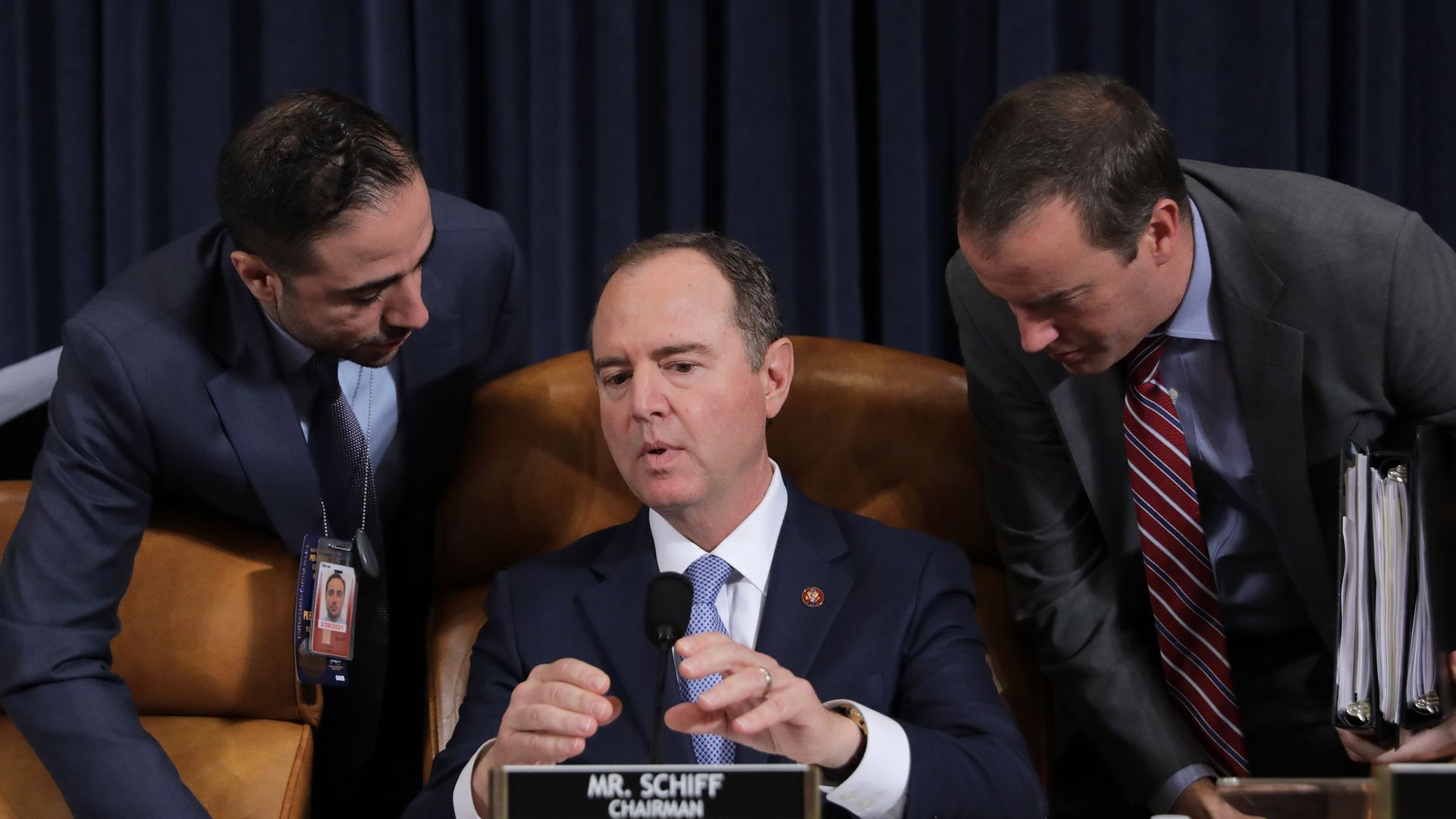 Democrats are approaching Week 2 of impeachment hearings with one key goal: show more of President Trump's direct involvement in the scheme to tie Ukrainian aid to an investigation of Joe Biden's son.
What to watch: Of the eight officials testifying next week, the one with the most known direct interactions with Trump is EU Ambassador Gordon Sondland. The Trump megadonor already had to amend his testimony once. He may be the most legally vulnerable, and he has spoken with Trump about the investigations.
At least two others — National Security Council top Ukraine expert Lt. Col. Alexander Vindman and former Trump Russia adviser Fiona Hill — also have the potential to offer key details from within the White House, with one Democratic official describing them as this week's star witnesses.
Vindman, who will appear on Tuesday, was on the July 25 call between Trump and Ukrainian President Volodymyr Zelensky. He says acting Chief of Staff Mick Mulvaney was responsible for withholding aid to Ukraine.
And Hill will close out the week on Thursday. "She can put an entire bow on this thing ... and speak to the president's actions directly," a Democratic aide said.
In addition to showing a more direct tie to Trump, Democrats also want to use Week 2 to fine-tune messaging that can reach persuadable independents and Republicans.
One Democratic official said they saw "great penetration" this week on Fox News, with Bret Baier calling Trump's tweets disparaging former U.S. Ambassador to Ukraine Marie Yovanovitch "a turning point," and Chris Wallace stating that "you don't have a pulse" if you're not moved by her testimony.
The layout: Democrats know Republicans are going to continue pressuring House Intelligence Chairman Adam Schiff to allow them to ask more questions, but he will continue to gavel down any distracting narratives from the right.
Officials say they think the organization of the hearings so far has been effective at ensuring the substance of the witnesses' testimony gets out at the top, and they plan to keep the same layout for the majority of hearings this week.
Worth noting: House Speaker Nancy Pelosi, who has been commandeering Democrats' impeachment strategy behind the scenes, and her team have not yet said whether they'll announce more public hearings beyond this week.
But some Democratic aides say they hope David Holmes, an official in the U.S. Embassy in Kiev who told House investigators in a closed-door deposition on Friday that he overheard Trump question Sondland about investigating the Bidens, will have a chance to testify publicly.
Go deeper