Vindman says Mulvaney coordinated plan to push Ukraine for Biden investigations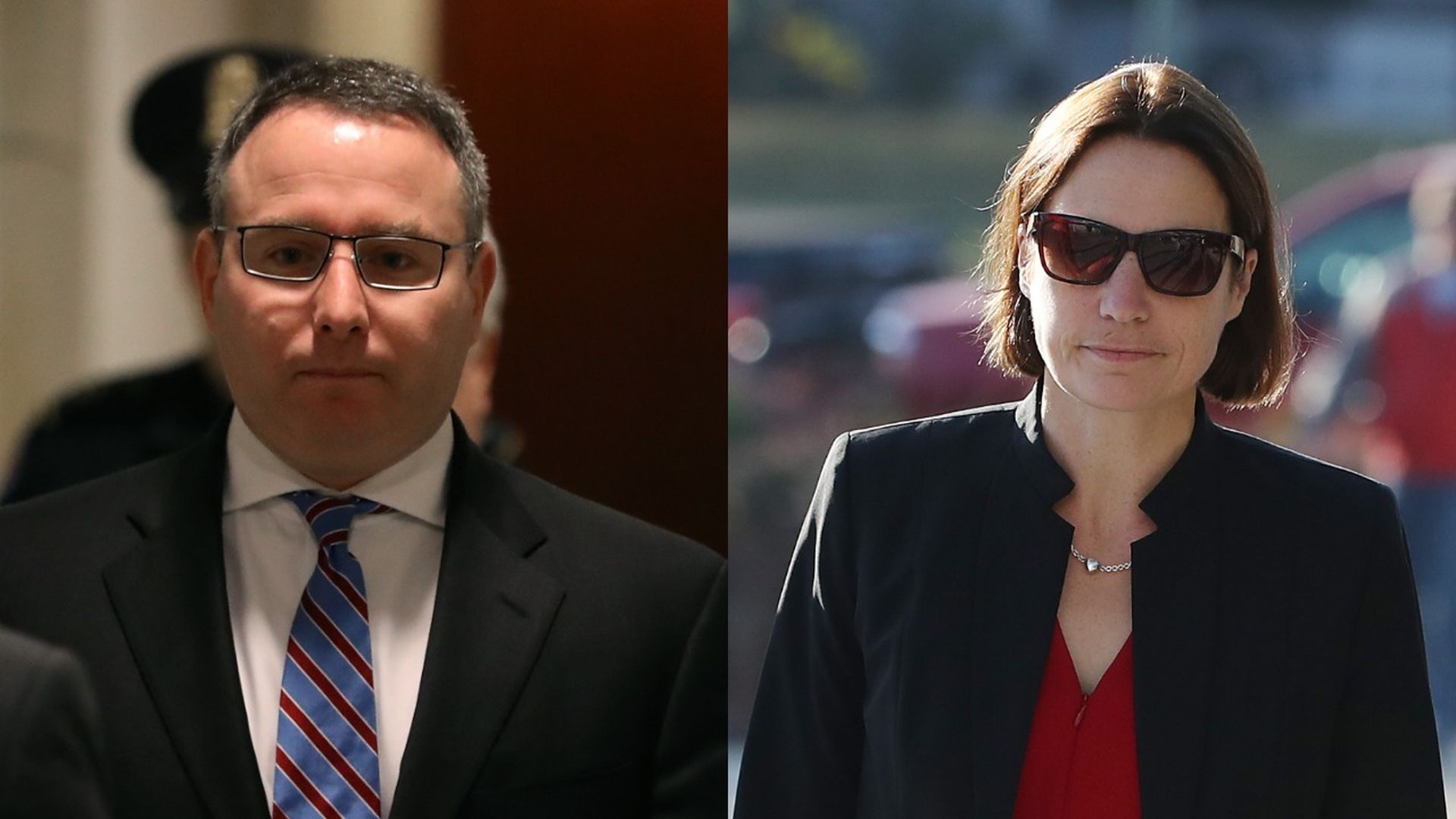 The House Intelligence Committee released Friday the transcripts of its closed-door interviews with Lt. Col. Alexander Vindman, the National Security Council's top Ukraine expert and Army veteran, and President Trump's former Russia adviser Fiona Hill.
The state of play: Vindman testified that acting White House chief of staff Mick Mulvaney "coordinated" a plan to condition a White House meeting for Ukrainian President Volodymyr Zelensky on an investigation into the Biden family's business dealings in Ukraine, especially the gas company Burisma.
"[EU Ambassador Gordon Sondland] just said that he had had a conversation with Mr. Mulvaney, and this is what was required in order to get a meeting. ... So he was talking about the 2016 elections and an investigation into the Bidens and Burisma."
Later in his testimony, Vindland confirmed that — to the best of his recollection — Sondland explicitly used the word "Bidens" when describing the investigation.
Key excerpts from Vindman's testimony
"I am unaware of any factual basis for the accusations against [former Ukraine] Ambassador Yovanovitch, and I am, frankly, unaware of any authoritative basis for Ukrainian interference in 2016 elections, based on my knowledge."
"It became crystal clear when [Office of Management and Budget] staffers reported that the hold [on military aid to Ukraine] came from the Chief of Staff's Office. ... Eventually it became the — what I was told is to ensure that the assistance aligned with administration priorities."
"So there were probably some, you know, nonsubstantive edits that I don't recall what I necessarily put into it, but there were a couple of things that were not included [in the transcript of the July call between President Trump and Ukrainian President Volodymyr Zelensky."
Key excerpts from Hill's testimony
"The accusations against [Yovanovitch] had no merit whatsoever. This was a mishmash of conspiracy theories that, again, I've told you, I believe firmly to be baseless, an idea of an association between her and George Soros."
"[Former national security adviser John Bolton] basically said — in fact, he directly said: Rudy Giuliani is a hand grenade that is going to blow everybody up. He made it clear that he didn't feel that there was anything that he could personally do about this."
"[Bolton] made it clear that he believed that [Mulvaney and Sondland] were making, basically, an improper arrangement to have a meeting in the White House, that they were predicating the meeting in the White House on the Ukrainians agreeing, in this case, based on the meeting on July 10th, to restart investigations that had been dropped in the energy sector."
"[T]his is a direct quote from Ambassador Bolton: You go and tell [NSC counsel John] Eisenberg that I am not part of whatever drug deal Sondland and Mulvaney are cooking up on this, and you go and tell him what you've heard and what I've said."
The backdrop: Vindman was the first official from the White House who listened to the Trump-Zelensky call to testify before the impeachment inquiry, while Hill's testimony was initially disrupted by House Republicans in a protest against the inquiry.
The big picture: The House committees conducting the impeachment inquiry have released a batch of transcripts of their closed-door interviews so far this week, including Yovanovitch, diplomat Bill Taylor, Sondland, former Ukraine envoy Kurt Volker, State Department official George Kent, and former State Department adviser Michael McKinley.
Read the transcripts:
Go deeper ... Trump-Ukraine scandal: The key players, dates and documents
Go deeper