Ex-Juul executive alleges firm sent 1M contaminated pods to market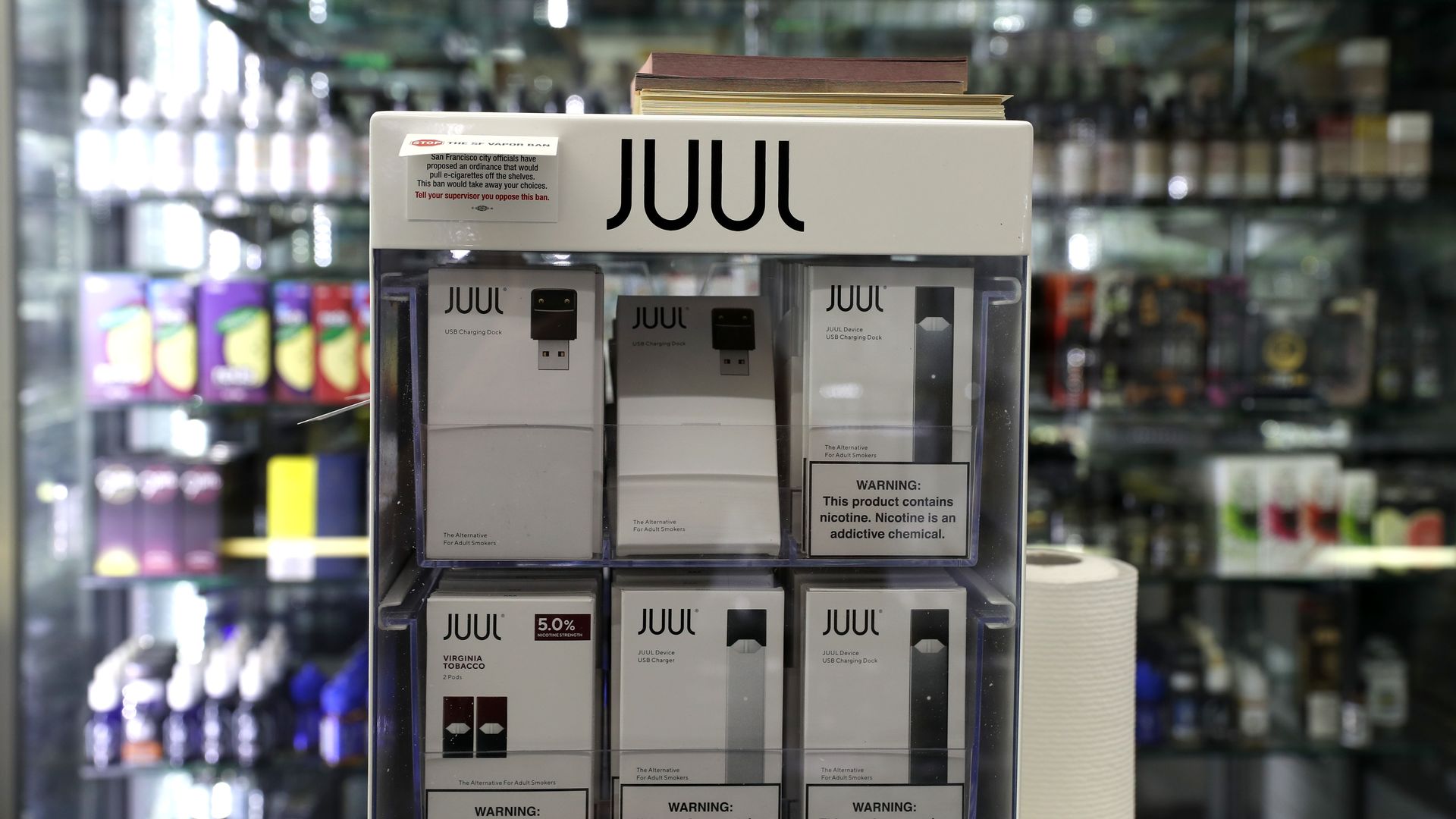 A former Juul executive alleged Tuesday in a lawsuit that it sent to market at least "one million mint-flavored e-cigarette nicotine pods that it admits were contaminated." A Juul spokesperson told Axios the company denies the claims and is contesting the suit.
Details: The suit, filed by Dhillon Law Group in the U.S. District Court for the Northern District of California on behalf of Siddharth Breja, Juul's former senior vice president of global finance, alleges Juul ignored his protests to issue a product recall for the contaminated pods, "or at a minimum, issue a public health and safety notice to consumers."
Other key allegations: Breja alleges Tim Danaher, then chief finance officer at Juul, told him he should "remember his loyalty" to the e-cigarette maker after he continued to raise concerns in March that the firm was violating the law and "stockholders would lose significant personal wealth should he make his concerns public."
Breja was fired the following week, states the suit, first reported by BuzzFeed News.
Breja also claims Kevin Burns, then CEO, allegedly said, "Half our customers are drunk and vaping like mo-fos, who the f--k is going to notice the quality of our pods."
The offensive statement was allegedly repeated by senior management including Danaher, who Breja alleges made the remarks "in the context of a discussion about shipping out expired or nearly expired pods."
What they're saying: In a statement to Axios, a Juul spokesperson said Breja's claims "are baseless." "He was terminated in March 2019 because he failed to demonstrate the leadership qualities needed in his role," the statement reads.
"The allegations concerning safety issues with Juul products are equally meritless, and we already investigated the underlying manufacturing issue and determined the product met all applicable specifications. The company will vigorously defend this lawsuit." 
— Juul spokesperson's statement to Axios
Why it matters: Breja's lawsuit seeking damages for alleged violations, including wrongful termination and also intentional infliction of emotional distress, comes days after a mother filed a wrongful death lawsuit against Juul, alleging the firm's nicotine cartridges were a significant factor in causing the death of her 18-year-old son.
The big picture: The suit was filed on the same day that it was announced Juul would cut about 500 jobs by the end of 2019.
Juul announced this month it would stop selling flavored e-cigarette cartridges online, after halting brick-and-mortar sales last year, in response to criticism from schools, parents and regulators who have said the flavored products contributed to the spike in teen vaping.
Worth noting: The lung injuries tracked by federal and state officials involve patients who have mostly used THC-containing products. Still, 13% of people with the illness reported only using nicotine vaping products.
Read the lawsuit:
Editor's note: This article has been updated with comment from Juul and the inclusion of the lawsuit.
Go deeper