As Pentagon chief makes surprise visit to Kabul, so does Pelosi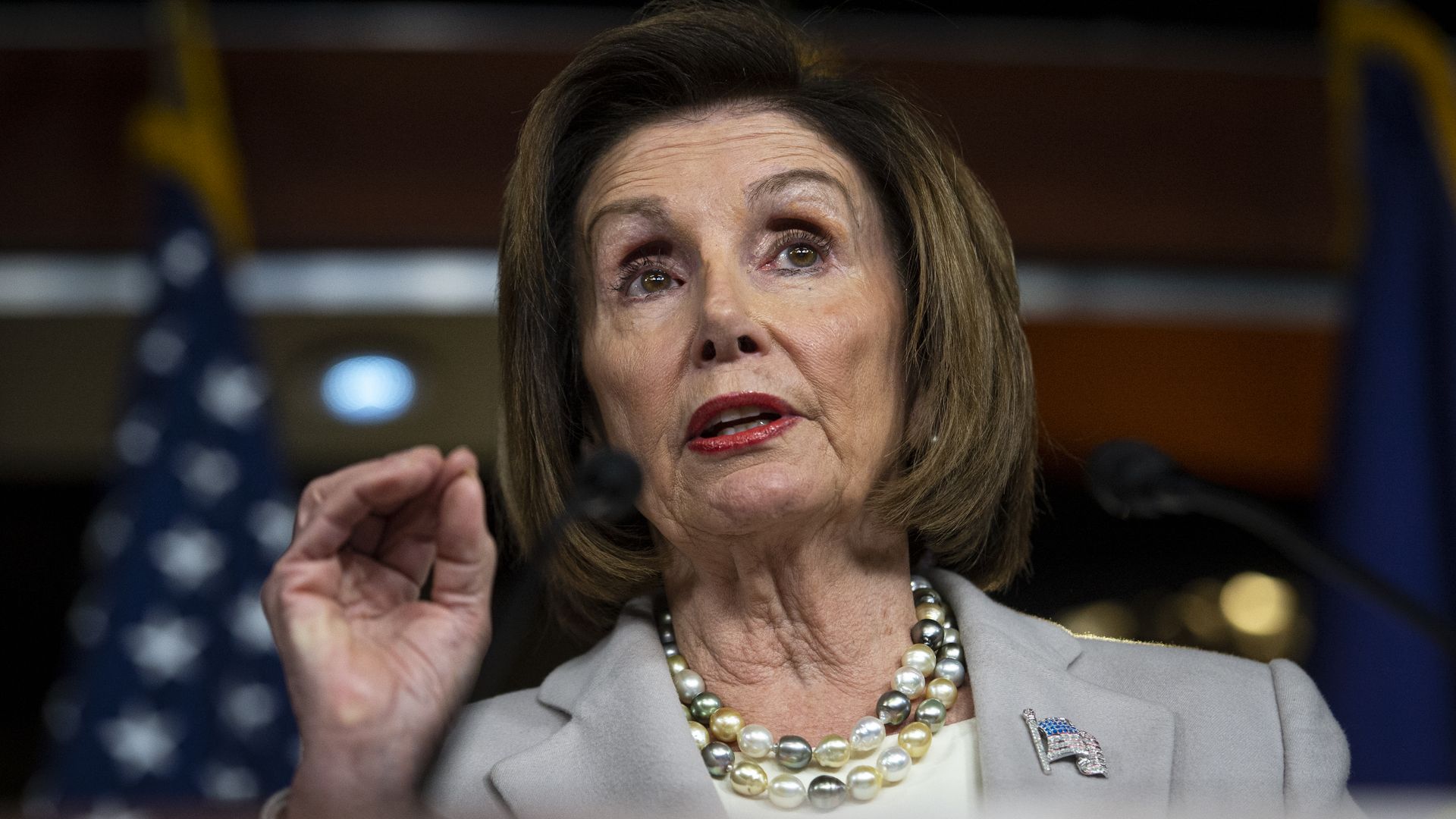 House Speaker Nancy Pelosi (D-Calif.) and other top U.S. lawmakers met with Afghan President Ashraf Ghani during an unannounced visit to Afghanistan, her office confirmed Sunday night. Defense Secretary Mark Esper was also in Kabul in an effort to restart stalled peace talks with the Taliban.
Details: President Trump had previously declared the peace talks "dead" after a Taliban bombing killed an American soldier in September. The issue of the Taliban was high on the agenda for the congressional delegation.
What she's saying: Pelosi said in a statement that the nine-person delegation was briefed by diplomats including U.S. Ambassador to Afghanistan John Bass on issues such as "reconciliation efforts with the Taliban," women's rights and the still-pending September election results.
"We underscored that the women of Afghanistan must be at the table for reconciliation talks," she said.
The delegation, which included one Republican, Rep. Mac Thornberry (R-Texas), the ranking member of the House Armed Services Committee, traveled to Camp Morehead to meet with Resolute Support Mission troops, Pelosi said.
"Meeting with and hearing directly from our troops and diplomats on the ground is essential for Congress to conduct effective oversight of our mission in Afghanistan.  We will return to Washington strengthened with the facts and the first-hand knowledge we have gathered at this critical time for our nation's Afghanistan policy and inspired by the courage of our servicemembers and diplomats on the front lines."
— Pelosi statement
The big picture: Pelosi also paid tribute to her 90-year-old brother, former Baltimore Mayor Thomas D'Alesandro III, who died on Sunday, remembering him in a separate statement as "the finest public servant I have ever known."
Per the Wall Street Journal, Pelosi's and Esper's visits were made with the intention of alleviating concerns over U.S. troop withdrawals.
Go deeper: Trump ordered stepped-up military operations in Afghanistan
Go deeper