Trump asked Australian PM to help investigate origins of Mueller probe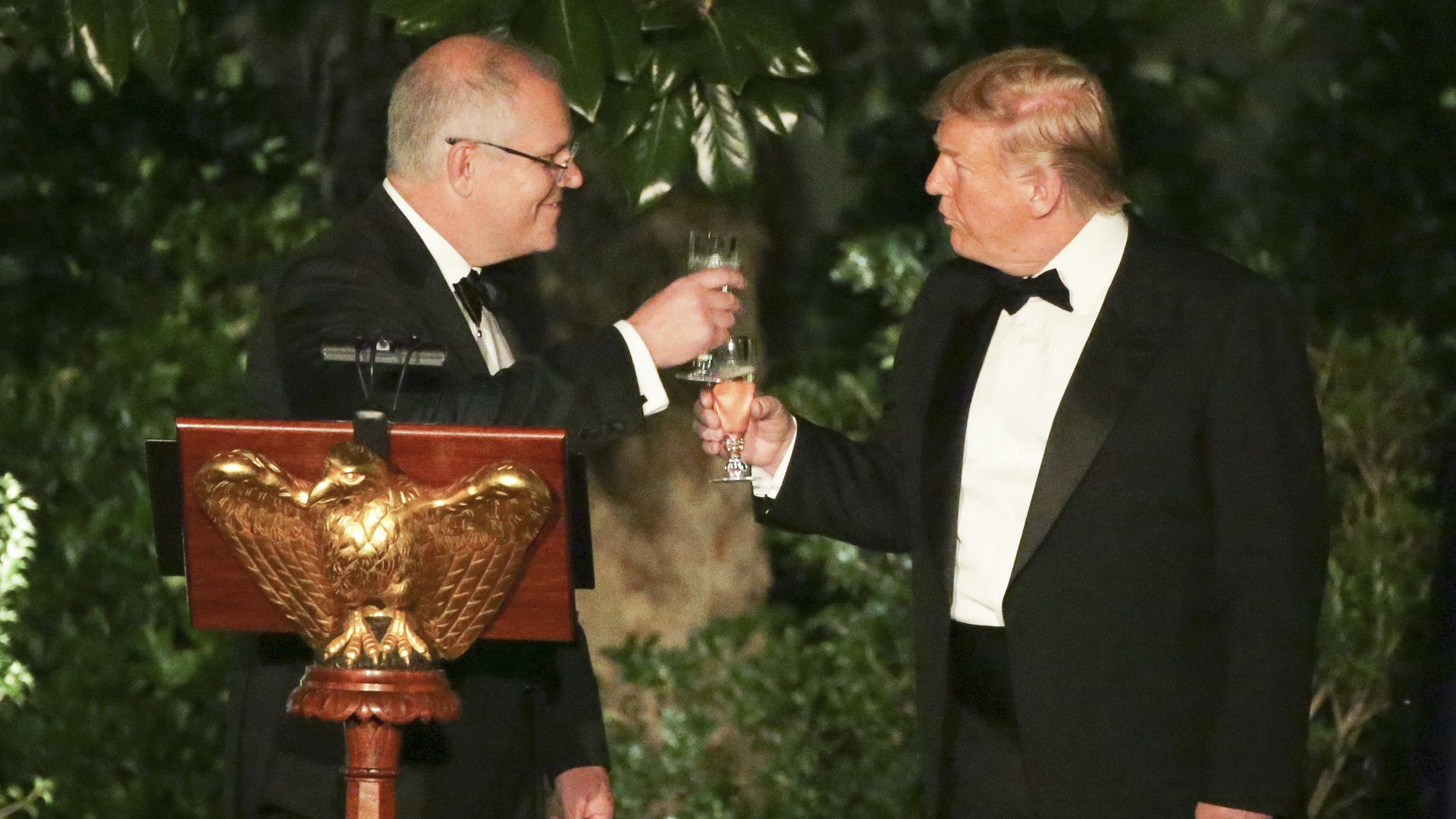 At Attorney General Bill Barr's request, President Trump asked Australia's Prime Minister Scott Morrison in a recent phone call to help with a Justice Department investigation looking into the origins of the FBI's Russia investigation, the New York Times first reported and NBC News later confirmed.
Context: In May 2016, Trump campaign adviser George Papadopoulos told Australian diplomat Alexander Downer over drinks that he had been informed Russia had political dirt on Hillary Clinton. After hacked emails from the Democratic National Committee surfaced a few months later, Downer alerted the FBI about his conversation with Papadopoulos, setting off an investigation into possible coordination between the Trump campaign and Russia.
The big picture: Earlier this year, Barr appointed U.S. Attorney John Durham to lead a review of the Russia investigation, specifically looking into whether officials acted inappropriately in launching the probe. The Washington Post reports that despite Durham's appointment, Barr has taken a hands-on approach to the probe and has personally made overtures to British and Italian officials.
Last week, the Justice Department said it is looking into the extent that other countries, including Ukraine, "played a role in the counterintelligence investigation directed at the Trump campaign."
Access to the Australia call's transcript had been restricted to a small number of people, "an unusual decision that is similar to the handling of a July call with the Ukrainian president," the Times notes.
A Justice Department spokeswoman issued the following statement:
"As the Department of Justice has previously announced, a team led by U.S. Attorney John Durham is investigating the origins of the U.S. counterintelligence probe of the Trump 2016 presidential campaign. Mr. Durham is gathering information from numerous sources, including a number of foreign countries. At Attorney General Barr's request, the President has contacted other countries to ask them to introduce the Attorney General and Mr. Durham to appropriate officials."
Between the lines: Trump's allies have been open about the fact that it would be politically helpful for the Justice Department to discredit the Mueller investigation. Justice Department officials say there is nothing wrong with asking allies to assist with a U.S. law enforcement investigation, but the revelations are likely to spark allegations that Trump is abusing his office for political gain.
Trump is already facing an impeachment inquiry over the Ukraine call, in which he asked President Zelensky to investigate Joe Biden and his son, Hunter, over unsubstantiated corruption allegations.
Go deeper: Poll shows net 20-point swing in favor of impeaching and removing Trump
Go deeper