Updated Sep 24, 2019 -

World
U.K. Supreme Court rules Parliament's suspension is unlawful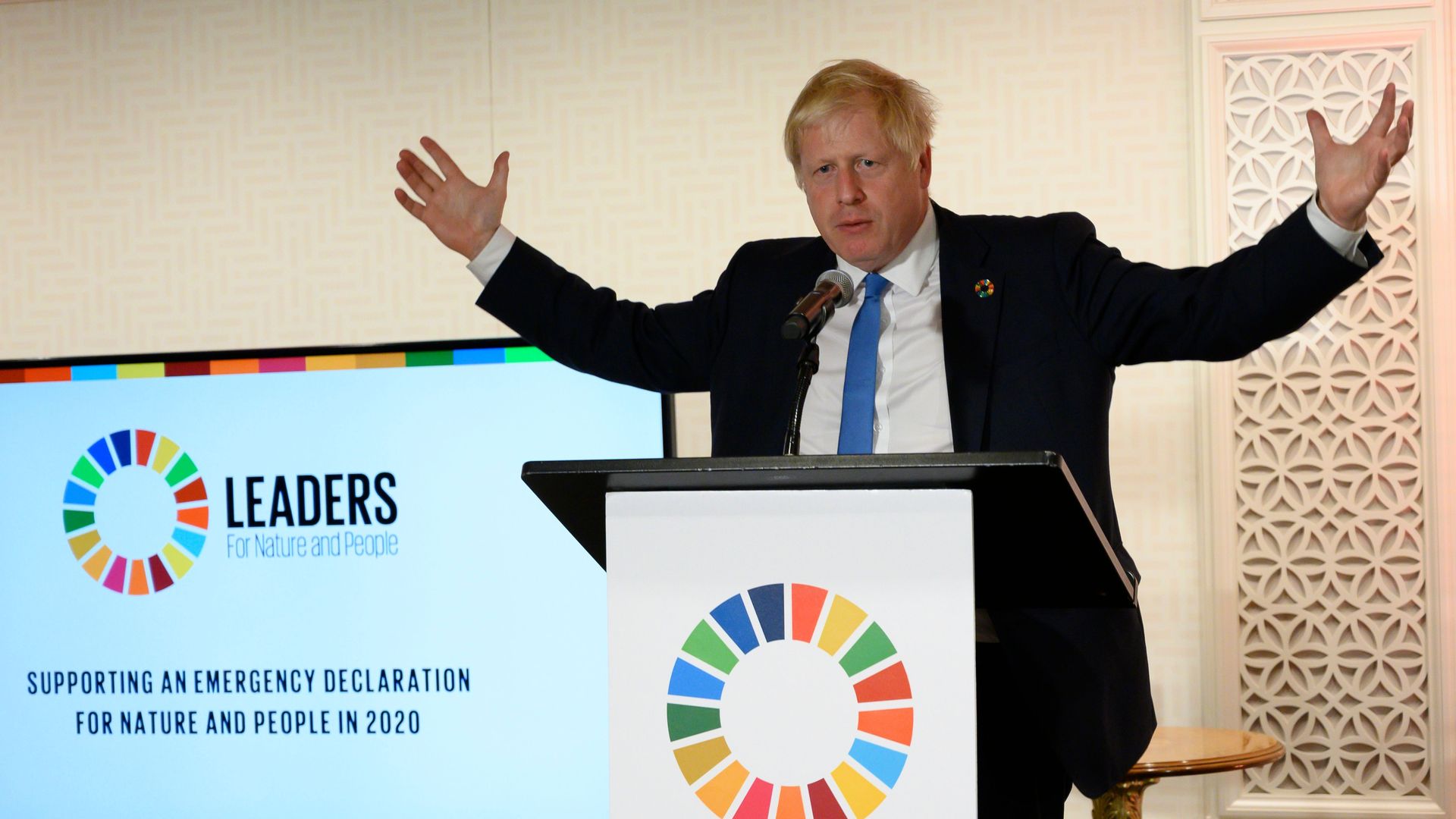 Britain's Supreme Court ruled in a unanimous decision by all 11 justices Tuesday that the ongoing suspension of Parliament by Prime Minister Boris Johnson's government is unlawful, the BBC reports.
Why it matters: In response to the decision, House of Commons Speaker John Bercow has ruled that the Commons will sit Wednesday morning — prompting a dilemma for Johnson, who is currently at the United Nations General Assembly in New York.
The effect on the fundamentals of our democracy was extreme."
— Lady Hale, president of the U.K. Supreme Court
The state of play: Lady Hale, President of the U.K. Supreme Court, said in her ruling that Johnson's advice to Queen Elizabeth II was "unlawful, void and has no effect," and so was the prorogation of Parliament for 5 weeks. House of Commons Speaker John Bercow has ruled that the Commons will sit tomorrow morning
As Axios' Shane Savitsky notes, the ruling means that the queen is in an awkward place as she approved the order to suspend Parliament based on advice from Johnson's administration.
While that might traditionally lead Johnson to resign immediately, he indicated this week that he has no intention of doing so, per The Guardian.
What they're saying: The prime minister's office told the BBC it was "processing the decision." Foreign Secretary Dominic Raab told the BBC beforehand that the government would "abide by the ruling," but the broadcaster noted that Johnson has refused to rule out seeking to prorogue Parliament for a second time if the Supreme Court ruled against him.
House Speaker John Bercow welcomed the ruling and said in a statement the House of Commons must now convene without delay, per Sky News. "To this end, I will now consult the party leaders as a matter of urgency," he said.
Opposition leader Jeremy Corbyn said on stage at the Labour Party conference that the court's decision demonstrated that Johnson is guilty of "contempt of democracy" and an "abuse of power."
The big picture: It's the latest in a series of blows for Johnson, who's in New York City for the United Nations General Assembly this week. Before prorogation began, members of Parliament voted to pass legislation requiring Johnson to extend Brexit beyond Oct. 31 if no deal is in place by Oct. 19.
The ruling Conservatives expelled 21 lawmakers who voted against Johnson to pass the legislation — including Winston Churchill's grandson, Sir Nicholas Soames.
Johnson has twice failed in his attempts to call a snap election.
Johnson has vowed to deliver Brexit on Halloween, "do or die." If he defies the law, he could face jail — or choose to resign rather than break his promise, Savitsky notes.
Read the ruling:
Go deeper: The wild scenes on Parliament's last day before prorogation
Go deeper