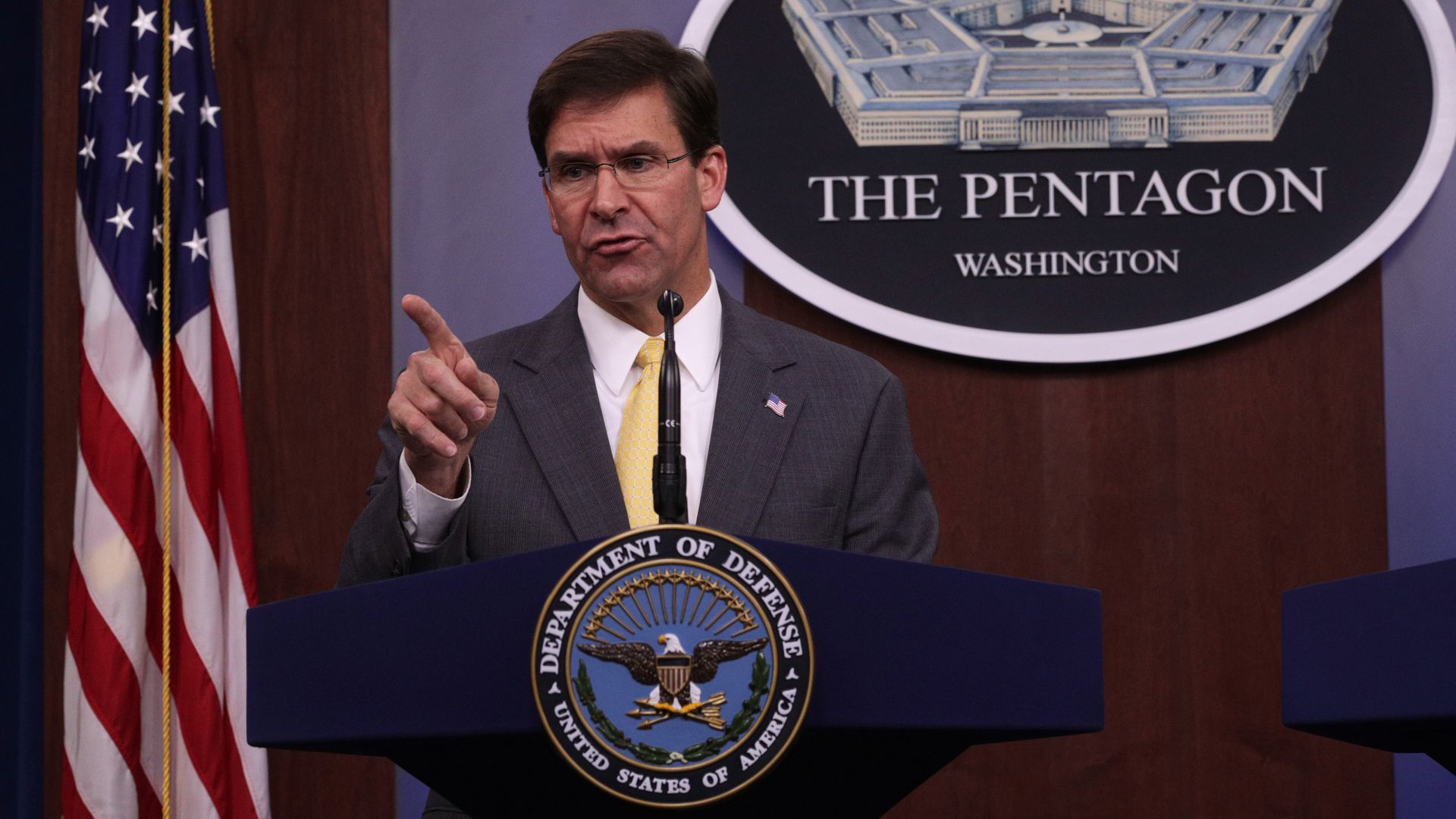 In a press conference Friday evening, U.S. Secretary of Defense Mark Esper announced the Pentagon will deploy U.S. forces to the Middle East in response to last Saturday's attacks against major oil processing and production sites in Saudi Arabia.
Why it matters: Both Secretary of State Mike Pompeo and the Saudis have blamed Iran for the attacks, though officials are still investigating. Iranian officials have warned the U.S. they are prepared to respond to any attack from the U.S. or Saudi Arabia, the Washington Post reports.
"The president has approved the deployment of U.S. forces which will be defensive in nature and primarily focused on air and missile defense."
— Mark Esper on Friday
The big picture via the Washington Post: "The decision to send a modest number of military personnel marks the second time in recent months that the United States has boosted its presence in the region in response to Iranian actions."
The state of play: Last weekend's attack triggered the biggest spike in crude prices in several decades. Iran denies involvement in the attacks and Foreign Minister Javad Zarif warned of "all-out war" if anyone attacks Iran.
The Saudi Arabian-led military coalition fighting in Yemen said Monday that Iranian weapons were used to strike major oil plants in Saudi Arabia over the weekend, Reuters reports.
Pompeo ramped up his rhetoric enroute to the Saudi Arabian city of Jeddah, telling reporters that Iran had committed an "act of war." He again dismissed the claim by Yemen's Houthi rebels, backed by Iran, that they were behind the airstrikes.
Earlier on Friday, President Trump told reporters he had issued the "highest sanctions ever imposed on a country" on Iran's central bank.
Go deeper:
Go deeper