Jay Inslee withdraws from 2020 presidential race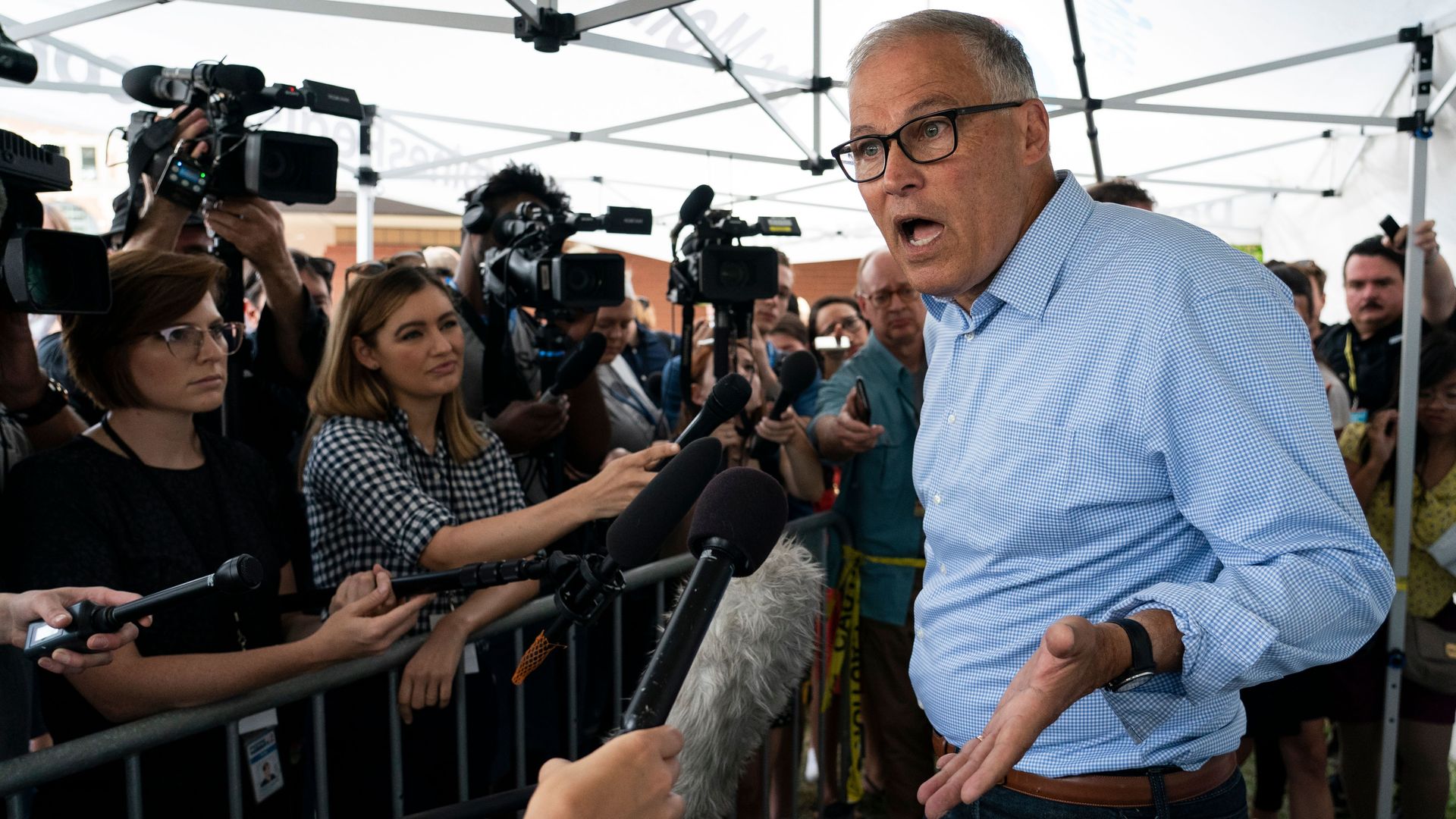 Washington Gov. Jay Inslee told MSNBC's Rachel Maddow on Wednesday that he is dropping out of the 2020 Democratic presidential race.
Why it matters: Inslee was a longshot for the Democratic nomination, but his focus on climate change has helped elevate the issue to a degree unseen in prior cycles. He was the driving force behind what's now a wider — though still unsuccessful — campaign for the Democratic National Committee to hold a debate on the topic. Inslee hit the donor threshold to qualify for September's Democratic debates, but did not meet the minimum polling requirements.
It's become clear that I'm not going to be carrying the ball, I'm not going to be the president so I'm withdrawing tonight from the race.
Details: Inslee told Maddow he would not endorse any particular candidate and that he would support whomever the Democratic presidential candidate is.
What's next? Inslee would not be drawn on his future plans, telling Maddow he would make an announcement Thursday. AP reports that he will announce in an email to supporters Thursday that he will seek a third term as governor, citing 2 people close him.
The big picture: Inslee is the third Democrat to end his presidential bid after Rep. Eric Swalwell (Calif.) and former Colorado Gov. John Hickenlooper.
Inslee quit ahead of CNN's climate change town hall in September. He said during an interview with Vox on Tuesday he thinks his team has "raised the bar and driven the other candidates to be more ambitious" on the issue of climate change.
"We forced the debate onto the stage; it wasn't there when we started. So now you have the Democratic Party at least having a vote on whether they're going to have a [climate] debate, and you have two major networks fostering debate. I don't see evidence that that would have happened without us."
— Inslee interview with Vox
What they're saying: Several Democratic presidential candidates tweeted tributes to Inslee's achievement in making climate change a key focus of the race, including Sens. Elizabeth Warren, Kamala Harris and Bernie Sanders.
Editor's note: This article has been updated with new details throughout.
Go deeper