Updated Aug 18, 2019 -

World
Over 1 million people rally as Hong Kong marks 11th weekend of protests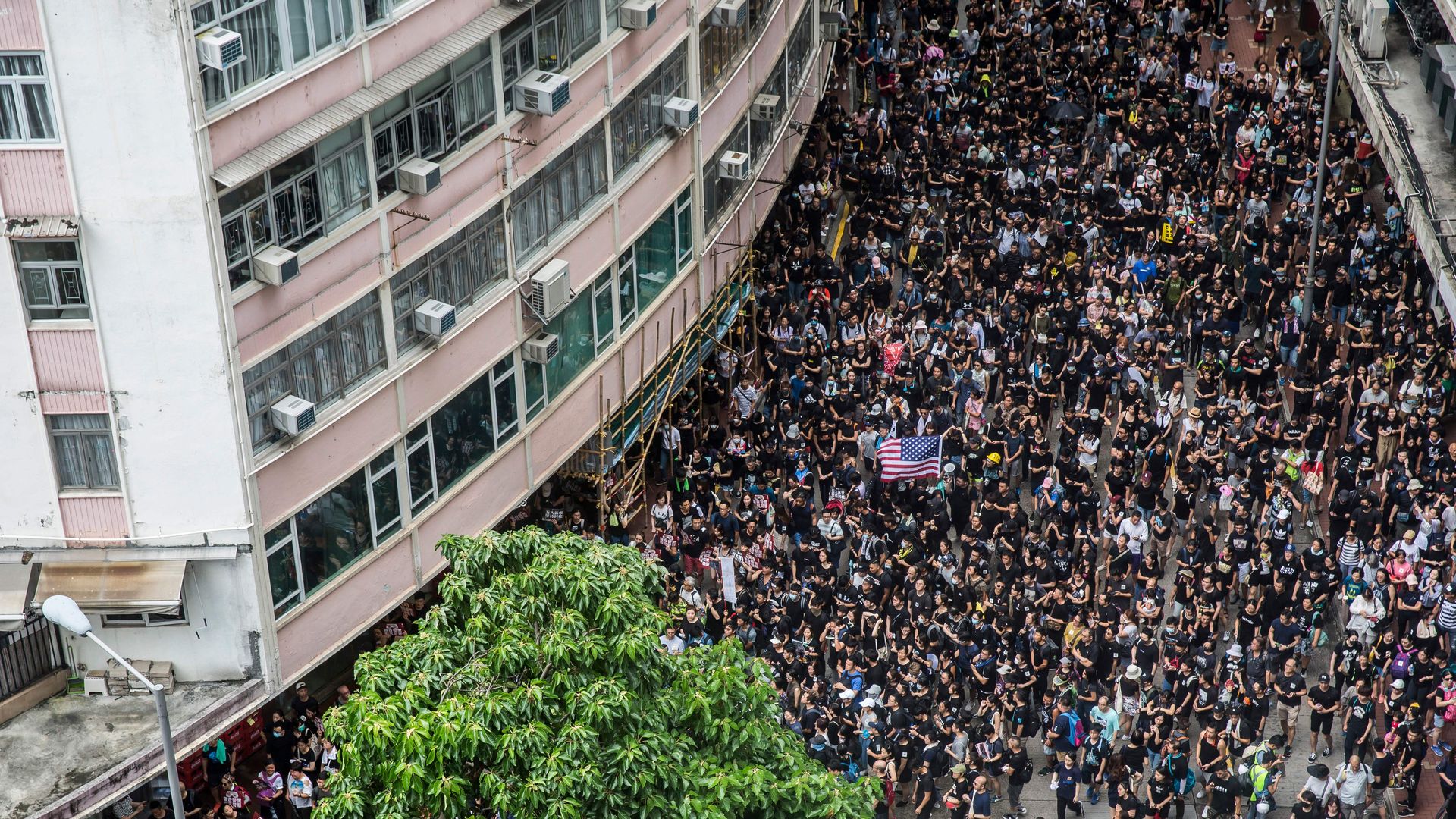 Hong Kong pro-democracy protest organizers on Sunday called for the police chief and the security secretary to resign over their conduct toward activists, as the city experiences an 11th straight weekend of demonstrations, CNN reports.
What's new: Organizers say 1.7 million people took part in Sunday's peaceful mass protest in Hong Kong, though police are still surveying their own crowd estimates. Thousands still occupied the roads into the night outside the government headquarters in the Admiralty district.
The Hong Kong government released a statement saying they "regret" the turn of events at Victoria Park on Sunday, but accused organizers of targeting the police in their slogans.
"Police officers have been under tremendous work pressure and have always carried out their duties for long hours. Their family members are also under different degrees of intimidation and bullying. Their living quarters were severely vandalised and women and children residing there were frightened and disturbed."
— A Hong Kong government spokesperson
The big picture: After being asked to protest in a "peaceful and rational manner" by the Hong Kong government, participants named the march "Peaceful, Rational, and Non-Violent Protesters Stand Out." This high level of cooperation follows breakouts in violence at Hong Kong International Airport last week, CNN notes.
Earlier this week, pro-democracy protesters accused Hong Kong police of brutality. Police have repeatedly fired tear gas and rubber bullets, while some officers admitted to disguising themselves as anti-government protestors during rallies.
On Saturday, thousands of school teachers joined the anti-government demonstrations, Reuters reports. The protest was mostly peaceful.
Chinese e-commerce sites like Alibaba Group have blocked items such as umbrellas, masks or helmets for purchase by people in Hong Kong, Bloomberg reports. Black T-shirts, banners, laser pens and facial masks will be detained at customs ports, Hong Kong logistics companies said.
The bottom line: The unrelenting protests have become a flashpoint not only for the domestic stability of the Chinese government, but also for the U.S.-China trade war — which now threatens to spin the global economy into a recession.
Go deeper:
Editor's note: This article has been updated with more details on the latest protest.
Go deeper