Updated Aug 19, 2019 -

World
U.S. warns Greek government as Iran tanker sails toward Greece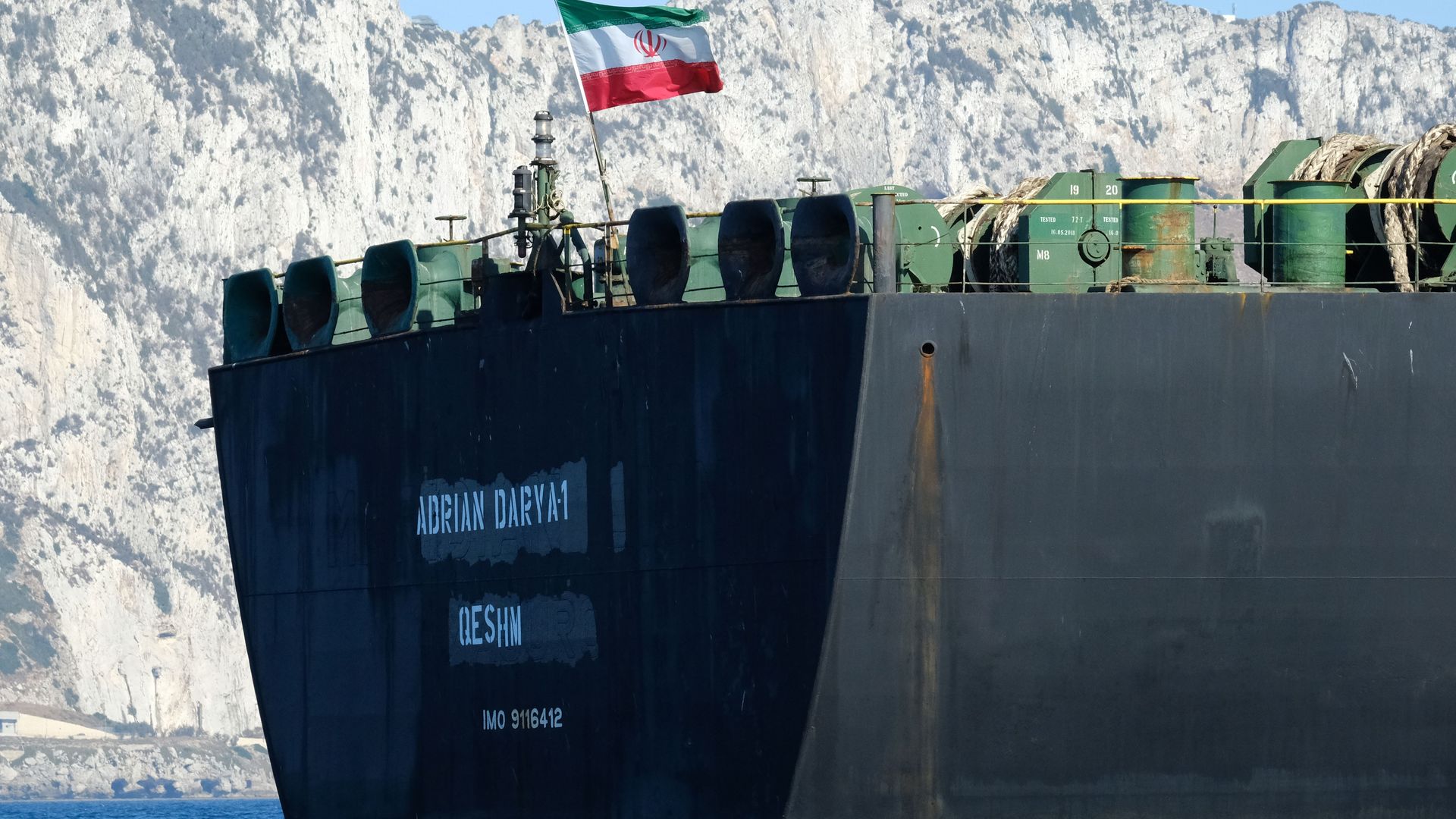 A State Department official said Monday the U.S. conveyed its "strong position" to the Greek government and all ports in the Mediterranean about a Greece-bound Iranian supertanker it sought to seize, Reuters reports.
Why it matters: The Adrian Darya 1 tanker has been at the center of a standoff between Iran and the West since it was detained at Gibraltar on suspicion of carrying oil to Syria. The official said the tanker is assisting the Islamic Revolutionary Guard Corp and any efforts to help it may be considered providing material support to the U.S.-designated foreign terrorist organization, which has potential criminal consequences, per Reuters.

The big picture: The U.S. had an application to seize the vessel, previously known as Grace 1, rejected by the government of the United Kingdom's semi-autonomous state Gibraltar. British Royal Marines seized it at Gibraltar in July, suspecting it was carrying $130 million worth of light crude oil to Syria, a close ally of Iran, in violation of European Union sanctions, Reuters notes (Iran denies the tanker was going to Syria.).
The U.K. and Iran are working on de-escalating tensions after the tit-for-tat seizure of oil tankers in the Persian Gulf.
Gibraltar cited EU law when it rejected the U.S. Justice Department's request, per the Gibraltar Chronicle.
"The EU sanctions regime on Iran is fundamentally different to that of the US. ... The Central Authority's inability to seek the orders requested is a result of the operation of European Union law and the differences in the sanctions regimes applicable to Iran in the EU and the US."
— Gibraltar government
Tensions between the U.S. and Iran remain heated over the Trump administration's campaign of "maximum pressure" sanctions.
What he's saying: President Trump told reporters on Sunday, "Iran would like to talk, they just don't know how to get there." He said Iran's economy is crashing, U.S. sanctions are hurting the Iranian oil industry and that the country's government "very much want to make a deal."
This article has been updated with more details on the tanker's voyage and comments from the State Department.
Go deeper: Trump administration sanctions Iran Foreign Minister Javad Zarif
Go deeper