Updated Jul 11, 2019 -

World
Iranian boats tried to seize British oil tanker in Gulf, U.K. says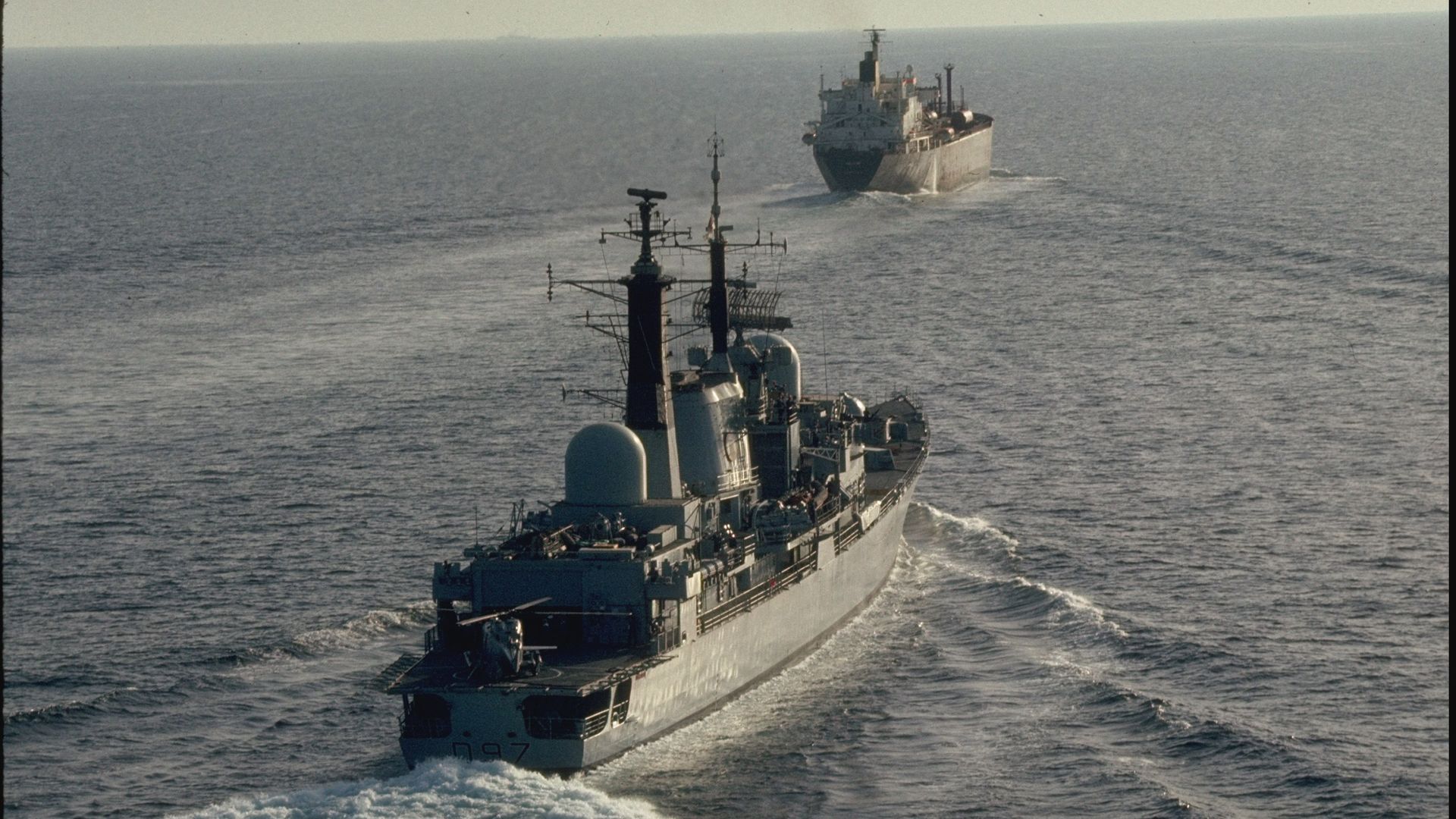 Britain's government said Iranian boats tried to seize a British oil tanker in the Strait of Hormuz in the Persian Gulf Wednesday before a British warship intervened, the Telegraph reports.
"Contrary to international law, 3 Iranian vessels attempted to impede the passage of a commercial vessel, British Heritage, through the Strait of Hormuz. "We are concerned by this action and continue to urge the Iranian authorities to de-escalate the situation in the region."
— British government statement to U.K. media outlets
Details: The threatened tanker belongs to British energy giant BP, according to the FT. The British Royal Navy frigate HMS Montrose threatened to open fire on the Iranian boats, which left without further incident, a senior U.S. military official told Fox News, adding a manned U.S. reconnaissance aircraft was above the vessels at the time.
The big picture: U.S. military officials originally reported to U.S. news outlets that 5 Iranian Revolutionary Guard gunboats had tried to seize the tanker.
Iran's ambassador to the United Nations told the BBC earlier Wednesday there would be consequences if Britain didn't release an Iranian oil tanker it seized recently off the coast of Gibraltar. British officials said the tanker was operating in violation of European Union sanctions, per the Wall Street Journal.
What they're saying: Iran's Foreign Minister Mohammad Javad Zarif the U.K.'s claim "worthless," according to Reuters, citing state media.
"What they have said themselves and the claims that have been made are for creating tension and these claims have no value."
— Iran's Foreign Minister Mohammad Javad Zarif
Why it matters: It's the latest in a series of provocations between Iran and the West and comes at a time when the U.S. says it's moving ahead with plans to build an international military coalition to protect waters around Iran and Yemen. The U.S. blames Iran for recent attacks on oil tankers in the Gulf.
This article has been update with more details, including comment from Zarif.
Go deeper