Everything you need to know about SpaceX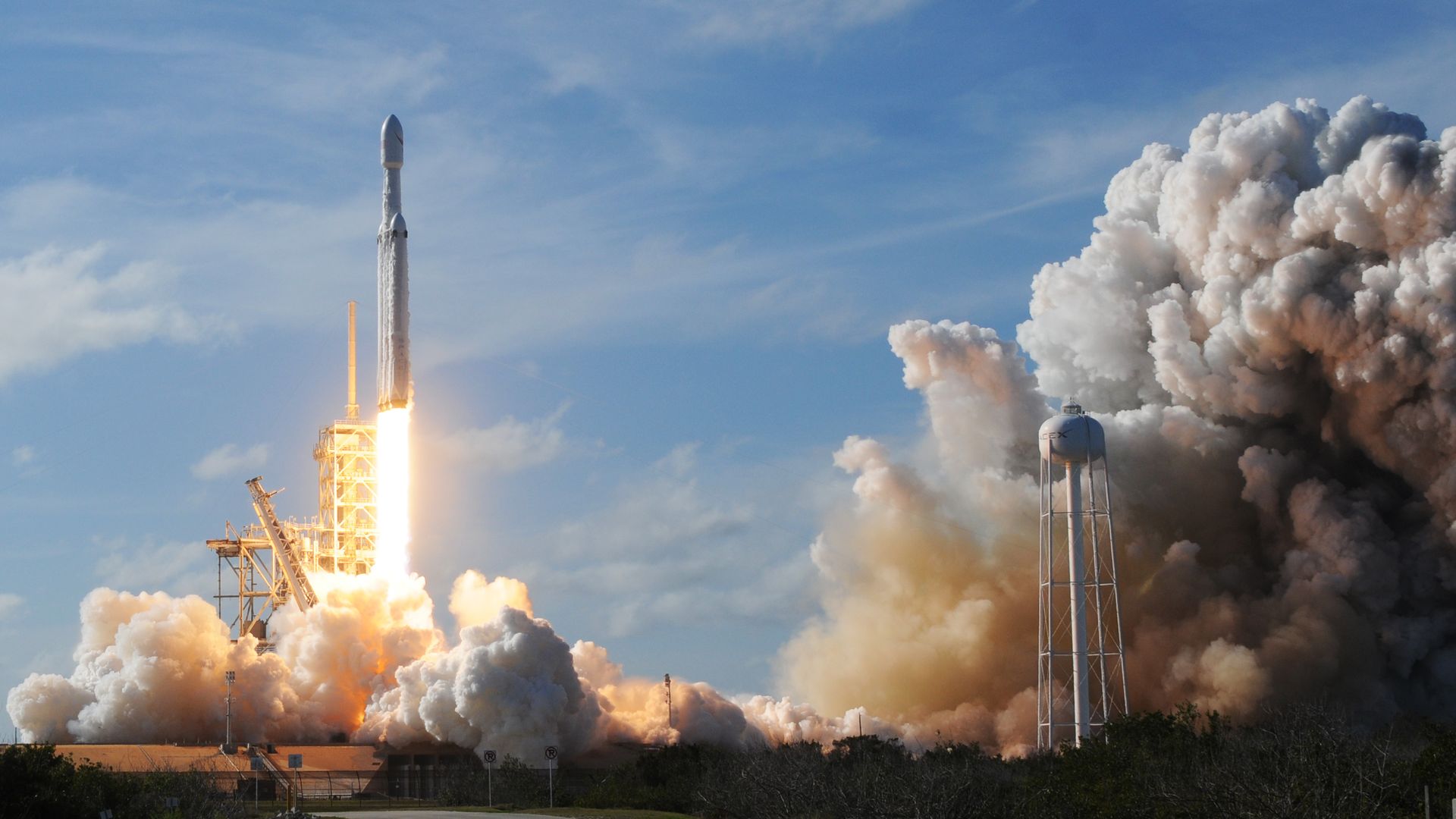 SpaceX is Elon Musk's private space company with big plans to build a city on Mars, reduce the cost of space exploration and create a satellite constellation to provide broadband globally. The company is also helping NASA to restart launching astronauts into space from U.S. soil instead of relying on Russia's help.
The latest: SpaceX launched its first wave of 60 Starlink satellites into orbit on Thursday night on one of its Falcon 9 rockets as part of its plan to deliver global internet connection from space. The rocket launched from Cape Canaveral Air Force Station at 10:30 ET, and the first booster returned for a smooth landing on a drone ship in the Atlantic Ocean about 10 minutes after launch, after sending the satellites to orbit.
Key facts about SpaceX:
Founder: Elon Musk

He's also the CEO of Tesla and the 40th richest person in the world, per Forbes.
Musk told "Axios on HBO" he sees a 70% chance he'll live to ride one of his SpaceX rockets to Mars.
On Trump's Space Force, Musk told Recode's Kara Swisher: "Well, this may be a little controversial, but I actually like the idea. I think it's cool. You know, like, when the Air Force was formed, there was a lot of like pooh-poohing."

Founded: May 6, 2002 in Hawthorne, California

SpaceX currently launches from Cape Canaveral, Florida and Vandenberg Air Force Base in California.
SpaceX has another launch facility in Boca Chica, Texas, where it's working on building its Starship rocket. In May, Musk confirmed via Twitter that the company is working on Starship both in Texas and at Cape Canaveral in order to see which location is "most effective." He added that the "answer might be both."

Launches contracted: 100+
Employees: 6,000+
Rockets: Falcon 9, Falcon Heavy, Starship

NASA has a contract with SpaceX to launch uncrewed Dragon capsules to the International Space Station (ISS) atop Falcon 9 rockets.
SpaceX is also expected to start flying astronauts to the ISS in Crewed Dragon capsules launched by Falcon 9 rockets sometime in the next year.
Its arsenal also includes: the Merlin engine, the Draco control thruster and the Dragon capsules. It's currently working on developing 2 more rocket engines: the SuperDraco and Raptor.
Funding: To date, SpaceX has raised around $2.75 billion from equity investors.

According to a Delaware stock authorization filing uncovered by the Prime Unicorn Index in April, the company is raising up to $510 million in new funding for the second time this year.
SpaceX also has billions in contracts with NASA and a number of other companies.

Competition: United Launch Alliance, a joint venture from Lockheed Martin Space Systems and Boeing Defense, Space & Security, poses the biggest competition for SpaceX at the moment.

Jeff Bezos' private space company Blue Origin isn't an immediate threat to SpaceX. Although the two are both trying to win contracts to carry cargo payloads to space, Blue Origin isn't flying rockets like SpaceX is yet. They'll be a bigger threat in the future.
Go deeper:
Go deeper