Robot umpires are coming to baseball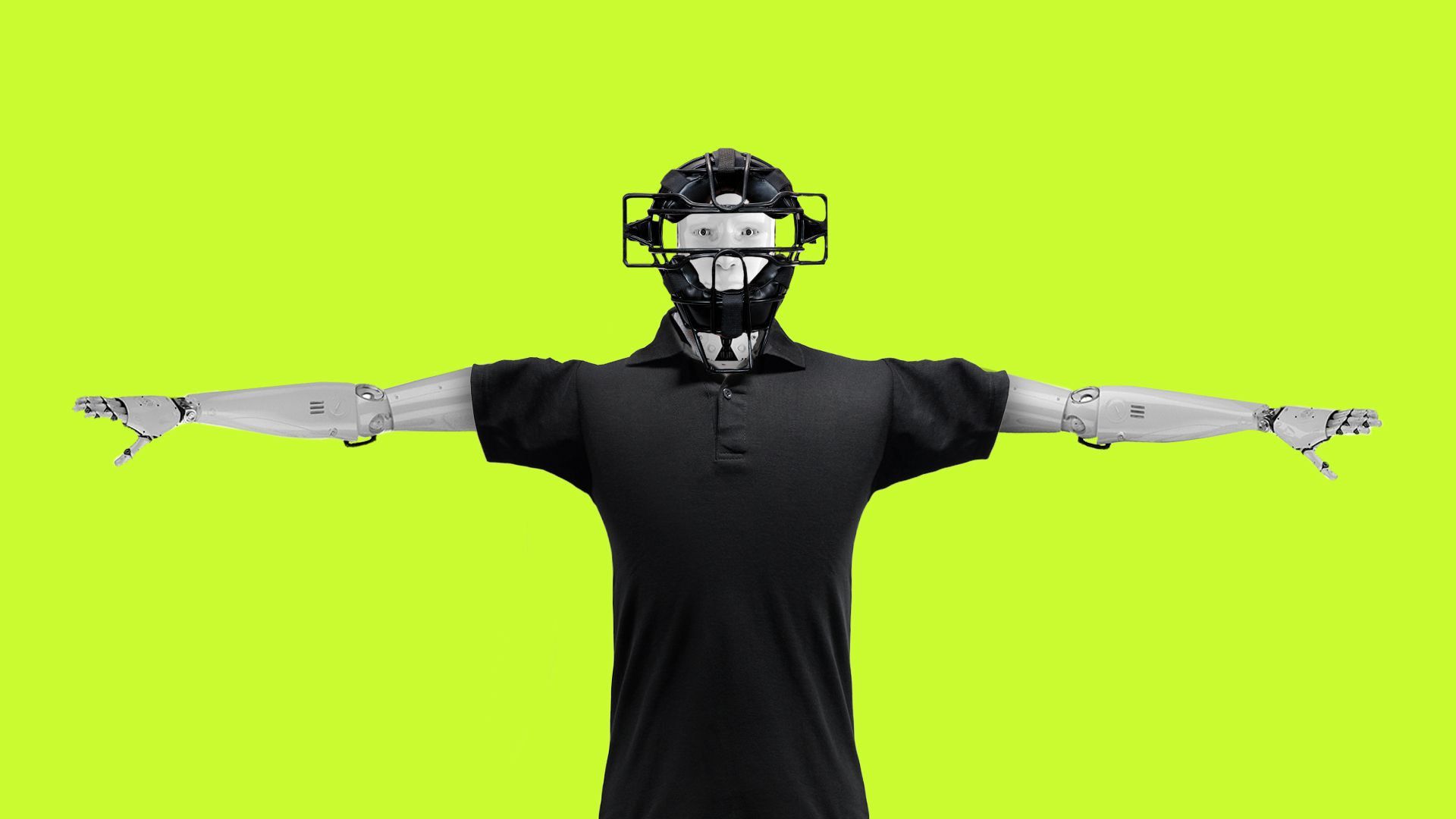 An electronic radar system called TrackMan will soon be calling balls and strikes in the Atlantic League, an independent East Coast league that has emerged as MLB's testing ground for new rules and equipment initiatives.
Driving the news: The first step in this adventure began last Thursday at parks in Bridgewater, N.J. (Somerset Patriots) and New Britain, Conn. (New Britain Bees).
In a simple test to make sure that TrackMan data could be successfully transmitted and understood, home plate umpires were fitted with earpieces that relayed calls to them one-tenth of a second after the ball crossed the plate.
The umpires were told to still call "their" strike zone, leading to some confusion when their call didn't match Trackman's. When this goes live next month, they'll be going with whatever TrackMan says.
The intrigue: Major League Baseball will be watching this experiment closely. A few things they'll be looking for:
How will hitters react when a pitch they think is a ball is called a strike by TrackMan? And how will pitchers react when the opposite is true?
How easily can the zone can be adjusted so that it's accurate from batter to batter, depending on their height and batting stance?
And most importantly, will umpires be invested enough in each pitch to fill the still-important role of calling things like checked swings and managing the flow of the game?
The big picture: In a world of instant replays and booth reviews, it's not hard to imagine MLB eventually going this route. Should that day come, consider its impact on umpires and catchers, in particular:
Umpires: On one hand, they might be paid less as a result of their jobs becoming easier. Then again, maybe they wouldn't be — all while never having to be yelled at again.
Catchers: "Framing" (getting borderline pitches called for strikes) has become one of baseball's most highly coveted skills. TrackMan would make it a complete non-factor overnight.
Go deeper: Umpires get worse with age
Go deeper