Trump tells Wisconsin rally: We're sending migrants to sanctuary cities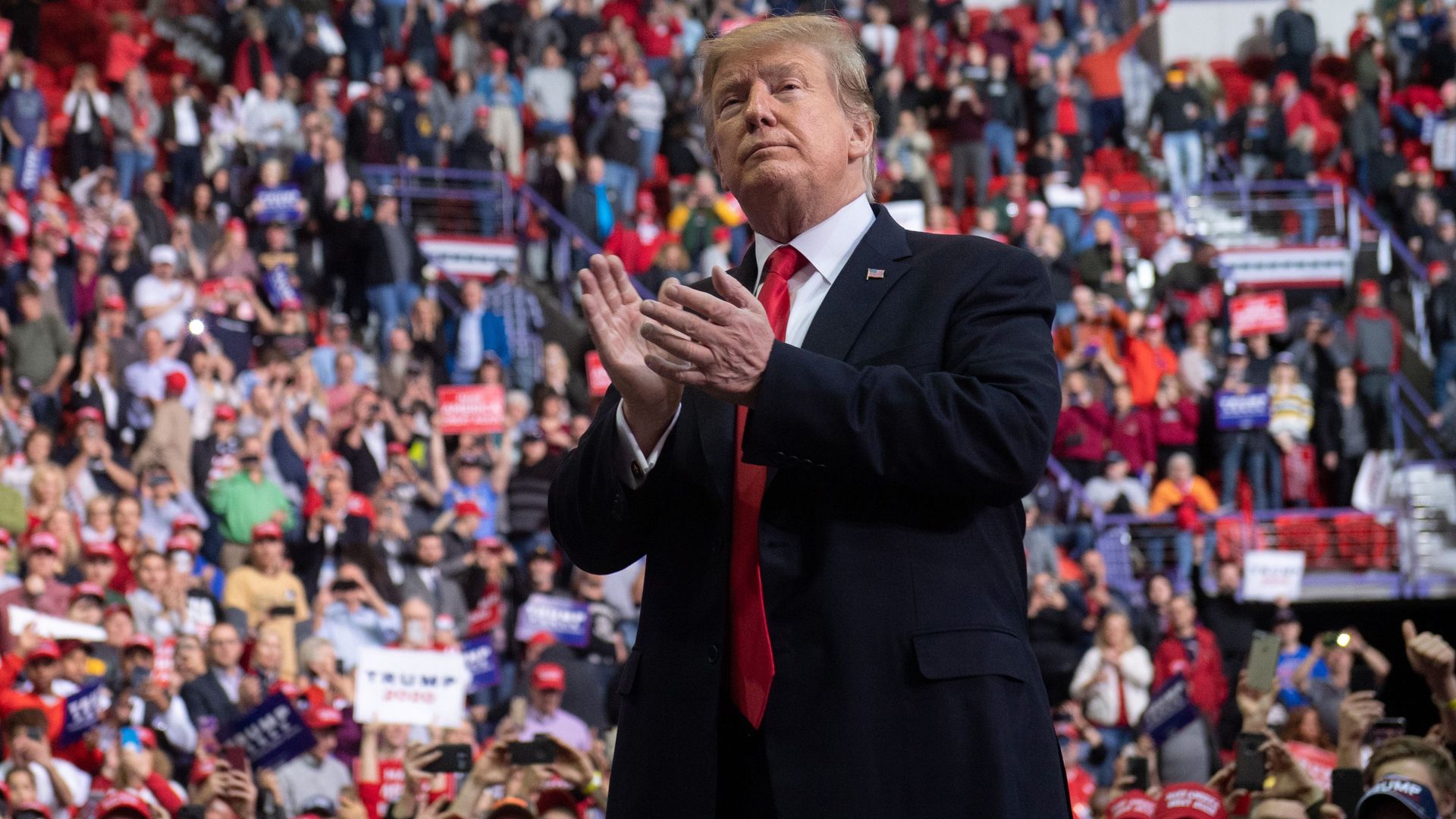 President Trump told a Green Bay, Wisconsin, rally Saturday that his administration is sending undocumented migrants to sanctuary cities.
"Last month alone, 100,000 illegal immigrants arrived at our borders, placing a massive strain on communities ... and public resources, like nobody has ever seen before. Now we're sending many of them to sanctuary cities, thank you very much. They ain't too happy about it. I'm proud to tell you that was actually my sick idea."
The state of play: The Department of Homeland Security has yet to announce the sanctuary cities plan. Senior White House officials and immigration lawyers have told Axios U.S. Immigration and Customs Enforcement wouldn't have enough funds for it and there'd be major liabilities if anyone got hurt during transfers.
The Democratic National Committee said on Twitter that Trump's migrant remarks were "disgusting."
The big picture: Trump covered a range of issues at the rally in Wisconsin — a key battleground state — held the same night as the White House Correspondents' Association dinner. Key topics included:
The U.S. economy's strength: The Commerce Department said Friday gross domestic product increased at an annual rate of 3.2 percent in the first quarter of 2019.
Condemnation for "the evil of anti-Semitism and hate" and condolences for the California synagogue shooting victims.
Defense of deals with Saudi Arabia: "You had people wanting to cut off Saudi Arabia," Trump told the crowd. "They bought $450 billion. I don't want to lose them."
Democrats' efforts to pursue his administration in the wake of special counsel Robert Mueller's investigation findings — which Trump called the "collusion delusion."
Personal attacks on potential Democratic presidential rivals, including front-runners Joe Biden and Bernie Sanders.
Former FBI and Justice Department officials, whom he called "scum."
Go deeper