Elizabeth Warren breaks away from 2020 pack with new policy ideas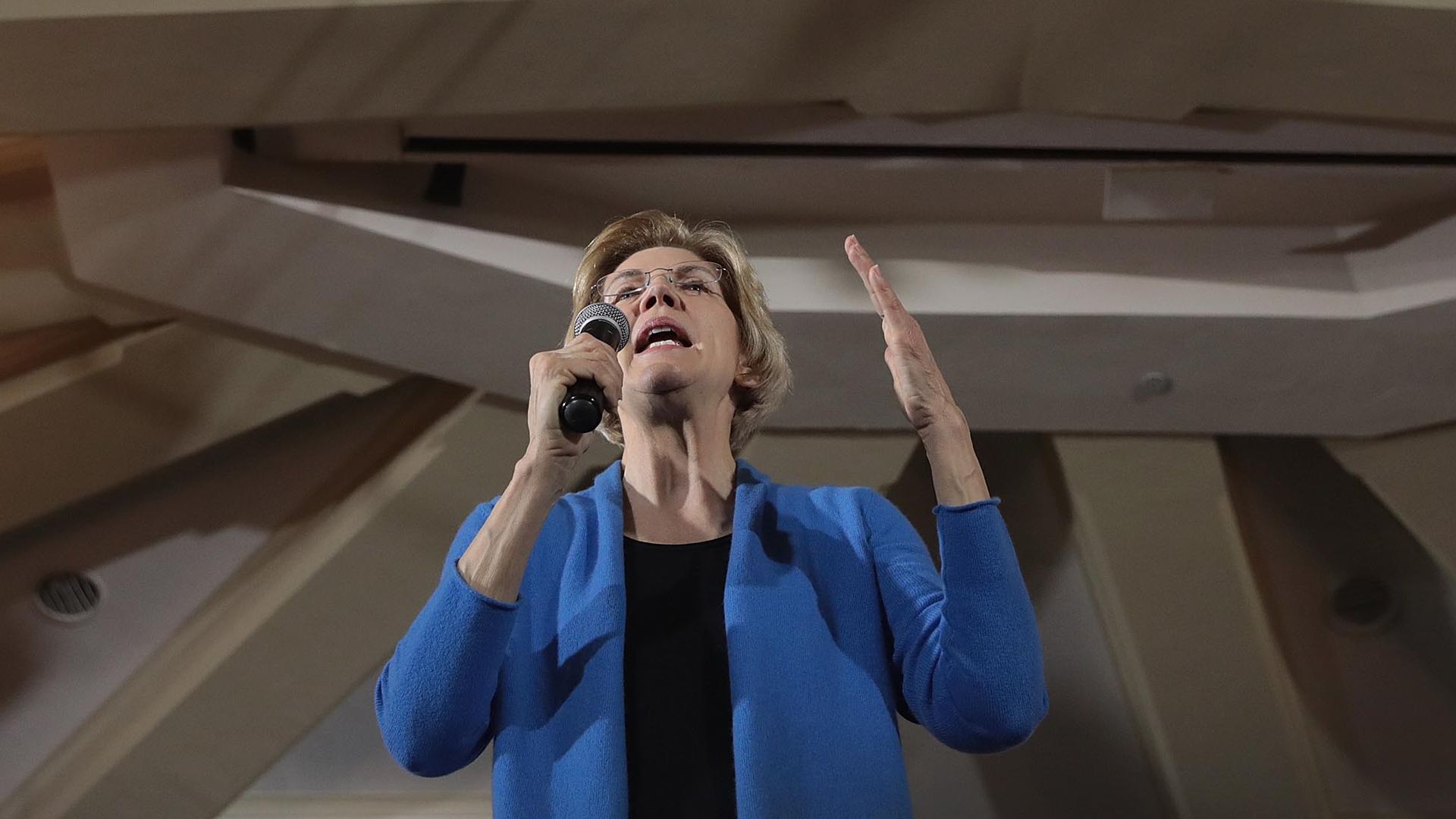 Elizabeth Warren might be 1 of more than a dozen Democrats running for president, but she's setting herself apart with sweeping policy ideas.
Driving the news: Warren unveiled the most significant tech policy idea of the election today, proposing to break up Amazon, Facebook and Google.
Warren would ban huge companies from acting as both operators and users of a platform. (Hardest hit: Amazon and Google.)
She would also empower regulators who want to break up already-finalized mergers.
On the list, per Axios' David McCabe: Amazon's purchases of Whole Foods and Zappos; Google's purchases of ad product DoubleClick, Waze and Nest; Facebook's acquisitions of WhatsApp and Instagram.
Between the lines: This wasn't Warren's first aggressive proposal of the nascent campaign.
She has also proposed an annual tax of 2% on wealth beyond $50 million, which then increases to 3% on assets higher than $1 billion.
In addition, Warren is the first and so far only Democratic candidate to unveil a universal child care plan. 
The big picture, from the N.Y. Times' Astead Herndon: "Warren's passion for policy minutiae has become her way of standing out in an increasingly crowded Democratic field ... While other Democrats have focused on sweeping themes of unity or change ... Warren is making a personal and political wager that audiences care more about policy savvy than captivating oration."
The bottom line: In an ever-crowded primary field where candidates are relying on personalities to break through, Warren's constant flow of policy proposals is a way to show voters she's not just talking the talk.
Go deeper: Everything you need to know about Elizabeth Warren
Go deeper