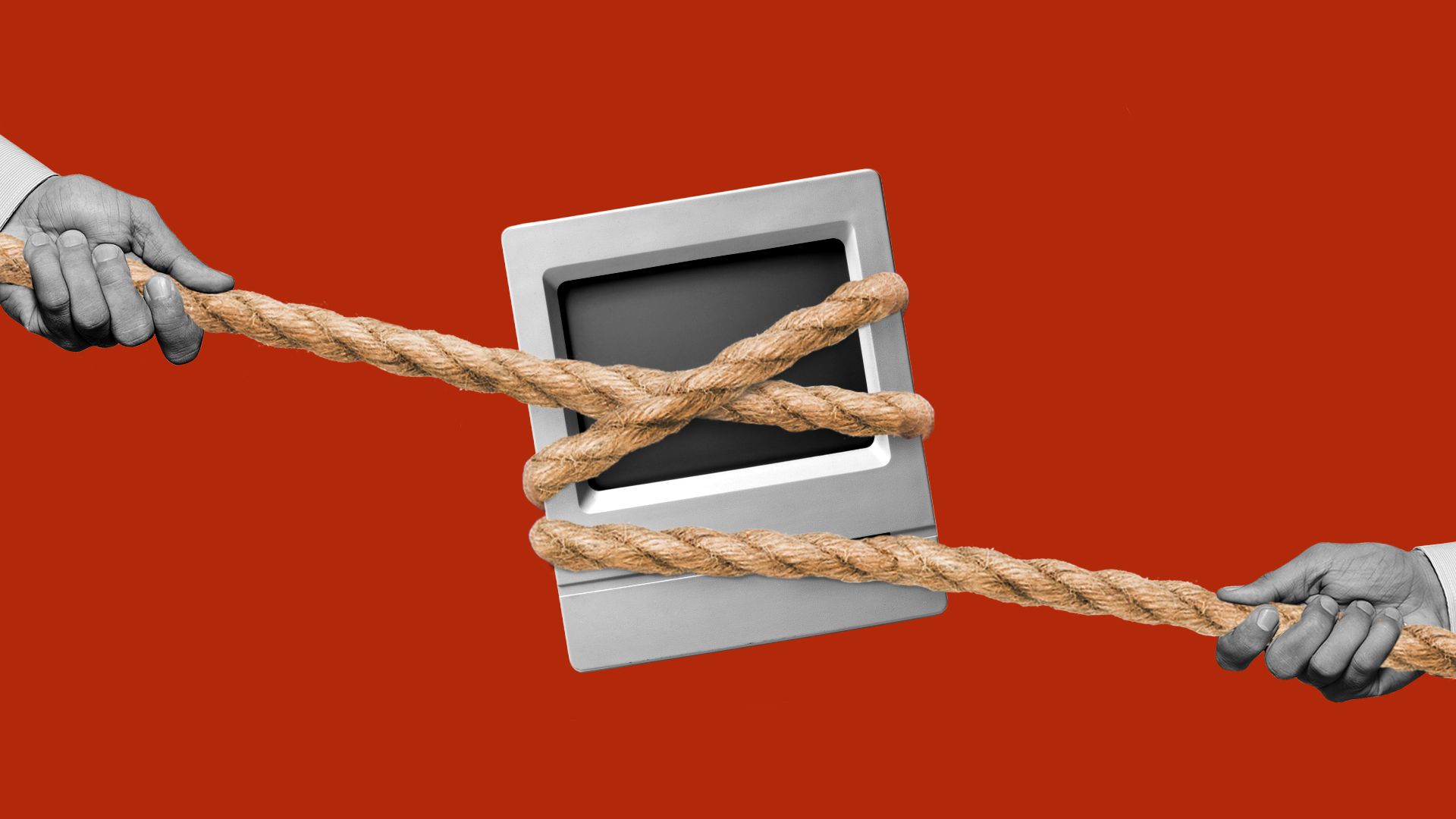 A global reckoning around the future of the internet is underway as autocratic regimes look to censor the internet in their countries, and races to develop new internet technologies, such as blockchain and 5G, heat up between the U.S. and China.
Why it matters: The next version of the internet could be split between countries that embrace an open web and isolationists that don't. It could also be fractured by different technologies that could fundamentally change the interconnected nature of the network and limit who can do business where.
"Four to five years ago, you saw a broad shift taking place towards one, global internet. But the reality today is that we are now moving towards a Balkanized internet, with borders being shaped by governments and corporations."
— John Borthwick, Founder & CEO of Betaworks, an early-stage investor firm for internet companies
Driving the news: India recently announced a proposal that would install a Chinese-style of internet censorship ahead of its elections.
The proposed rules would allow Indian officials to demand that big web platforms remove content that they deem libelous or bad for society.
The move brings India, which has the second-largest internet population, closer to China's censorship strategy and farther from other democratic republics around the globe.
Elsewhere, nations are using election security risks and geopolitical threats as a means to introduce heavy-handed censorship rules. Some efforts mimic broader isolationist policies instituted for the expressed purposes of global defense.
Russia is considering a plan to temporarily disconnect from the internet as a way to test its cyberdefenses. President Vladimir Putin has indicated that the country is thinking about creating an autonomous Russian internet in the event that foreign adversaries cut off Russia from its networks.
Some African nations are continuing to use censorship to manipulate elections. The Democratic Republic of Congo and Nigeria, for example, have faced uproar and external pressure to reduce efforts to censor or shut off the internet ahead of elections this year.
China has long used a firewall to block access to certain sites and web franchises from being accessed within its borders. Some users try to avoid such barriers by using illegal VPNs (or network access points.)
What's next: New technology and shifting economics will also be driving forces in how the internet develops around the world.
Blockchain: Some experts see blockchain, the open-source technology that powers bitcoin, as a tool that will drive the expansion of an open web.
"I see bitcoin as the real heir of this open decentralized web," says Phil Chen, Decentralized Chief Officer at HTC. "It's open, neutral and censorship-resistant. It's so distributed, it's borderless, and I don't see how that's stoppable."
5G: The fifth generation of mobile connectivity (5G) will be so much faster than the current network that experts think the first region or corporation to create an expansive 5G network will create its own version of the web.
"This is a fundamental strategic competition for who builds the platform for the next round of the internet," says Janice Stein, political science professor at the University of Toronto. "That is just as important if not more than who builds the state of the art harbors, railways and highways over the next 20 years … I think it is the biggest strategic issue that overarches everything else."
The bottom line: The internet, which for years has been perceived as the driving force for global connectivity, could one day wind up separating parts of the world even further.
Go deeper